Babcock: Gardiner 'has elite hockey sense'
Maple Leafs defenceman Jake Gardiner, who has piled up 13 assists in the last nine games, had been criticized for being gaffe-prone but he's now being lauded for his hockey IQ. The 27-year-old attempts more stretch passes than anyone in the NHL (287) which has helped him accumulate 30 assists – fourth among all defencemen, TSN's Mark Masters writes.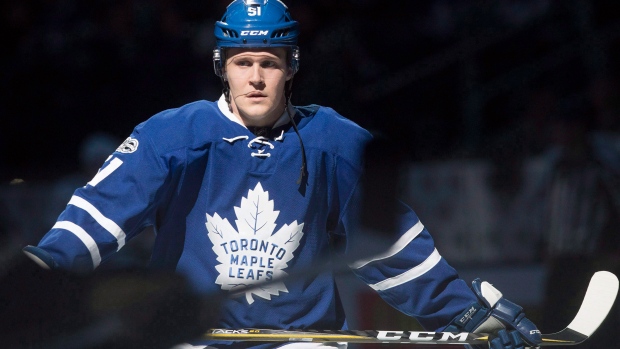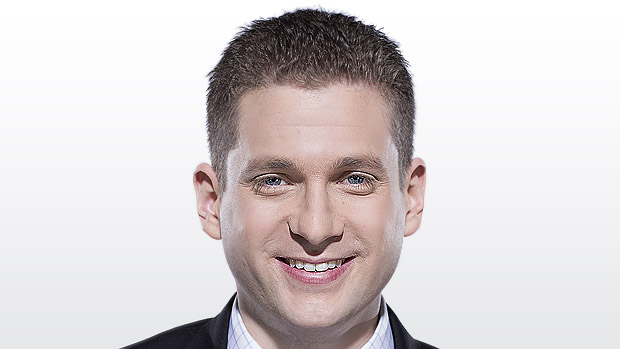 TSN Toronto reporter Mark Masters checks in daily with news and notes from Maple Leafs practices and game-day skates. The Leafs practised at the MasterCard Centre on Tuesday.
Jake Gardiner has piled up 13 assists in the last nine games, including three Monday night in a big win against the Anaheim Ducks. At times, the Leafs defenceman has been criticized for being gaffe-prone, but now Gardiner is being lauded for his hockey IQ.
"He's one of those guys who's got elite hockey sense," said head coach Mike Babcock. "He sees what's happening before it happens."
One of those "elite" plays led to the game-winning goal against the Ducks as Gardiner sprung William Nylander for a third-period breakaway.
"(Francois) Beauchemin was lined up farther towards our bench side," Gardiner recalled. "I think he was cheating for the rim if they won the draw and then the puck squirted to me. When Willie saw that the puck was turned over he sprung and I hit him."
Gardiner attempts more stretch passes than anyone in the NHL (287) and that's helped him accumulate 30 assists, which ranks fourth among all defencemen. What was the degree of difficulty on the latest assist? ​
"Yeah, not many people can make that play," said Morgan Rielly. "Jake's one of those guys who has that in his bag. He's got a very high hockey IQ and good vision and the execution of the pass was perfect."
"I saw he was looking at me so I thought it was going to come through so it was nice," Nylander said after the game. "It landed perfectly on the tape so an amazing pass … It's amazing. I don't think I've had two breakaway goals in a game since I was a little kid."
Gardiner also set up Nylander's other breakaway on Monday with another good read. Gardiner realized Auston Matthews was tracking back to cover him, so he pinched to keep the puck in at the offensive blueline. Earlier in his career, when Randy Carlyle was behind the Leafs bench, Gardiner found himself second-guessing similar plays and that usually led to a mistake.
"I think in my earlier years it wouldn't have been the same outcome, I don't think," he admitted with a grin. "I probably would've sat down for a few shifts or something like that ... Obviously, I'm going to make some mistakes. I still do, probably worse when I was younger, but still do it. Happens to everybody. I think Babs has given me a pretty good leash on making those plays and he understands it's going to happen, too, so we have a pretty good balance. It definitely makes you feel a lot more comfortable and confident.""
When asked about giving Gardiner a long leash, Babcock was quick to clarify his position.
"I didn't see it like that at all. I don't give him any permission to do anything stupid," Babcock said. "But he didn't. We had a good F3 (Matthews) and he just pressured at the right time and read the situation, so I think there's a big difference between high-risk and crazy and being smart and knowing where the people are."
Gardiner's talent has never been denied, but he's struggled to stay at a high level consistently. That may be changing now.
"I don't think I've had a stretch like this in the NHL," he said. "Maybe in college at some point, but nothing really rings a bell."
So, what's driving the Gardiner express? No surprise, the Minnesota native credits his teammates. This is how he answered when asked what makes for a good stretch pass.
"Before you get the puck, you have to get your head up and see where the open ice is," the 27-year-old explained. "Guys like Willie and Matthews and Mitch (Marner) and, a lot of guys, (Connor) Brown, (Zach) Hyman, all those guys, (Patrick) Marleau, know when there's going to be open ice. They skate to it and they get open so it's not so much me, it's more those guys finding that ice and obviously executing."
But Babcock has an interesting theory about Gardiner's surge.
"That's a good question," he said. "Maybe when Ries (Rielly) went down he just stepped up a little bit. I don't know the answer to that totally, but obviously he feels good about himself. He's on a roll."
Starting on Jan. 20 in Ottawa, Rielly missed six games due to an arm injury. In his absence, Gardiner racked up nine points.
Hyman finding new offensive level
Like Gardiner, Hyman has raised his offensive play of late with eight points in the last nine games. He's now up to 30 in 55 games, which is already more than the 28 he accumulated in 82 games as a rookie.
"I don't know if you set a numbers goal, but you want to get better every year," he said after Tuesday's practice. "You work on things in the summer to try and help you out in the year and it's a good thing when those things pay off."
Hyman spent a good chunk of his summer working on improving his hands in and around the net where most of his chances come.
"He's a little bit more confident with the puck in tight," Matthews observed. "He's kind of holding onto it a little bit more, you saw that with his goal in New York."
Hyman's development is no surprise to Babcock, who kept the 25-year-old on the top line even when he was struggling to produce.
"I just think he's a really hardworking, honest kid," the coach said. "He's no different than Brown. Those guys who work that hard and train that hard in the summer, work on their skills that much, they just get better … If you look at our five-on-five scoring, he's right at the top of our team. He never gets on the power play, he penalty kills for us and he's a good player."
With 28 even-strength points, Hyman ranks third on the Leafs this season behind only Matthews (37) and Nylander (34).
Lines at Tuesday's practice:
Forwards
Hyman-Matthews-Nylander
Marleau-Kadri-Marner
van Riemsdyk-Bozak-Brown
Komarov-Moore-Kapanen
Martin, Leivo
Forwards
Rielly-Hainsey
Gardiner-Zaitsev
Dermott-Polak
Carrick
Goaltenders
Andersen
McElhinney