Backes suspended 3 games for hit on Nielsen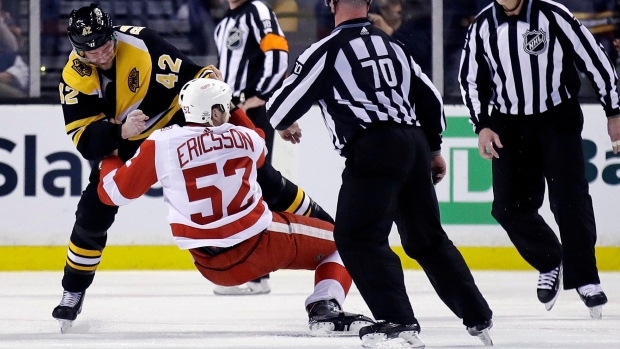 Boston Bruins forward David Backes has been suspended three games interference on Detroit Red Wings forward Frans Nielsen during Tuesday's overtime win.
Backes was called for roughing after a high hit on Nielsen along the boards in the offensive zone with 11 seconds left in the first period on Tuesday. The Bruins had puck possession at the time of the hit.
Detroit's Jonathan Ericsson fought Backes shortly after his penalty expired in the second period.
Nielsen left the game after the hit and did not return. Red Wings head coach Jeff Blashill said he did not have an update on his status after the game.
Red Wings captain Henrik Zetterberg called the check by Backes "an unnecessary hit to the head."
He is set to miss Thursday's game against the Philadelphia Flyers and two against the Chicago Blackhawks on the weekend.
Backes, 33, has 11 goals and 27 points in 47 games this season. He has no suspension history.
Nielsen, also 33, has 14 goals and 28 points in 66 games with the Red Wings this season. Blashill said he did not know whether Nielsen had been through the concussion protocol.