Baumgartner: 'Green is a very good coach and will be in this league a long time'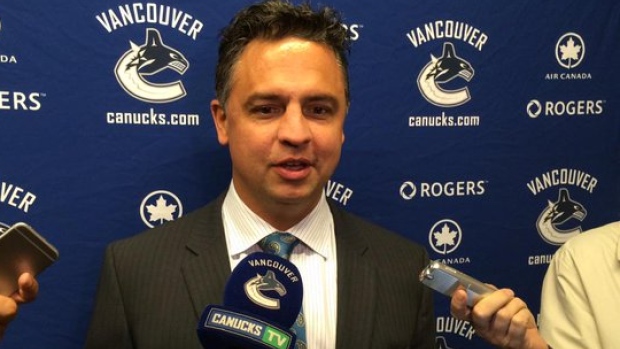 VANCOUVER – Nolan Baumgartner didn't know Travis Green before the two met at Vancouver Canucks development camp in the summer of 2013. Baumgartner certainly knew of Green – they both starred in the Western Hockey League and went on to play in the National Hockey League, but the men had never been formally introduced until Green was hired to replace Scott Arniel as the head coach of the Utica Comets.
Along with the job, Green inherited Baumgartner who had just completed his first season as an assistant coach in the American Hockey League. The two got to talking and quickly discovered they spent their off-seasons just two blocks from each other in a gated community in Southern California. So, without even knowing it, they were already close. Now, after four years of working together, they're considerably closer and they believe ready to take the Canucks to the next level.
Saturday night against Edmonton, Green as the head coach and Baumgartner once again his loyal lieutenant, begin their new lives in the NHL. The assistant is convinced the Canucks got the right man for the job when they promoted Green from Utica in April.
"He's a very, very good head coach and he's going to be in this league a long time," Baumgartner tells TSN 1040 confidently. "I think he's got a great mind for the game and knows the ins and outs of hockey. It impresses me a lot when I bring in a video clip, he can look at it once and say we'll do this or that. I have to watch it four or five times before I figure it out. He's really quick in that regard and it goes back to how much he knows the game."
Baumgartner figures much of Green's coaching philosophy is derived from a playing career that covered 15 seasons and saw him log 970 NHL games. The 46-year-old Castlegar, B.C., native burst onto the scene as a highly-touted offensive prospect after five strong seasons in the WHL. But Baumgartner thinks the fact that Green was continually forced to change his game and adapt it to different circumstances as he aged helped him gain a better understanding of what it takes to assemble the best possible team.
It's not about star power or preferential treatment. Baumgartner says Green is all about loyalty to his players and expects nothing less in return.
"He's fair and he's going to give opportunities to guys, but you have to earn those opportunities," Baumgartner explains. "I know you hear that from a lot of coaches, but he follows that. If you're out there, you're doing the right thing, you're playing the way we want to play, then you're going to get your ice time and opportunity to show what you can do. If you don't, then you're not going to play. If you're not all in and not going the direction we want to go as an organization and as a coaching staff, you're not going to play. And that's the way it is and that message has been sent to everybody. So there are no surprises when you don't play and there are no surprises when you're getting a ton of ice time and there's a reason why."
Already through a demanding training camp and Green's first preseason behind the bench, he's shown he's not afraid to call out players. In fact, just 10 minutes into his first on-ice session of camp, Green felt some of his players weren't pushing themselves hard enough in what looked to be a mundane drill.
He blew his whistle brining the proceedings to a halt and promptly let his players know he wasn't getting the effort he was looking for. It was a clear message early in camp and it was something Baumgartner has seen from Green throughout their time together in the minors.
"I like the way he does that in practice and I think the guys appreciate that as well," Baumgartner says. "He's not barking to give the guys crap, he's just telling them to move their feet. It's all about habits and the way we want to play. We always talk about playing fast and playing quick and when you hear him yelling at guys out there, that's what he's trying to do. It's all about the details. If you start a drill and make a bad pass, he blows it down and makes you do it again. I think as a player it makes you pay attention more. If you're second in line, you're watching what's going on and you're going next and you don't want to screw up."
Described as passionate and intense by Canuck players who are still learning daily about the man in charge, Green gets the last say on coaching decisions. But Baumgartner insists that behind the scenes the Canucks are anything but a one-man show. With Newell Brown, Doug Jarvis, Manny Malhotra and Dan Cloutier rounding out the staff, Baumgartner says Green is open to ideas and very much wants feedback from those around him.
"As a coaching staff, we all have our input and he wants to hear what we have to say," adds Baumgartner, who will handle the Canucks defence and oversee the penalty killing. "Ultimately, in the end, it's his call but he takes what we say into consideration and listens to us and he's got trust in us. And that's good. You have to have that as a leader. You have to trust the people you work with."
It seems Green wants those bonds of trust to extend beyond the coaches and to the locker room. The time and effort he has put in with individuals in Utica, whether it's Jordan Subban or Jake Virtanen, has helped the development of both players. Baumgartner knows much has been made of those two examples, but is quick to add there are plenty of other players who have benefited from dedicated one-on-one time with Green on the ice and in the video room.
While players may not always like the tough love treatment from the head coach, Baumgartner insists the care and attention Green devotes to his players is an indication of just how badly he wants them to improve – and, in turn, help the hockey club succeed.
"He treats everybody with respect," he says. "He's not a guy who's going to bark order and shut his office door. He's a fair coach and a very personable guy. His door is always open to the players if they want to come in and talk about anything. If they have any problems or want to work on something, they can always come to talk to him and he's always there for them."
Baumgartner admits he briefly considered making a play for the head coaching job in Utica when it became clear that Green was going to get promoted. But before the assistant got too far down that path, it was evident that wherever Green was going, he once again wanted Baumgartner by his side.
"His ultimate goal was to be a head coach in the NHL and that's where he saw himself going and that's where he wanted to be," Baumgartner says. I've always been an assistant and we've worked well together over the past four years. He approached me and said if he was going somewhere he would like to take me. And that meant a lot that someone was putting their trust in you to help you get to the next level. I love what I do. It's a great job and I love being out there with the players every day. And working with Greener has been very good for my career. He's taught me a lot over the past four years and I'm sure he's going to teach me a lot more going forward."
As the Canucks launch into the 2017-18 season with a new coaching staff and a new vision for the hockey club, Baumgartner recognizes the work that must be done. He and Green are taking over a team that has finished 28th and 29th in the NHL standings the past two seasons, one that has struggled to score and has had all sorts of challenges on special teams. There is plenty of work to be done.
Like the Canucks organization as a whole, Baumgartner believes Green is up to the task. And he feels strongly that through a tough training camp and the preseason there has already been a shift in the way the club is going about its business.
"I think we can surprise some people," he predicts. "We know we were successful down in the minors with how we ran things and how we pushed the guys and how we wanted them to play. If we have that total buy-in from everybody, we will have success. And hey, it may not be this year, but you will see us take steps forward this year. And then maybe it's the next year that we start humming along. It's going to take some time to get going in the direction we want to go. I think around our staff right now, we think we've taken a small step forward through training camp and we're all excited to get going here."
The first test – and it's a big one against Connor McDavid and the Oilers – comes Saturday. Last year at this time, Green and Baumgartner were preparing to open against the Toronto Marlies. A lot has changed in a year. They're in the NHL now and they're here together.