Habs' Bergevin inks multi-year extension
The Montreal Canadiens have signed general manager and executive vice president Marc Bergevin to a multi-year contract extension through the end of the 2021-22 season. Bergevin took over as Montreal's vacant general manager position on May 2, 2012, and the Canadiens have posted a 141-68-25 record since.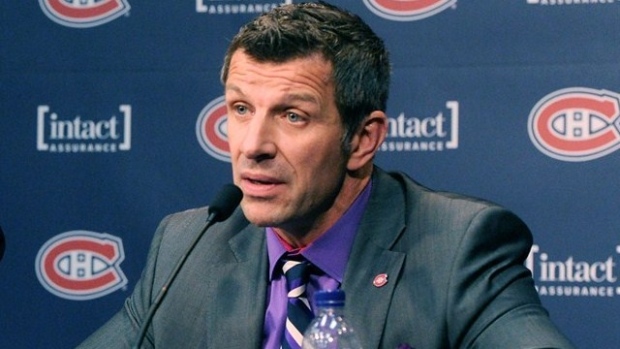 MONTREAL - The Montreal Canadiens rewarded Marc Bergevin's efforts to make the Montreal Canadiens a Stanley Cup contender with a long-term contract extension.
The Canadiens announced Wednesday they signed their general manager and executive vice president to an extension through the end of the 2021-22 season.
The Canadiens have made the playoffs in three straight seasons under Bergevin's watch, reaching the Eastern Conference final in 2013-14 and finishing second overall in the regular season before falling in the second round of playoffs last season.
"I wanted a team that was consistent every night, a team that had a chance to win," said Bergevin, adding contract talks have been on-going. "I know we've all been asked is this team ready to win a Stanley Cup."
Bergevin refused to say how close the Canadiens are to another title, saying the goal is to be one of the 16 teams in the playoffs.
"As long as you get in you have a chance, so our goal is to get in every year and make damage once you're there," he said. "But it's really hard to get in. You know how the parity around the league is today. On any given night if you're not ready you might not win. Lower teams in the standings can beat a first place team any time if you're not ready. It's fun for our fans, but it's demanding for the players."
Bergevin joined the Canadiens from the Chicago Blackhawks organization on May 2, 2012, taking over a team that had only 78 points in 2011-12 under Pierre Gauthier.
The Canadiens have posted a 141-68-25 record under Bergevin, ranking third in the NHL in wins over that span.
"This new agreement brings added stability for our organization and particularly for our hockey operations," owner and team president Geoff Molson said in a statement. "It enables us to continue our efforts in giving our fans a winning team.
"Marc is an excellent general manager who quickly made an impact in the league with his leadership skills and his ability to identify the needs and find the personnel to assemble a championship team."
Bergevin, 50, an NHL defenceman with eight teams from 1984 and 2004, became a scout for the Blackhawks after retiring as a player. He was assistant general manager in Chicago when he was hired by Montreal, his hometown team, although he never played for the Canadiens.
His strength has been in player evaluation.
He got several of the Canadiens' core players under long-term contracts, signing superstar goaltender Carey Price to a six-year, US$39-million deal shortly after taking over the club in 2012. He also inked the team's top scorer Max Pacicoretty, now the captain, to a six-year extension at the bargain price of $4.5 million per season.
Bergevin took P.K. Subban to arbitration before the 2014-15 campaign, but that ended when Molson reportedly intervened and the star defenceman agreed to an eight-year, $72-million deal.
Forward Brendan Gallagher is in the first year of a six-year, $22.5-million contract, and defenceman Jeff Petry was lured back to Montreal with a six-year, $33-million deal after Bergevin acquired him from Edmonton at last season's trade deadline.
"We have a core group that we have to build around, and after that you have to find pieces that fit in," Bergevin said. "There is only so much money that we could spend, and as a former player, guys want to get paid and sometimes you have to make hard decisions. Sometimes they're decisions that are not popular, but at the end of the day you have to do what is best for the organization. That's a tough part of the job."
He also filled out the offence with utility players Torrey Mitchell, Brian Flynn and Devante Smith-Pelley.