Bettman affirms ban, hopes it's a 'wake-up call' for Wilson
Gary Bettman has denied an appeal by Washington Capitals forward Tom Wilson, upholding his 20-game suspension after his illegal check to the head of Blues forward Oskar Sundqvist. Wilson now has one week to get his case before a neutral arbitrator, Frank Seravalli writes.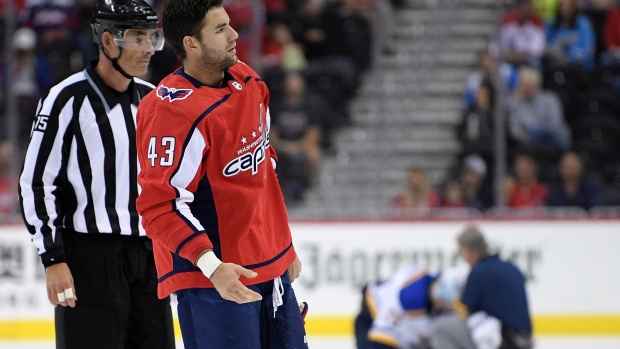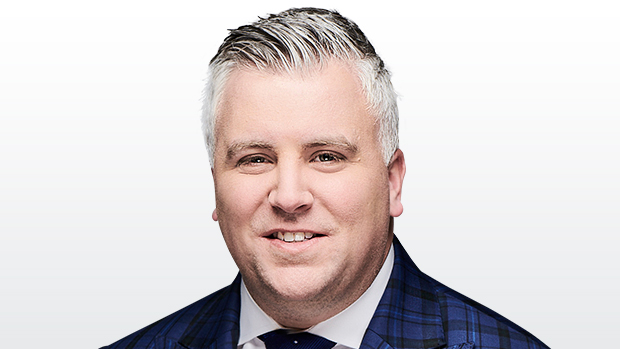 NHL commissioner Gary Bettman upheld Tom Wilson's 20-game suspension on Thursday, setting the stage for a potential appeal to a neutral arbitrator.
The NHL Players' Association said in response it was "currently reviewing the decision." Wilson and the NHLPA have one week to notify the league of a decision to exhaust the appeal process, which is likely given the unprecedented salary forfeiture of $1.26 million attached to the Washington Capitals winger's ban.
Such an appeal would be heard by neutral arbitrator Shyam Das, who recently reduced the suspension of Nashville Predators forward Austin Watson for domestic violence abuse from 27 games down to 18, resulting in a stern rebuke from the NHL.
Each and every game Wilson could claw back via an arbitrator would result in another $63,000 in his wallet ­ and get him on the ice sooner than Nov. 20.
Wilson was suspended for 20 games by the Department of Player Safety on Oct. 3 for an illegal check to the head of St. Louis Blues forward Oskar Sundqvist.
Bettman heard Wilson's appeal of the original decision on Oct. 18 during a seven-hour hearing and issued a 31-page written decision on Thursday.
"I find that the twenty (20) game suspension assessed to Mr. Wilson on account of his illegal check to the head of Mr. Sundqvist is supported by clear and convincing evidence," Bettman wrote. "Mr. Wilson's recent play has threatened the safety and well-being of opposing players on too many occasions, despite prior discipline being assessed and despite the considerable efforts of DPS to counsel Mr. Wilson on how to play within the rules."
According to the Collective Bargaining Agreement, Bettman was to determine "whether the player's conduct violated league playing rules" and consider "the length of the suspension imposed on the player."
The NHLPA offered a full-throated defence of Wilson with union attorneys John Gerba, Maria Dennis and Don Zavelo, with support from Wilson's agents, Pat Morris and Mark Guy, of Newport Sports Management.
Bettman wrote that the NHLPA's legal team argued that Wilson did not violate Rule 48 (illegal check to the head) and that "there should have been no supplementary discipline of any kind nor suspension for any duration."
Bettman ruled that Wilson did violate Rule 48, Sundqvist did suffer serious injury on the play (concussion, superficial face lacerations and a right shoulder a/c joint sprain), Wilson is a repeat rules offender, and it came in a preseason game "which the outcome would not have any effect on either club's standings heading into the regular season."
"When asked how long a suspension the incident warranted ­– assuming I were to conclude that Mr. Wilson's check did, in fact, violate Rule 48, the NHLPA suggested a suspension of eight (8) games," Bettman wrote.
Instead, Bettman ruled that Department of Player Safety vice-president George Parros' decision of 20 games was "eminently reasonable and appropriate" based on the "multiplier" that Parros evidently applied to Wilson's most recent suspension.
Bettman wrote Parros used a three-times multiplier to arrive at 20 games – valuing Wilson's three-game playoff suspension from May for breaking Zach Aston-Reese's jaw at six regular season games – then adding two additional games for the injuries to Sundqvist.
"Every factor referenced," Bettman wrote, "calls for a significant suspension in this case."
Bettman revealed that Parros met with Wilson in Calgary in 2017 after the second of his three suspensions last season, then again one-on-one in August 2018 in Toronto, just a month before his violent check on Sundqvist.
Bettman wrote Parros also called Wilson during the Stanley Cup Final after a hit on Vegas' Jonathan Marchessault, warning him to "make better decisions in the timing and selection of his checks." Two other hits in the playoffs – one against Columbus' Alexander Wennberg in the first round, and one against Pittsburgh's Brian Dumoulin in the second round – were also listed by Bettman as "questionable and/or illegal."
All of that led Bettman to write that "discipline previously assessed to Mr. Wilson prior to this incident has clearing been ineffective in deterring his dangerously reckless play."
"I find that Mr. Parros' decision to impose a significant suspension of longer duration than in prior incidents in this case was readily supported by the evidence and might, in fact, be the only effective way to deter Mr. Wilson's future 'bad conduct,' " Bettman wrote. "I hope that this decision will serve as an appropriate 'wake-up call' to Mr. Wilson, causing him to reevaluate and make positive changes to his game."
With an appeal, it would be Das' job to examine the league's supplementary discipline precedent and whether Bettman was on firm ground in affirming Wilson's 20-game suspension.
The NHLPA has found success in appealing recent rulings to a neutral discipline arbitrator, including the one for Watson and a reduction of Dennis Wideman's from 20 games to 10 games for hitting linesman Don Henderson in 2016, but neither of those suspensions were meted out by the Department of Player Safety.
In the event of an appeal, any ruling from neutral arbitrator Das, would be final.
Contact Frank Seravalli on Twitter: @frank_seravalli