Bettman upholds Wideman's suspension
NHL commissioner Gary Bettman has upheld a 20-game suspension to Calgary Flames defenceman Dennis Wideman for physical abuse of an official in a detailed, 23-page decision. The NHLPA responded by announcing that it will appeal Bettman's ruling to a neutral arbitrator.
Frank Seravalli, TSN Senior Hockey Reporter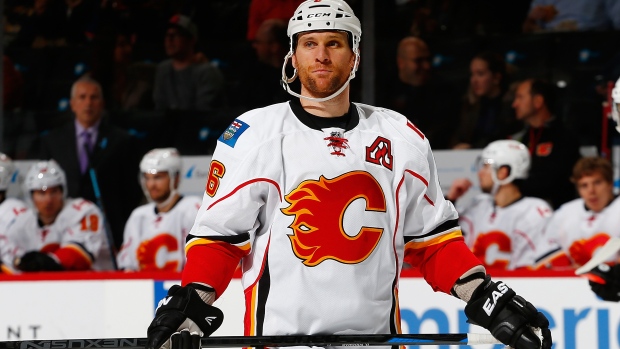 NHL commissioner Gary Bettman upheld a 20-game suspension to Calgary Flames defenceman Dennis Wideman for physical abuse of an official in a detailed, 23-page decision released on Wednesday.
In the document, Bettman refuted the contention that the concussion suffered by Wideman just prior to the incident "rendered him confused and/or physically incapable of avoiding contact" with linesman Don Henderson, and rejected the testimony of two NHL Players' Association concussion experts.
In his conclusion, Bettman affirmed the suspension, saying he did not "see a basis for lesser penalty," given the "severity of the conduct involved." Wideman raised his stick and cross-checked an unsuspecting Henderson from behind on his way back to the bench on Jan. 27.
Bettman also pointed out that he had the authority to impose "a more substantial suspension" and he was "troubled by Mr. Wideman's total failure to accept any responsibility for his actions."
Wideman apologized to Henderson on the ice after the incident and again in a public statement following the issue of his suspension. However, Bettman cited a text message sent by Wideman to a teammate on Feb. 2, after the conclusion of his first disciplinary hearing in Toronto with NHL senior executive vice president of hockey operations Colin Campbell, which he said made Wideman's apologies "ring somewhat hollow."
Wideman wrote to a teammate: "(T)he only problem and the only reason I'm here is cause the stupid refs and stupid media," according to the NHL.
The contents of Wideman's phone were made available to the NHL since both sides were required to "give up responsive and relevant documents" as part of a "discovery process" involved with the case, according to a league source. According to the Collective Bargaining Agreement, Bettman has "the authority to consider any evidence relating to the incident."
The NHLPA announced Wednesday evening that Wideman will appeal Bettman's decision to a neutral arbitrator, an avenue that has never been broached under the three-year-old CBA.
"We are extremely disappointed but not surprised that Gary Bettman upheld the decision of his staff to suspend Dennis Wideman for 20 games," the NHLPA said in a statement. "This decision completely ignores the effects of the concussion that Dennis sustained when he was driven into the boards eight seconds before colliding with the linesman. We will appeal to the Neutral Discipline Arbitrator in order to have this decision overturned."
The NHL / NHLPA's neutral discipline arbitrator is James C. Oldham, a professor of law at Georgetown University, who previously served as a salary arbitrator for Major League Baseball.
In his ruling, Bettman revealed that the NHLPA "did not actually request a reduced suspension, maintaining at all times that no suspension is warranted." Based on their course of action during the six-hour appeal heard by Bettman on Feb. 10 in New York, the NHLPA may argue to Oldham, the neutral arbitrator, that the suspension should be repealed in its entirety.
Wednesday night marks the eighth game served by Wideman during his suspension. He is scheduled to forfeit $564,516.13 in salary to the Players' Emergency Assistance Fund. Each game his ban is potentially reduced by Oldham would be worth $28,225.80.
Under terms of the original suspension, Wideman is eligible to return to the Calgary lineup on March 14 vs. St. Louis.
In addition to Flames GM Brad Treliving, Wideman was represented by NHLPA executive director Don Fehr, special assistants Steve Fehr, Mathieu Schneider and Steve Webb, as well as NHLPA counsel Don Zavelo Roman Stoykewych and David Sinclair, as well as outside counsel Bruce Meyer from Weil Gotshal & Manges.
Bettman's order revealed that the NHLPA objected to present its case first and also objected to the presence of the linesman Henderson, who reportedly suffered a concussion as a result of Wideman's hit, in the hearing, as well as representatives from the NHL Officials' Association including Dan O'Halloran and counsel Andrew Brodkin.
The NHLPA contended, according to the documents, that Wideman was "not responsible for cross-checking the linesman because the player had suffered a concussion seconds earlier."
Two NHLPA concussion experts - Dr. Jeffrey Kutcher, national director of The Sports Neurology Clinic, and Dr. Paul Comper, clinical neuropsychologist at the University of Toronto - testified on Wideman's behalf.
Bettman included verbatim excerpts of the testimony, as recorded in a transcript, and recognized the two doctors as experts in their field, but rejected their assertions because their conclusions were not based on what Wideman's condition "actually was at the time in question, but about what his condition might have been." Bettman said their conclusions were based on "little more than Mr. Wideman's own subjective report of concussion symptoms" since both doctors conducted interviews with Wideman in brief FaceTime videos.
Based on Bettman's question to Dr. Comper in a cross-examination, the NHL also hinted at the possibility that Wideman "certainly had, at least potentially, the motive to exaggerate his symptoms in order to obtain a report that he said he wasn't responsible for his actions."
Bettman's question: "That's at least a possibility, isn't it?"
Dr. Comper's answer: "It's a possibility."
In the end, Bettman said he "did not credit" Wideman's testimony that he tried to avoid Henderson. He also refuted that Wideman lacked "situation awareness," since he "was aware enough to tap his stick on the ice to signal a line change and skate directly to the Calgary bench."
Bettman was left with the "firm view that a significant suspension" was appropriate.
"On-ice officials simply cannot be made the target of a player's frustration or anger," Bettman wrote.
Frank Seravalli can be reached at frank.seravalli@bellmedia.ca.