Bichette, Biggio quietly work to win jobs as Vladdy Jr. basks in spotlight
Two of the Toronto Blue Jays' other top prospects, Bo Bichette and Cavan Biggio, went to work in relative obscurity on the first day of main camp Monday as the Vladimir Guerrero Jr. show took centre stage, Scott Mitchell writes.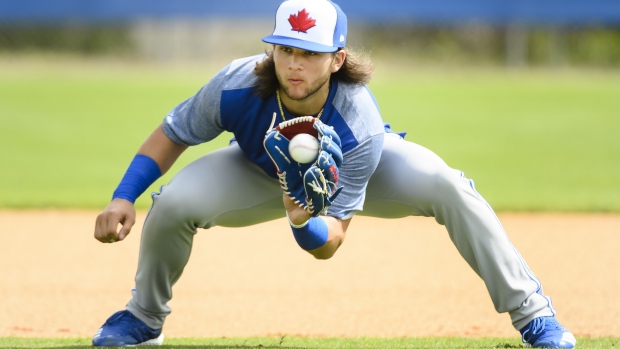 DUNEDIN, Fla. — As the Vladimir Guerrero Jr. show took centre stage once again on the first day of main camp for the Toronto Blue Jays, two of the organization's other top prospects went to work in relative obscurity.
Unlike Guerrero, who knows he'll be in the big leagues at some point in April, Bo Bichette and Cavan Biggio's timelines are less certain.
That doesn't mean the goal is any different this spring, as all three are in major-league camp for the first time.
"The goal is to make the team," Bichette said. "Obviously, I understand the business and the fact the chances are slim, but, for me, it's come out here and just play hard and try to make the team."
If Guerrero wasn't around, Bichette would be the story.
He's a consensus top 10 prospect in baseball, as well, but still overshadowed. That's rare. It's an extremely enviable position that the Jays are in to have two elite prospects at the same time.
With how much the trio has been talked about, it's easy to forget it's their first big-league spring training, and there's a lot that's new about being integrated in with the veterans, both in the clubhouse and on the field.
"It's really cool," said Bichette, whose long, flowing locks have drawn playful attention in the clubhouse. "I think it's a stepping stone, you know? It's something that, last year, I know I was hoping to get the chance and didn't, so this year to get the chance is really cool and I look forward to it."
Bichette is without a doubt earmarked for Triple-A Buffalo, as he continues the process of proving to everyone that he's a shortstop at the game's highest level.
"All they've told me is I've shown everybody I can be a big-league shortstop," Bichette said of the organization's message to him. "That's what I'm hearing and that's what I'm going to continue to do, work at shortstop. I think the next step for me is not only be a big-league shortstop, but to be a really good one, so that's my focus."
Bichette's win-a-job demeanour has impressed manager Charlie Montoyo in the early going.
Never a bad thing for a soon-to-be 21-year-old, who, like Vladdy Jr., carries himself with a professionalism that belies his years.
"The chances of making the club are not great, we all know that, but they're still competing, because you never know," Montoyo said. "Somebody might get hurt and they might get the chance. I talked to Bo today and he's competing like he's going to make the club. The one thing we told him is just, 'Hey, relax, and have fun. This is your first big-league camp.' I'm impressed with the kid. He told me he's competing for a job and that's music to my ears.
I said, 'I wish I was like that, I might have played more than a month in the big leagues.' "
After slashing .286/.343/.453 with 11 bombs and 32 steals at Double-A last season, there's a decent chance Bichette spends a full year at Triple-A.
Biggio, however, could find a path to Toronto this summer thanks to his versatility if he can build off the .252/.388/.499 slash line and 26 home runs he put up alongside Bichette in Double-A last summer.
The Jays are committed to giving Biggio time at his natural second base spot, but he's also played first base and third base in the minors, before the organization sent him to the Arizona Fall League to play the outfield.
"We want him to be the best second baseman he can be, but the one thing about him is he has a good chance to play other places," Montoyo said. "We're going to start him playing second base, so when you see him at first or third, that means he already took a lot of groundballs at second.
"He wants to play everywhere, but we don't want to start saying 'You're not a second baseman' because we want him to be the best second baseman he can be because you never know."
Biggio has embraced it and told the front office he'll play anywhere.
"I think second base mainly and then wherever else they want to throw me," Biggio said of the spring plan. "I think it's still going to be predominantly in the infield, but maybe a game or two in the outfield.
"There's a lot of good players in here and I'm playing a lot of different positions that I haven't really played, besides second base. I just want to pick the brains of some of these guys and learn from them defensively and offensively and even off the field."
A super-utility type like Marwin Gonzalez or Joey Wendle, who Montoyo had in Tampa Bay last season, might be the ultimate outcome, but that's an extremely valuable commodity in today's game.
Positions are becoming less and less important with defensive shifts and metrics that hide a player's deficiencies in the field, and the Jays are going to be one of the teams employing those methods more and more under Montoyo.
Biggio isn't getting ahead of himself.
"I think I'm pretty close (to being major-league ready), but you're going to find more out and the team's plans for you and whatnot over the course of this spring training," Biggio said.
"Your lifelong dream is right in front of your face, and to be in the locker room here in spring training is the first step."​