Big names, declining ice time and trade speculation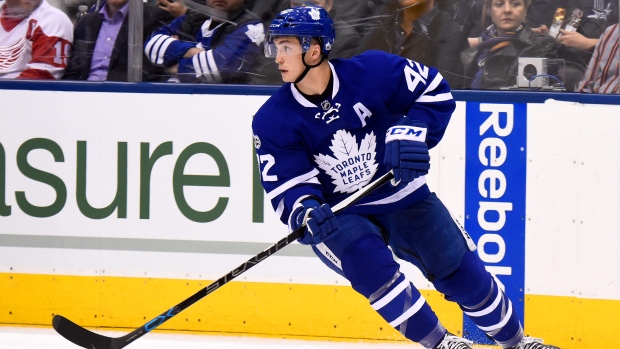 What's the first sign that a player might be falling out of favour with his head coach? If I asked you that question, what would you suggest?
If it was me, I'd take a look at a player's usage and ice time allocation over an extended period. When a coaching staff loses faith in a player, he'll be utilized less on special teams and will start to see fewer minutes at 5-on-5.
On the latter point: When a player loses 5-on-5 ice time, there doesn't always have to be a negative takeaway. Sometimes players lose ice time because other teammates – especially younger players – accelerate their production. Sometimes it's because the coach has found a better spot for a player based on chemistry. Sometimes it can mean the player has been overused. Sometimes it can be just a temporary blip – a trend that will rebound as the season progresses.
So when a player's ice time is eroding, it's not necessarily a smoking gun. But super-talented, highly productive players simply don't see their ice time slip. That's exactly why changes in deployment can be indicative of a guy losing his spot on the depth chart – especially if that change is dramatic.
The number of big names who have seen their ice time consistently move downwards year-over-year in the past five seasons is lengthy – longer than I and perhaps many of you would have realized. For the purposes of this post I've broken it out by position. It's an interesting story on both a local and league-wide level, especially since these sorts of trends can be the precursor to big trades.
Let's start with the forwards. Here, I've taken all regular players who have seen their 5-on-5 ice-time drop in four consecutive years, as well as the average ice time expectations for a first-line forward and a third-line forward for sense of direction.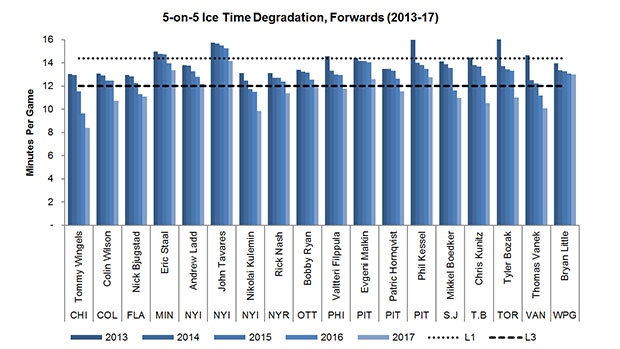 Two things jump off of the page immediately. One: the New York Islanders and Pittsburgh Penguins are well represented here, with three players seeing significant year-over-year changes in ice time. For the Islanders, John Tavares – who has seen steady deployment for years – has played about 1.5 minutes less this season than his career average. It's hard to say if that's telling just yet, but it'll be on a lot of folks' radar because he's a marquee player on an expiring contract. Their big free agent buy in the summer of 2016, Andrew Ladd, has seen his ice time slip to about third-line duty. And Nikolai Kulemin is basically being pushed out of the picture.
Pittsburgh is also interesting. Evgeni Malkin's time has taken a Tavares-like dip in 2017-18, though this could be more energy conservation than anything else. But Phil Kessel is a different story. Kessel went from one of the league's most-utilized players to a guy who is seeing middle-six ice these days. Kessel's name has been curiously popping up in trade talks these days, though his hot start in might be cooling that off a bit.
Outside of those teams, two other names caught my eye: Rick Nash in New York and Tyler Bozak in Toronto. Nash is a fantastic scorer on an expiring contract. Bozak is a respectable scorer also on an expiring contract. (Bozak's situation may even be more dire – he's being relegated into third or fourth-line duty at this point in Toronto, usurped by younger and better talent around him.) What are the odds that one of Nash or Bozak is traded before the deadline? I'd take them, whatever they are.
Let's head over to the defensive side now.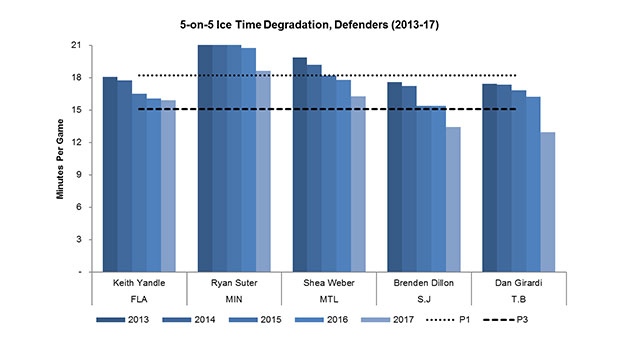 Two of these names make sense right out of the gate. Ryan Suter was perhaps the league's most buried defender in terms of usage. At 32, I doubt Minnesota wants him carrying such a ridiculous load for much longer. He's still a clear-cut first-pairing guy, but I suspect he's thankful for the couple extra minutes he's getting on the bench this season. Dan Girardi is the other name that's obvious. A player post-buyout and on the wrong side of 30, he's being deployed pretty carefully by Tampa Bay.
The other three is where this gets fun. Keith Yandle was not Bob Boughner or Dale Tallon's guy. His ice time had been slipping for some time pre-dating Tallon, but it's hit a five-year low this season. The Panthers have gone heavy on Aaron Ekblad's ice time and have tried to balance the remaining workload between Mike Matheson, Mark Pysyk, and the aforementioned Yandle. I'd keep an eye on this one as the season progresses.
If we are looking at this from a potential trade impact perspective, no name is more interesting here than Brenden Dillon. Dillon has ceded ice-time to Brent Burns, Joakim Ryan, Justin Braun and Marc Edouard-Vlasic. Do the Sharks really want to carry a third-pairing guy signed for $3.9 million AAV through 2019-20? I would bet not. Like the Nash/Bozak combo from before, I'd bet heavily on San Jose looking for a trade partner here.
That brings us to Shea Weber. Look, it's very hard to blame what's happened in Montreal on Weber. As someone who thought Montreal lost the Weber/P.K. Subban trade 10 times over, I think he's been excellent for the Canadiens. But the unfortunate reality is that there are an awful lot of miles on a guy who, at 32, is at his best when teams are protecting leads, not chasing them.