Binnington gaining steam in improbable Calder Trophy quest
The Blues rookie goalie has played a massive role in helping turn his team's season around, but voters will have to decide if he's appeared in enough games to earn consideration for the award, Frank Seravalli writes.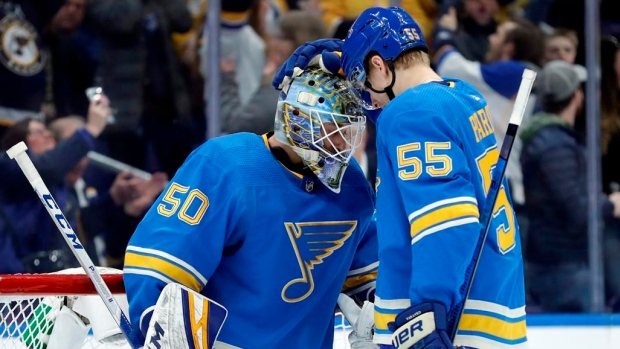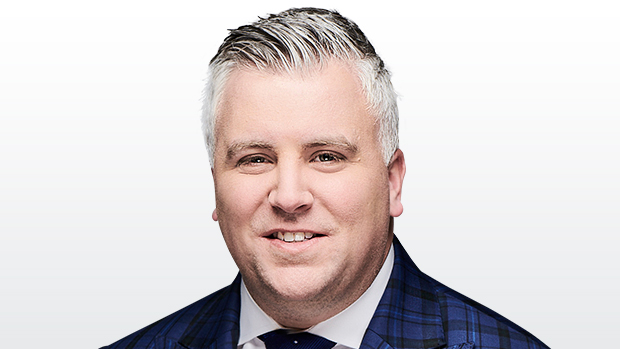 BOCA RATON, Fla. - His teammates in AHL San Antonio used to call him Jordan Winnington.
All Jordan Binnington has done in the NHL is win, bringing the Blues from 31st place on Jan. 8 to nipping at the heels of the Nashville Predators for second place in the Central Division thanks to his 16-3-1 run in net.
Now, can the rookie netminder win one of the NHL's most prestigious awards?
Binnington is up against history – and a stout freshman class led by Vancouver wunderkind Elias Pettersson as well as fellow Swede and Sabres rover Rasmus Dahlin.
However improbable, Binnington has gained traction in the Calder Trophy race for rookie of the year. The 25-year-old didn't make his season debut until Dec. 16 but ranks first in the league in goals-against average (1.80) and second in save percentage (.929).
"He came up, got that first start in Philly [on Jan. 7], got a shutout and he really hasn't looked back," Blues GM Doug Armstrong said this week. "He's given our team a lot of confidence. He's been a huge part of our turnaround."
What voters from the Professional Hockey Writers Association must grapple with is the acceptable number of games played to earn consideration for an award.
Connor McDavid finished third in Calder voting in 2015-16 not because he wasn't the best rookie, but because he was sidelined 37 games with a shoulder injury.
Binnington will likely play fewer games than McDavid missed. The standard of games played is different for skaters and goaltenders, though. Even the best goalies in the NHL rarely play more than 60 or 65 games now.
Binnington has made 22 appearances this season. With 17 games remaining, a solid ballpark is for him to finish with 35 games played, considering the Blues have four back-to-back sets left. That would still be less than half of the Blues' overall games, but almost 85 per cent of the available starts since Jan. 7.
Is that enough?​
Only four rookie netminders have won the Calder in the last 25 years. Hall of Famer Martin Brodeur split the slate with Chris Terreri in 1993-94, playing 47 games, the fewest among the group to take the prize. The three other winners – Evgeni Nabokov (66 in 2000-01), Andrew Raycroft (72 in 2003-04) and Steve Mason (61 in 2008-09) – all averaged 66 games played as rookies.
Binnington has a vastly superior save percentage (.933) to all four. Mason carried Columbus to the franchise's first-ever playoff appearance and could finish with more wins (33) than Binnington ends up with games played.
But none of their teams experienced a turnaround quite like the one Binnington has helped spark, one of the biggest about-faces for any team ever. These are unique circumstances.
A straw poll of Calder voters seems to indicate that those factors would be enough to give Binnington consideration for a Calder vote, but probably not the top spot on the ballot:
TSN analyst Craig Button: "In my opinion, 35 games is a meaningful number for a goalie. If he can play 35 games and continues playing at the level he has been playing at, he will definitely be worthy of a vote. Every consideration should be given to him based on his play."
TSN analyst Ray Ferraro: "He's on the outer edge for me. My vote today would go Pettersson, Dahlin, Miro Heiskanen, then picks four and five are cloudier, but Binnington and Andreas Johnsson would likely be on my ballot. Binnington's steady play quieted the nightly noise around the goal position in St. Louis, and as that quieted, the rest of the team got going, too. That can't be overlooked. But he certainly can't have a fall back late in the season."
TSN broadcaster Chris Cuthbert: "Now that he has enough games played for his stats to officially lead the NHL in goals-against average and save percentage, I've got him under consideration. And he's played enough to lead the Blues charge into playoff position. With a month to go, if his numbers don't falter and the Blues get in, how is he not a strong candidate?"
TSN broadcaster Gord Miller: "My top three are Pettersson, Heiskanen and Dahlin. It's pretty tough to knock one of those out of the top three, but if he keeps going like this, I'll have to consider it."
RDS reporter Francois Gagnon: "Considering the immense value of his contribution, I feel that Binnington already deserves consideration for the Calder even if he did not spend the entire season with the Blues. I don't believe he could climb in front of Pettersson and Dahlin, who are locked in first and second place, but if he maintains his pace I could see him jumping in front of Jesperi Kotkaniemi from Montréal and other candidates for third place."
The Athletic senior writer Craig Custance: "I don't think there's any doubt that he's changed the course of their season, so that has to factor in to the decision. At this point, I think you absolutely have to consider him. It's going to be hard to come up with three other rookies who have had as big an impact on the season of their team as Jordan Binnington has."
This voter's personal opinion is that if Binnington maintains his excellent level of play and the Blues make the playoffs, somewhere near half the season's games played would be enough to warrant a third-place vote behind Pettersson and Dahlin. Binnington shouldn't be penalized for the games missed - he didn't choose to start the season in the AHL.
As for Binnington's candidacy in the eyes of his GM in St. Louis, well, the telltale sign will be whether Armstrong decides his netminder has played enough to earn a vote in the Vezina Trophy race.
"We've got a lot of hockey to go," Armstrong said, laughing. "I'll hold off on answering that one."
Contact Frank Seravalli on Twitter: @frank_seravalli