Blackhawks beat Jets for fourth win in a row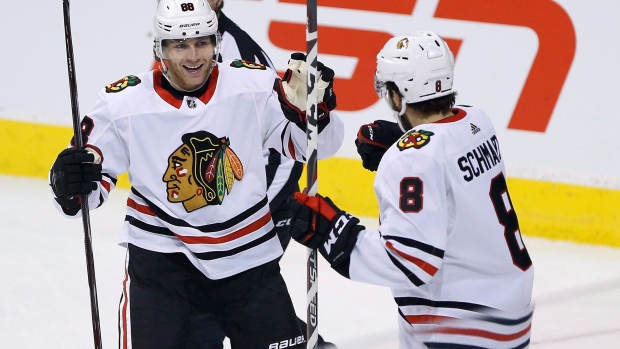 WINNIPEG — Corey Crawford said it was the best game the Chicago Blackhawks have played this season. Teammates Patrick Kane and Nick Schmaltz agreed.
The trio played a big role Thursday as the Blackhawks extended their season-high winning streak to four games with a 5-1 victory over the Winnipeg Jets.
Kane and Schmaltz each had a goal and an assist and Crawford made 27 saves for the Blackhawks (16-11-5).
Vinnie Hinostroza, Tommy Wingels and Michal Kempny also had goals for the visitors, who scored on their first, second and fifth shots of the game.
Crawford described the victory as the team's "best effort" and "best overall game" this season.
"We just played everything great," Crawford said. "Our (defencemen) were solid. We didn't give up that many chances, a lot of stuff to the outside.
"Guys were blocking shots, a lot of great plays offensively. That's definitely a big win for us in the season."
Nikolaj Ehlers thwarted Crawford's shutout bid when he scored a power-play goal at 5:35 of the third period. He has goals in each of his past four games.
The loss ended Winnipeg's string of seven straight victories at Bell MTS Place.
Connor Hellebuyck made 25 saves for the Jets (18-9-5). The netminder had been unbeaten in regulation at home this season (11-1-1).
"They were blocking everything," said Ehlers, who notched his 15th goal of the season. "At times, we waited too long to shoot the puck instead of just getting it to the net, but they were getting set and they were able to get into that shooting lane. So that's something that we need to do better as well."
Chicago led 3-0 after the first period and 4-0 after two.
"That's probably the biggest win this year, coming up against maybe the hottest team in the league," said Kane, who scored his 12th of the season.
"I thought our first two periods were great," Schmaltz added. "Let them back in, I took a penalty there, but (Crawford) made some really big saves for us. Even though it was 5-1, it could have been tighter than that. He made some unbelievable saves as always."
Hinostroza got his team going when he teamed up on a 2-on-1 with Patrick Sharp to beat Hellebuyck at 1:50 of the first period. Wingels scored after a Jets turnover at 6:08 and Schmaltz made it 3-0 midway through the first.
Jets head coach Paul Maurice shuffled his lines after going down 3-0, switching Kyle Connor off the first line and bumping Ehlers up from the second.
"We've got four shots on goal and we're down 3-0. I moved some people around," Maurice said. "I liked Kyle (Connor's) game kind of all around where he played.
"Nik Ehlers has been playing pretty well, that's the fourth game he's scored. He's been skating pretty well. It was fine. It certainly didn't slow us down, but it didn't change the course of events that much."
Kane scored the only goal in the second and Kempny added his first of the season three minutes after Ehlers' marker.
"Tonight was one of those nights where it seemed like the easiest plays were real difficult," Jets forward Adam Lowry said. "We were hitting ref's skates, we were hitting the shafts of sticks and we were missing two-foot, three-foot passes. It caused for a long night."
The Jets travel to St. Louis for a Saturday game against the Blues. Chicago hosts Minnesota on Sunday.