Blackhawks fire head coach Quenneville
The Chicago Blackhawks relieved Joel Quenneville of his coaching duties on Tuesday and named Jeremy Colliton the 38th head coach in franchise history. Quenneville, 60, won three Stanley Cups during his 11-year tenure with the franchise and sits second all-time in career wins by a head coach.
Frank Seravalli, TSN Senior Hockey Reporter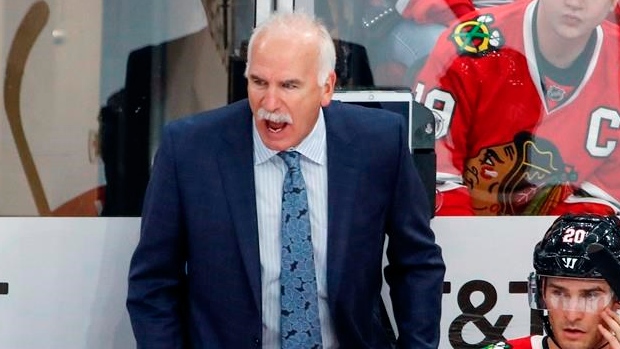 The best NHL coach of his generation is now a free agent.
After delivering three Stanley Cups, including one that vanquished a 49-year drought, the Chicago Blackhawks fired head coach Joel Quenneville on Tuesday, ending one of the all-time great runs by a coach in one city.
Quenneville is one of four men in the expansion era to hoist at least three Cups in one tenure, joining Glen Sather, Al Arbour and the father of the man who fired him, Scotty Bowman.
"This is certainly a very difficult decision. But I believe it is in the best interests of the Blackhawks organization," GM Stan Bowman said in a statement. "We need to maximize each and every opportunity with our playoff goals in mind and create continued growth and development throughout our roster at the same time.
"After much deliberation the last several days, with great respect to what Joel has meant to the Blackhawks, we knew we had to make a change."
Quenneville was replaced by 33-year-old Jeremy Colliton, who is the youngest bench boss in the NHL by a decade. Barry Smith, a 66-year-old longtime Scotty Bowman assistant, will join Colliton on the bench. Assistant coaches Kevin Dineen and Ulf Samuelsson were also fired.
Quenneville, 60, had one more full season remaining on his deal at $6 million, which made him the second-highest paid coach in the league behind Toronto's Mike Babcock.
The man known for his fiery competitive streak and legendary mustache, Quenneville was the NHL's longest-tenured coach by a wide margin. Tampa Bay's Jon Cooper, now the title holder, was hired on March 25, 2013 – nearly five full years after Quenneville first stepped behind Chicago's bench.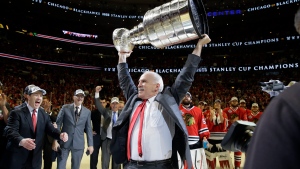 Chicago was the laughing stock of the NHL then. They played in a cavernous, half-empty United Center and had made the playoffs just once in the previous 10 seasons. Quenneville was replacing a franchise legend in Denis Savard who was canned just four games into the season.
It almost seems unimaginable, considering that the Blackhawks became the toast of the town, that the NHL barely registered a blip on the radar of the third biggest city in the United States before 'Q' arrived.
Quenneville nurtured Jonathan Toews and Patrick Kane, who were 20 when he was hired, and was the constant presence as the salary cap demanded significant changes around the team's four pillars, including Duncan Keith and Brent Seabrook.
Along the way, he rose to second all-time in NHL wins (890) behind only Scotty Bowman, with a record of 452-249-96 (.627) in Chicago.
"During his tenure as head coach of the Chicago Blackhawks, Joel brought the city of Chicago and our fans three Stanley Cups and an incredible era of hockey … He went beyond what anyone expected," Blackhawks owner Rocky Wirtz said in a statement. "As difficult as that [Savard] decision was, this one was tougher. But as we look to a future history not yet defined, we believe the change we made today will provide the Chicago Blackhawks a critical element in achieving our goals of championships in the future, including this season."
The writing was on the wall for Quenneville over the last couple years. There was apparent friction between Quenneville and Bowman, bubbling to the surface when Quenneville's longtime assistant Mike Kitchen was fired in 2017 after a first-round sweep by the Nashville Predators.
It was Dale Tallon who hired Quenneville in 2008 at the urging of then assistant Marc Bergevin, not Bowman, who rose to general manager in 2009.
Missing the playoffs last spring for the first time with the Blackhawks further warmed speculation about Quenneville's job security. The Hawks (6-6-3) lost three straight before the decision was made.
It's only fitting that the Blackhawks and Los Angeles Kings fired their coaches within days of each other, a reminder of an era now in the rear-view mirror, as those two titans of the West accounted for five Stanley Cups between 2010 and 2015.
"The Chicago Blackhawks front office has made the decision to release Joel Quenneville from his head coaching duties, doing so with my full support," Wirtz said in a statement. "As Chicago Blackhawks fans have seen over the last decade, this organization no longer shies away from making tough decisions or ones based on emotion. Those days are long behind us."
In Colliton, the Blackhawks now have a head coach who is the same age as Seabrook, one of their aging stalwarts. It's a jarring change, from old dog to young pup.
Colliton last played in the NHL in 2010-11 with the New York Islanders.
He finished his playing career with Mora IK in Sweden, where he then spent four seasons as head coach and led them to a promotion to the top-level Swedish Hockey League before becoming head coach of the AHL's Rockford Ice Hogs in 2017. Colliton helped Rockford to the Western Conference final of the Calder Cup playoffs last season.
He'll have larger-than-life shoes to fill.
Suddenly, the temperature on coaching hot seats ratcheted up Tuesday, with Quenneville being the coach that just about every franchise must take a second to at least consider as a potential upgrade. The Montreal Canadiens acted quickly in Feb. 2017 when they fired Michel Therrien to scoop up Claude Julien less than 48 hours after he was fired in Boston.
Could Quenneville return to where it all began in St. Louis? Will he head to the beach if the Kings open a more comprehensive coaching search? Or will Quenneville take time to pause and enjoy more time at the horse track?
After three Stanley Cups, the answer is Quenneville will be out of work for exactly how long he wants to remain out of work.
Contact Frank Seravalli on Twitter: @frank_seravalli