Blackhawks hurting after cap moves
Barely a month after winning their third Stanley Cup in six seasons, the Chicago Blackhawks hinted they're experiencing greater-than-expected pain inflicted by the NHL's salary cap.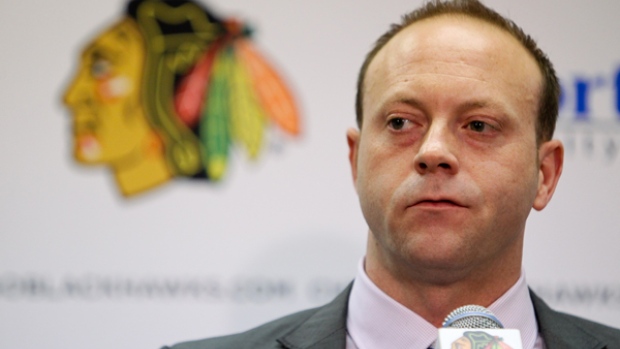 CHICAGO - Barely a month after winning their third Stanley Cup in six seasons, the Chicago Blackhawks hinted they're experiencing greater-than-expected pain inflicted by the NHL's salary cap.
Even if the league's most resilient, successful team of the past decade has endured forced player turnover before, the Blackhawks are struggling to conceal the hurt.
Six players who skated in Chicago's six-game Stanley Cup Final win over Tampa Bay in June have already moved on as general manager Stan Bowman tries to squeeze in under the NHL's $71.4 million cap for 2015-16 when contract extensions — with annual salary cap hits of $10.5 million — kick in for stars Jonathan Toews and Patrick Kane.
The Blackhawks also had a "bonus overage" of about $750,000 last season, Bowman said. That amount is deducted from the maximum the Blackhawks can spend in 2015-16.
Due mainly to the NHL's hard compensation ceiling, Chicago shed 10 players within weeks after hoisting the trophy in 2010. Five shipped out in short order in 2013 after the Blackhawks won the title.
This time, some departures seem to sting more than usual, coach Joel Quenneville and players said before the opening of the team's annual convention.
"You go back to 2010 we lost a significant part of our team," Quenneville said Friday night. "We were more fortunate in 2013, this year we've seen a few guys ... not just (Patrick Sharp) and (Brandon) Saad who were big parts of our team and played in all situations."
Sharp, a left wing who played 10 seasons in Chicago was traded to Dallas last week for defenceman Trevor Daley and forward Ryan Garbutt. Although the 33-year-old left wing and his $5.9 salary cap hit were expected to move, Blackhawks players said that didn't make Sharp's departure easier to take.
Bowman had said keeping the 22-year-old Saad, a restricted free agent and budding star, was a priority. But with contract talks at a stalemate on the eve of NHL free agency on June 30, he shipped Saad to the Columbus Blue Jackets as part of a seven-player trade rather than potentially lose him with no compensation.
"I think we were all surprised," Quenneville said. "We were talking at the end of the season that he wasn't going to be part of it going forward. He played huge in big games down at the end of the season for us. Not too many players possess the upside that he has."
Defenceman Johnny Oduya, who like Saad also played a key role on the 2013 and last year's Cup-winning squads, signed as a free agent with Dallas earlier this week.
"I think the quality of what those players have meant to our locker room was a lot," Toews said. "Those are three guys were proven winners and have been a huge part of this team for years, so the challenge is we've got our work cut out for us."
"Especially when you win a championship with those guys and to have it all kind of come crashing down moments after, it's not fun."
Also gone are defenceman Kimmo Timonen, who had planned to retire, and free-agent centres Brad Richards and Antoine Vermette.
Toews and his teammates say they'll shake it off and bounce back — again.
"We still have a lot of talent, a lot of character on this team and we can find ways to let other players come in and assume more responsibility and that culture's not going to change," Toews said. "We're going to strive to keep winning."
Artem Anisimov, the main acquisition in the trade with Columbus, is expected to fill in as the No. 2 centre behind Toews. Quenneville expects the 6-foot-4 Russian to "get quality ice time and play with everybody."
Kane looks forward to developing chemistry with Anisimov, who signed a five-year deal with Chicago one day after the deal.
"He's a big smart, two-way centre, left-handed shot, he's kind of the ideal centre for someone like myself," Kane said. "He's also got the skill, too."
Daley, 31, is coming of his best offensive season with 16 goals and 38 points, and believes he'll fit in with Chicago's up-tempo, puck possession game.
"Obviously when you look at the talent that's around here, you get excited about thinking about what you could do with these guys," Daley said. "You come to a great team that's coming off a high, so I hope to jump on that and ride it however I need to."
Quenneville expects Garbutt to fit in and has high hopes for 20-year-old forward forward Marko Dano, a first-round pick in the 2013 draft who came from Columbus as part of the trade for Saad.
"I know the people in Columbus were excited about the upside," Quenneville said.
Quenneville added that Blackhawks top prospect Teuvo Teravainen may shift from the wing to centre. The wispy 20-year-old seemed increasingly confortable this year's Cup run.
"I'm looking forward to next year," Tervainen said. "It's going to be a biggger year for me. Now I've got some experiene and have some time to work with my body and get stroner.
Bowman isn't done yet. A priority is to resign restricted free agent centre Marcus Kruger, and more deals might still be coming.
"There's a few different scenarios that we have prepared for and contemplated, but we don't have it quite ironed out yet," Bowman said. "We're still working on some things and we're going to look at ways to improve our team."