Blackhawks trade D Hjalmarsson to Coyotes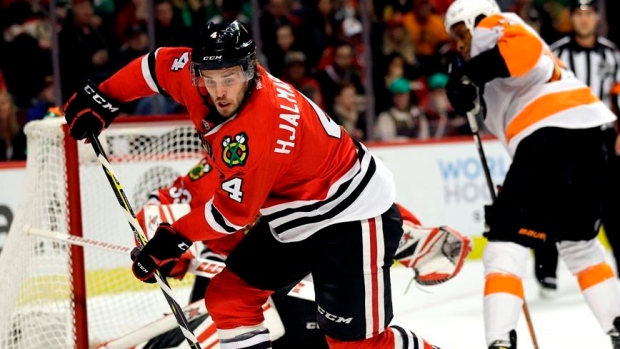 The Chicago Blackhawks have traded defenceman Niklas Hjalmarsson to the Arizona Coyotes for defencemen Connor Murphy and Laurent Dauphin.
Hjalmarsson, 30, scored four goals and added 13 assists in 73 games last season. He was held without a point in four playoff games.
A veteran of 623 NHL games, Hjalmarsson has recorded 23 goals and added 120 assists in his career. He is signed through the 2018-19 season at a cap hit of $4.1 million.
Hjalmarsson has spent his entire career in Chicago since being selected in the fourth round of the 2005 NHL Draft. He won three Stanley Cups with the Blackhawks and has appeared in 128 career games in the playoffs.
Murphy, 24, was selected 20th overall by the Coyotes in the 2011 draft. He has appeared in 258 games with the Coyotes over the past four seasons.
Last season, he scored two goals and added 15 assists in 77 games. In total, he owns 13 goals and 49 points in his NHL career.
Murphy is signed through 2021-22 at a cap hit of $3.85 million.
Dauphin was a second-round pick of the Coyotes in 2013. He split time this season between the Coyotes their AHL club, the Tucson Roadrunners.
Dauphin scored two goals and added an assist in 24 games with the Coyotes this season and scored 17 goals and posted 28 points in 38 games at the AHL level.
He has one year remaining on his entry-level contract.
TSN Hockey Insider Pierre LeBrun reports no salary was retained in the trade.