Blue Jays sweep Rangers, advance to ALCS
Josh Donaldson scored on a throwing error as the Toronto Blue Jays beat the Texas Rangers 7-6 in 10 innings to complete the three-game sweep of the American League Division Series.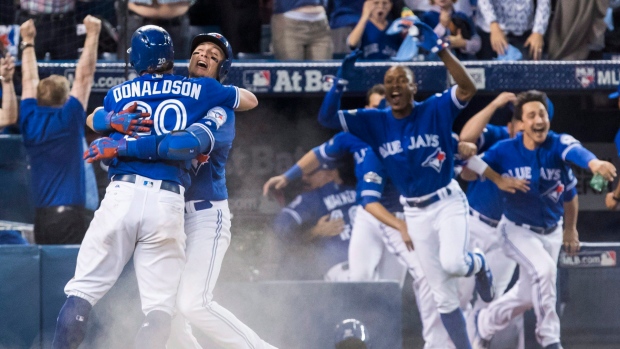 TORONTO — The Toronto Blue Jays have driven another dagger deep into the heart of Texas, this time thanks to Josh Donaldson's wild dash from second base on an errant double play throw by Rangers infielder Rougned Odor.
Tied 6-6 after six innings on Sunday in Game 3 of the American League Division Series, both bullpens had been putting up a string of zeros. Donaldson opened the 10th with a double off hard-throwing Matt Bush and Edwin Encarnacion was intentionally walked, cranking up the noise in a sold-out Rogers Centre.
After Jose Bautista struck out, Russell Martin — in an eight-pitch at-bat — hit into what seemed to be an inning ending-double play. But Odor bounced the throw to first, drawing Mitch Moreland off the bag, and a diving Donaldson beat Moreland's desperate throw to home.
Donaldson has been nursing a sore hip, among other knocks, but made like Usain Bolt around the bases before flinging himself headfirst at the plate.
"When you have 50,000 fans screaming it, kind of numbs the pain a little bit," he said afterwards. "It gives you that little extra jolt of adrenaline."
The Jays' wild celebration was put on hold briefly as the Rangers, in a Hail Mary, challenged Encarnacion's slide at second. It was dismissed but it kept everyone waiting.
"Anti-climactic is the word," said Martin. "You're kind of just waiting. Celebrate, we think we won, and then they challenge the play and you're like: 'Oh gosh, let's not have a technicality kind of ruin this moment for us right here.' And it didn't, gratefully. But it was a little bit of a buzz-kill at the time."
Toronto will open the AL Championship Series on the road Friday in either Boston or Cleveland, benefiting from some much-needed days off first.
It was a wild ending to a white-knuckle ride of a game with Texas, the top seed in the American League, fighting tooth and nail to extend its season one more day. But the Jays were equally determined. In three of the four innings the Rangers scored, Toronto answered with runs of its own.
Perhaps it was fitting that Donaldson and Martin lit the 10th-inning fuse. Jays manager John Gibbons says they, along with shortstop Troy Tulowitzki, have brought a hard edge to the club.
"They made a big difference, because you can have a ton of talent, but if you don't have some toughness, some gamers and some guys that are really motivated every day to win, you know, you come up empty," Gibbons said.
The Rangers took an early 1-0 lead but refused to fold when the Jays pulled ahead. Texas came back from 3-1 and 5-2 deficits and briefly pulled ahead 6-5 in its half of the sixth. The Jays tied it in the bottom of the sixth on a passed ball with the bases loaded.
Rangers manager Jeff Banister credited Donaldson for some heads-up base-running, but seemed to wonder what might have been.
"Got the play we wanted, a double play ball," he said. "Good feed to Odor. Just looked like he might have pulled the throw a little bit. Mitch reached down to try to keep it in play, got away from him a little bit and was unable to recover and make a throw to home plate."
The Rangers finished the regular season at 95-67. Only the Chicago Cubs (103-58) had a better record in the majors.
In 2015, Toronto rallied from an 0-2 deficit to win the ALDS in five, with Bautista's dramatic three-homer the coup de grace. But the Rangers could not pick themselves off the floor like the Jays had done a year ago
Texas didn't help its own cause this time, giving up the final two runs on a passed ball and Odor's error. Toronto fans will take no small satisfaction in that, given Odor has been the Hatfield to Bautista's McCoy after slugging the Toronto outfielder with a right hook to the face in May after taking umbrage at a hard slide.
Encarnacion and Martin homered for Toronto. Elvis Andrus and Odor homered for Texas, which had failed to reach the fences in the first two games of the best-of-five series.
It sparked the Jays' third celebration, following hoedowns for winning a wild-card berth and then beating Baltimore to make the ALDS.
This one was another wild and wet affair, with goggles, champagne and beer.
Catcher Dioner Navarro escaped the clubhouse to return to the field and light a big cigar, blowing out smoke like a steel foundry.
Jays starter Aaron Sanchez exited with two outs in the sixth after his fourth walk of the game. The Toronto ace was not his normally crisp self, giving up six runs on three hits with five strikeouts in 5 2/3 innings. His 92-pitch outing that featured 53 strikes.
Rangers starter Colby Lewis managed just six outs, giving up five runs on five hits with two strikeouts in a 42-pitch performance that opened the door to the Jays rather than slam it shut as Texas had hoped.
Four Toronto relievers gave up just one hit between them through the 10th, retiring 13 in a row included six by closer Roberto Osuna. The Rangers bullpen limited Toronto to one unearned run through the ninth, with Bush striking out four in two innings.
The sellout crowd of 49,555 was up for it from the get-go under the roof, chanting "Let's Go Blue Jays" before Sanchez threw his first pitch under the roof.
But eight of his 11 pitches were called balls and an opening five-pitch walk to Carlos Gomez came with a cost as he stole second and scored on a pair of groundouts. It was the Rangers' first lead of the series.
The Jays answered quickly. One out after Ezequiel Carrera's single, a big swing by Encarnacion sent his bat flying into the stands. One pitch later so did the ball, which left Encarnacion's bat at 105 m.p.h and travelled 395 feet into the second deck in left field. Martin, notching his first hit of the post-season, added a 378-foot solo shot to left one out later for an early 3-1 lead.
Martin becomes the fourth player to hit a post-season home run with four different teams, joining Ron Gant, John Olerud and Reggie Sanders.
Andrus ended the Rangers' long ball drought with a 411-foot drive to left-centre on a 1-0 pitch to open the third.
Carrera singled to start the bottom of the third, coming home on Donaldson's ground-rule double to right. That chased Lewis. Encarnacion then singled Donaldson home for a 5-2 lead.
One out after Sanchez walked the first batter of the fourth, Odor cut the lead to 5-4 with a two-run shot that travelled 419 feet deep to centre.
Sanchez seemed to have found his groove by striking out the side in the fifth. But a two-out walk and single in the sixth ended his night and cost the Jays. Moreland brought both base-runners home for a 6-5 lead with a double off reliever Joe Biagini's second delivery with a ball deep to centre that a diving Kevin Pillar just missed.
Toronto countered in its half of the sixth by loading the bases with one out on Tulowitzki's single, pinch hitter Melvin Upton's double and Pillar's intentional walk. Reliever Keone Kela, the third pitcher used in the inning, induced Darwin Barney to pop up in foul territory but Tulowitzki scored on a pass ball to tie it at 6-6.
Toronto won on better pitching and more timely hitting. The Jays hit .563 (9 for 16) with runners in scoring position in the first two games of the series. They were 2-for-7 Sunday night.
Coming into the game, Toronto had outhomered Texas 6-0 in the series with six different Jays swinging for the fences. Martin made it seven Sunday. Twelve of Toronto's 22 runs in the series came via the long ball.
The Jays ranked third in the AL this season with 221 homers, six more than the fifth-ranked Rangers.
___
With files from Gregory Strong.
Follow @NeilMDavidson on Twitter