Blues sign coach Hitchcock to one-year deal
The St. Louis Blues have signed coach Ken Hitchcock to another one-year deal. The 64-year-old Hitchcock says it will be his final season.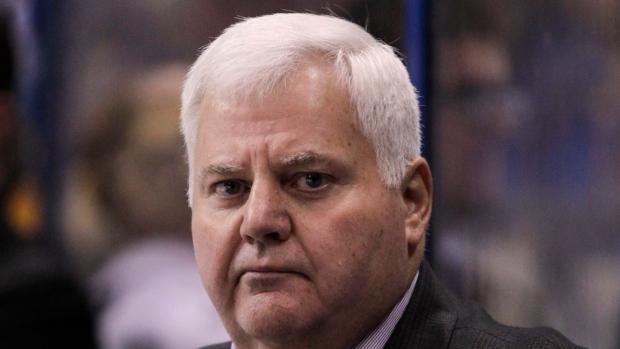 ST. LOUIS — Ken Hitchcock has another one-year deal to coach the St. Louis Blues. The 64-year-old says this one will be his last.
Hitchcock said he plans to retire from coaching after this season because he's not willing to put in the necessary off-season preparation.
"This is it, so I'm done," Hitchcock said Tuesday, then joked, "I might move over to the media, we'll see."
Hitchcock will be entering his sixth season with the Blues and 20th season as a head coach, including a Stanley Cup championship with Dallas in 1999 and a Cup finals appearance with the Stars in 2000. During that time, he has guided the franchise to four of its top five regular-season point totals. The Blues are coming off their first appearance in the Western Conference finals since 2001, ending a string of three consecutive first-round playoff exits.
"Ken did a fabulous job in my opinion," said general manager Doug Armstrong, seated at a table next to Hitchcock. "We had a lot of adversity that we haven't had in the past. We got a lot of miles out of a lot of players that we weren't expecting."
Hitchcock said committing to just one more season could allow him to be more "unguarded" in his views. He added that he wanted no part of a farewell tour, but he was clearly excited about coming back one more time.
"I just feel like I've got this really good year in me," Hitchcock said. "This season has invigorated me like no season before."
He added: "When you break through the ceiling, the potential is unlimited. I think we have another gear in us and I want to be part of that."
One assistant, Brad Shaw, declined an offer to return for the final season. Armstrong said another assistant, Kirk Muller, could be a contender to succeed Hitchcock. Muller was head coach of the Carolina Hurricanes from 2011-14.
But that speculation is for later. Armstrong emphasized Hitchcock was not returning to "caddy" and was "still going to hit the shots."
"Since the day he walked through this door, we win two out of every three games," Armstrong said. "Digest this for a second."
The Blues piled up 107 points last season, then eliminated the defending Stanley Cup champion Chicago Blackhawks and the Central Division champion Dallas Stars in the playoffs. They lost to San Jose in six games in the conference finals, a step slow to the speedy Sharks.
Under Hitchcock, St. Louis has finished first or second in the Central every season. He's fourth in NHL history with 757 regular-season wins.
Armstrong said the top off-season priority will be signing restricted free agent forward Jaden Schwartz to a long-term extension. If that doesn't happen and Schwartz gets a one-year deal, it could open payroll that would allow them to retain captain David Backes and/or fellow forward Troy Brouwer, both unrestricted free agents. Brouwer is 30 and Backes, who has been with the team a decade, is 32.
Armstrong, while acknowledging Backes' value, pointed out the age and added that the league overall has gotten faster.
"I think David's got a number of good years left, I'd love to keep him here," Armstrong said. "But it has to work out for David and his family, and it has to work into our math equation."
Armstrong said he'd have no problem with goalies Brian Elliott and Jake Allen, both under contract, battling for the No. 1 job again next season.
The general manager dismissed rumours of friction with star forward Vladimir Tarasenko, who scored 40 goals in the regular season and was a force the first two rounds of the playoffs before getting shut down by the Sharks.
"I've never felt it," Armstrong said. "I have zero issues he's not 100 per cent committed."
Tarasenko declined to talk to media last weekend, saying he was too disappointed. On Tuesday, he said fatigue had not been a factor in his falloff.
"It's a bad experience, but it's still experience for us," Tarasenko said. "You know now what it takes to go this deep."
Armstrong and Hitchcock had nothing critical to say about Tarasenko's play.
"Vladdy didn't have a good Game 5, but neither did a few other players," Hitchcock said. "But he was our best forward in Game 4 and 6, by a mile."