Blues' Steen to miss rest of training camp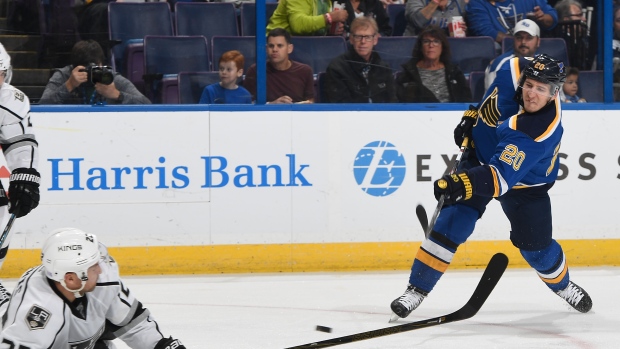 St. Louis Blues veteran winger Alexander Steen will miss the rest of training camp after suffering a left hand injury Tuesday night in a preseason game against the Dallas Stars, the team announced on Wednesday.
The 33-year-old will be re-evaluated in three weeks.
Steen joins forward Zach Sanford (shoulder) and defenceman Jay Bouwmeester (ankle) on the Blues' injury list. Sanford will need surgery on his dislocated left shoulder and will be out for 5-6 months while Bouwmeester will be re-evaluated in three weeks with a left ankle fracture.
Steen scored 16 goals and added 35 assists over 76 games with the Blues in 2016-17, his ninth year in the league.
The left winger, who was selected 24th overall by the Toronto Maple Leafs in the 2002 NHL Entry Draft, has 213 goals and 319 assists over 822 career games with the Leafs and Blues. He has 31 points (13 goals and 18 assists) over 61 career playoff games, all with the Blues.