Bobrovsky playing his way to Carey Price-level cash
Sergei Bobrovsky is the best goaltender still standing in the Stanley Cup playoffs and he's making Columbus a credible Cup contender. 'Bob' is earning every dollar, solidifying the pending free agent's reputation as a clutch, big-money netminder, Frank Seravalli writes.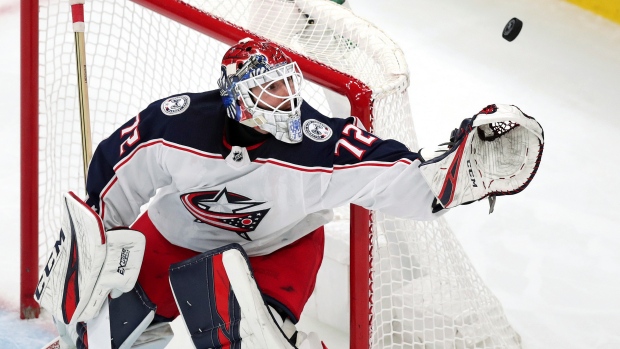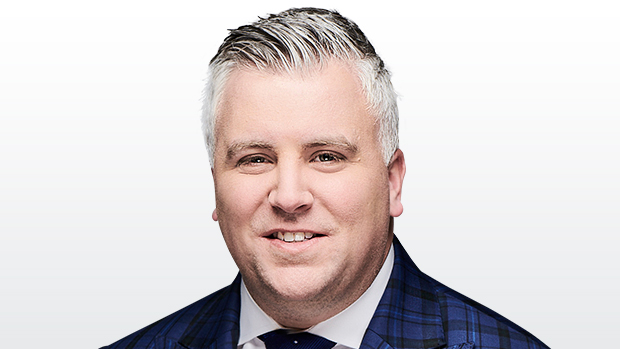 BOSTON — Seth Jones described Thursday night's first period against the Bruins as "an all-out assault," a barrage of shots blistered from every direction.
In other words, pretty much exactly what you expected for the Columbus Blue Jackets following an eight-day layoff, opposite a Bruins squad essentially playing Game 8 of the first round.
But Sergei Bobrovsky was on the case.
The shot clock kept climbing. 7-1, 9-1, 10-1 in favour of the Bruins.
There was Bobrovsky flexing like Gumby and flicking away Bruins shots with his pads like pinball flippers. He was the Blue Jackets' one beneficiary of the rest, saying he used the time off to work on technique and facets of his game he otherwise wouldn't be able to focus on at this time of year.
The results were evident. He was the only reason a rusty Columbus wasn't in a four-goal hole in the opening frame – the best best player on the ice in a 3-2 overtime loss in Game 1 at TD Garden.
"He gave us a chance, then we found our game," Blue Jackets coach John Tortorella said. "We just couldn't finish the game."
Bobrovsky made 34 saves on 37 shots before being bested by Boston product Charlie Coyle in the extra session. It was the Blue Jackets' first loss of the postseason, putting them in a 1-0 series hole to kick off this Eastern Conference semifinal, but there didn't seem to be a hint of panic in their dressing room postgame.
"It's a tough one, we had the lead," Bobrovsky said. "But it's playoff hockey. It's a long series. It's not about one game."
In this wide open chase for Lord Stanley, Bobrovsky is the best goaltender still standing. He almost stole Game 1. That steal-a-series capability instantly makes Columbus a credible Cup contender.
Bobrovsky, 30, has a .944 save percentage since allowing the third goal in Game 1 to Tampa Bay. His save percentage in the final nine starts of the regular season was .951.
After a disastrous first five months to the season, the pending free agent has not only slayed his personal playoff demons – but is playing his way to Carey Price-level cash this summer.
"He made three saves in this game that should have been goals, and would have been goals on just about any goalie in this league," said Brian Boucher, who called Game 1 from between the benches for NBC Sports.
Boucher was Bobrovsky's first partner in the NHL with the Philadelphia Flyers in 2010-11. They talked in hand signals that year, because Bobrovsky couldn't speak a lick of English. But Boucher, in the twilight of his career, figured out quickly that Philly's starter's net would soon belong to the 22-year-old undrafted free agent.
"I knew the first time we skated, before the season even started. I pulled [goalie coach] Jeff Reese aside and I said 'uh-oh, I'm in trouble,' " Boucher said. "We both kind of chuckled. He was still wearing all of this makeshift, Russian gear. But I knew this guy was the real deal. He's one of the hardest working goalies I've ever seen."
Boucher said Bobrovsky is the top goalie still standing in these playoffs not because of his pedigree as a two-time Vezina Trophy winner, but because of the way he plays.
"For me, Bob's at another level," Boucher said. "His athleticism, his flexibility, his agility – he's got something that a lot of guys don't have. [Andrei] Vasilevskiy is the other guy that has it, but he's gone. I think [Ben] Bishop is great, but I wonder if he's the beneficiary of that [defensive] system."
Bobrovsky relied on that athleticism early and often on Thursday night.
"He's never out of a save, back door or whatever," Jones said. "He'll make a third, fourth, fifth save. Whatever the case is, he's going to battle to the end."
All of which begs the question: What will Bobrovsky bag this summer?
'Bob' was already the third-highest paid netminder in the NHL this season at $7.425 million. As he inches closer toward Price's record $10.5 million, so much will depend on the market.
Because realistically, there aren't many teams searching for a starter this summer. The Florida Panthers are reportedly salivating for a shot at Bobrovsky. Then there is Calgary, but the Flames don't have the cap space. New Jersey and Vancouver have the cap space, but maybe not the roster to entice him – same with Ottawa, where the Senators will have to spend to get to the cap floor.
In any normal summer, Bobrovsky would be in the running to be the No. 1 available player on TSN's Free Agent Frenzy list, but he may not even be the No. 1 free agent on his own team with Artemi Panarin also set to hit the market.
But before he gets to market, Bobrovsky has unfinished business in Columbus, where he has flipped the one negative narrative about him on its head.
He's earning every dollar, solidifying his reputation as a clutch, big-money netminder.
"I feel good. I feel comfortable," Bobrovsky said. "It's going to be a long series."
Contact Frank Seravalli on Twitter: @frank_seravalli