Boedker: 'I'm just a regular guy with bigger legs'
Ottawa Senators forward Mikkel Boedker says he's used to being treated as a freak of nature when his new teammates first lay eyes upon his enormous quadriceps. Just don't ask him if he has a hard time buying pants off the rack, Ian Mendes writes.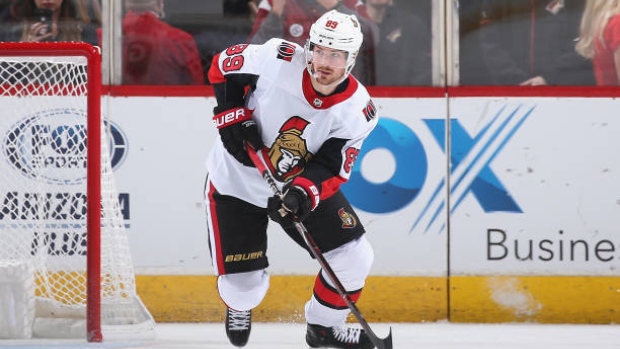 When Mikkel Boedker broke into the NHL as a teenager with the Phoenix Coyotes in the 2008-09 season, his teammates noticed an abnormality with his physique.
Hockey players are known to have large quadriceps, but Boedker's makeup was like something no one had ever seen inside an NHL dressing room. Like a typical 19-year-old, he hadn't quite filled out yet – except for one specific part of his body.
"We used to say it looked like he was a balloon animal and they only blew up his thighs," said his ex-teammate Keith Yandle, with a laugh. "And the rest of his body – they forgot to blow it up."
Fast forward more than a decade later and, while the rest of the 28-year-old Danish forward's six-foot, 210-pound frame has filled out, teammates are still fascinated by the size of his thighs.
"People see him and they do a double take. It looks like two people have been like formed together," says Dylan DeMelo, who has been Boedker's teammate with both the San Jose Sharks and Ottawa Senators. "Maybe it's his genes. I'll have to see his old man when he comes out here."
While DeMelo is inquisitive about his genetic makeup, many of Boedker's new teammates in Ottawa are more curious about his jeans. They're convinced he can't purchase pants off the rack.
"I was actually thinking about this the other day when I was jean shopping online," says Mark Borowiecki. "The only jeans this guy could wear would be boot cut. He couldn't buy anything with an ankle taper on them."
"I remember the first time I saw him I thought, "How does this guy buy a pair of pants?" That was honestly the first thing that popped into my head," said Zack Smith, whose locker stall is directly next to Boedker's.
"I wouldn't want to go pant shopping with him if I was his wife, it would probably take a long time," adds DeMelo. "If I have a hard time finding pants, I'd imagine he'd have a little difficulty."
For his part, Boedker downplays the notion that he needs to buy specially tailored clothes.
"It's nothing crazy like that," Boedker said. "I just find a brand and a go with it. I'm just a regular guy with bigger legs."
His teammates, however, don't buy his story.
"He has to be lying. I'm not sure why he's feeding us that lie," Chris Tierney said. "There is no way he can fit into regular pants."
"I wouldn't buy it. I think he definitely has to go to a tailor," added Colin White. "I think he's messing with you."
Bobby Ryan offered a theory of what Boedker is doing in order to find pants that fit him properly.
"There's absolutely no way he's not tailoring every pair of pants he buys – unless he's buying a size-40 waist and then tailoring the rest to fit him," Ryan said.
Yandle recalls Boedker doing something similar when they were teammates with the Coyotes.
"He would have to buy 38-inch-waisted jeans – he was probably a 32-inch waist – and then tie up his belt real tight," said Yandle.
Wherever Boedker has played, his thighs become an immediate topic of conversation – often serving as an ice breaker with new teammates.
"When he got traded to us in San Jose guys were talking right away, 'Have you seen this guy's thighs and legs?'" recalls Tierney, who has also been his teammate in both San Jose and Ottawa. "And then here in Ottawa, guys were talking about it right away. We still joke about it. I think wherever he goes from here it's going to be a topic of conversation."
Borowiecki recalls Boedker's thighs being a part of a conversation this past summer when he and his wife, Tara, went for dinner with Kyle Turris and his wife, Julie.
"Kyle had played with him in Phoenix and the first thing I asked him was about what [Boedker] was like. And he said, 'He's a great guy and his legs are huge.' That's one of the first things I heard about him. Then when I saw him in person, I was still in disbelief," says Borowiecki. "His legs are disgusting – but disgusting in a truly envious way."
Now in his 11th NHL season and with his fourth different team, Boedker says he is accustomed to being treated as a freak of nature when his new teammates first lay eyes upon his enormous quadriceps.
"It happens all the time. Obviously a lot of people if they haven't met me or seen me before, they're going to be quite surprised," says Boedker. "I've heard most of the comments that come along with having big legs."
Boedker declines to mention exactly how big his legs are, claiming he's never measured the circumference of his upper thighs.
"How big are your legs? I don't know. They're just my legs," he chuckles, saying that he always hears that question. "But it's always fun to see new teammates react."
Boedker admits that he has never seen a hockey player with bigger thighs than him – although he was once fascinated by the size of one athlete's quadriceps. He's spent time working out with Olympic cyclists in the past and did a session with German cyclist Robert Forstemann in the summer of 2016.
"It was the most insane thing I've ever seen. It's like how some people are with me," Boedker said.
With legs of this size, another question that comes to mind is how much weight could Boedker squat? Unfortunately, we may never know the answer.
"We don't really do squat contests, we're too busy for that. But I would hope and trust myself that I would be near the top," says Boedker.
His teammates all have a sense of curiosity about how much he could squat if he was given the chance.
"I think he would blow anybody out of the water if it came to a squat competition," said Smith.
"Obviously he must squat a ton," added DeMelo. "I don't know what's in the water over there in Denmark. His legs are definitely the biggest I've ever seen."