Bolts' Brown may raise fist for anthem tonight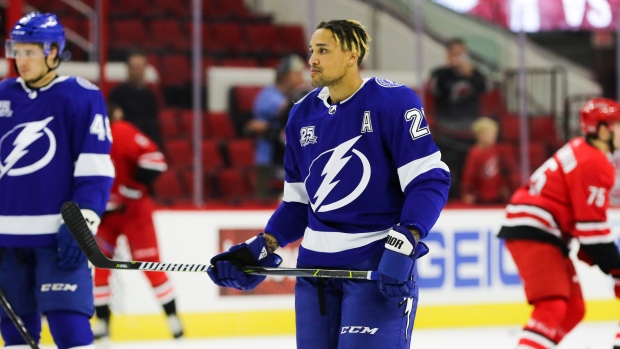 Tampa Bay Lightning forward J.T. Brown won't kneel for the anthem, but he said Wednesday he may raise his fist.
Brown, 27, told the Tampa Bay Times he spoke to members of the military to get their thoughts on kneeling and then decided against it. He raised his fist during the anthem ahead of the Lightning's preseason game against the Panthers last week.
"Some will tell you that's disrespecting the military, well I wanted to hear it from someone who is serving, not some person on Twitter," Brown said. "Some thought (kneeling) was disrespecting, but most felt that we have a right to do it, regardless of whether they agree with you or not, or would stand next to you."
Brown said last month he respected the players in the NFL who had taken a knee to bring awareness to police brutality and social inequality. At the time, he said he wasn't ready to rule out kneeling for the anthem.
The forward said he had not committed to the action for Friday's season opener against the Panthers and said he hadn't decided how many times, if any, he would raise his fist during the season.
"It's kind of hard to just say you're going to do it one time or throughout the season," Brown said. "For me, right now, we're going to keep trying to bring awareness. You want to make sure you're in the community, you're backing up what you're talking about, what you're supporting, not just talk."
The Times reports Brown donated $1,500 towards removing a confederate statue from Tampa Bay in August.
Brown spoke out last year when John Tortorella said he would bench any player on Team USA that sat during the anthem at the World Cup of Hockey.