Bombers re-sign Flanders to one-year deal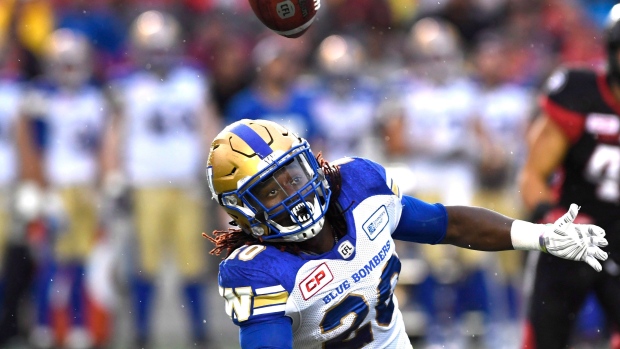 The Winnipeg Blue Bombers started their off-season work Wednesday, announcing they've re-signed running back Timothy Flanders to a one-year contract. Flanders, who also lines up at slotback for the Bombers, was set to become a free agent in February.
"Timothy showcased his abilities to become a dual-threat type football player for us last season, and those players aren't easy to come by," Bombers GM Kyle Walters said in a team release. "His quiet, workmanlike approach to the game and his talents on the football field made this decision from our standpoint an easy one."
Flanders showed promise in the Bombers' offence over 10 games in 2017. The 26-year-old finished with 48 carries for 254 yards and a touchdown on the ground, and 26 receptions for 206 yards and three touchdowns through the air. Flanders also chipped in as a kick returner.
The Sam Houston State product started his CFL career with the BC Lions and has 550 career rushing yards and 354 career receiving yards.