Booker has career-high as Jazz beat Blazers
Trevor Booker scored a career-high 36 points and the Utah Jazz beat the Portland Trail Blazers 111-105 on Saturday night with both teams missing key players.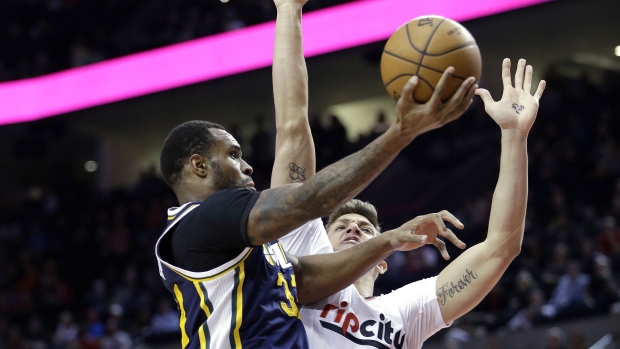 PORTLAND, Ore. - With no Gordon Hayward, no Derrick Favours and no Trey Burke, it was clear that the Utah Jazz were facing a huge challenge in the playoff-bound Portland Trail Blazers.
Enter Trevor Booker.
Making just his fourth start of the season, Booker scored 19 of his career-high 36 points in the first quarter of Utah's 111-105 victory Saturday night over the Blazers.
"This was one of those games where I got it going on early," he said. "I hit my first shot, then I hit my second shot — that's when it all started. My teammates found me in good positions. We just had it rolling."
The Jazz (37-43) are finishing out another losing season, but they got a good look at some of their younger players who hadn't been able to log many minutes.
The loss stunned the Blazers, who were eliminated from the race for home-court advantage in the Western Conference. While the Blazers (51-29) won the Northwest Division, the four teams with the best record get home court in the first round, and Portland can't catch the Los Angeles Clippers. The Clippers beat the Grizzlies 94-86 on Saturday night.
"There's really not an excuse for playing like we did," Blazers coach Terry Stotts said. "It's very disappointing, very frustrating and hopefully it was very sobering for everybody."
The Jazz led by as many as 15 points, but Portland kept it close throughout the second half. Damian Lillard hit a short jumper to pull the Blazers to 101-99, and Robin Lopez made a tying layup with 2:33 to go.
Rodney Hood's short jumper got the lead back for the Jazz, and Booker added a pair of free throws for a 105-101 Utah lead. Hood finished with 21 points.
Lillard led the Blazers with 28 points, and CJ McCollum had 26.
"It was a disappointing effort by us," Lillard said. "I think we played hard, but mentally I just think the focus wasn't there."
The Blazers did not have LaMarcus Aldridge because of a sore left foot. It was unclear when the All-Star forward was injured, but Stotts said before the game that an MRI was negative.
Portland also was without Arron Afflalo, who has a right shoulder strain and might not be available until midway through the first round of the playoffs. Afflalo was hurt in the Blazers' 116-105 loss at Golden State on Thursday night.
Portland started 7-foot-1 centre Meyers Leonard in Aldridge's place alongside fellow 7-footer Lopez.
The Jazz rested regulars Hayward and Favours, while Burke did not make the trip to Portland because of a sore back.
Utah was coming off an 89-88 home loss to Memphis on Friday night.
"Last night's game was a tough loss for us, we knew we had to bounce back," Booker said. "In the NBA you have a tough game one night and the next night you have to be ready to go. To come in here and get this win without (Hayward and Favours) was huge for us."
The Jazz jumped on the Blazers right at the start, but McCollum scored 10 straight points, pulling the Blazers to 44-42 in the second quarter. Utah responded with a 10-2 run and led 56-46 at the half.
TIP-INS
Jazz: Seven of Utah's available players were rookies. The starting lineup had a combined five years of NBA experience before this season. ... The win snapped a three-game losing streak for the Jazz at the Moda Center.
Trail Blazers: Allan Crabbe's 11 points were a career high. ... McCollum has scored in double digits in seven consecutive games, a career high. ... Lopez finished with a season-high 21 points.
WINNING AT HOME
It was Portland's final regular-season home game, and the players handed out jerseys to select fans following the game despite the disappointment from the loss. The Blazers finished with 32 regular-season home wins, second-most in the Western Conference.
"It's the last home game and the fans deserved a better game from us," Lillard said. "It was just one of those games where we didn't bring it."
UP NEXT
Jazz: Host Dallas on Monday night.
Trail Blazers: At Oklahoma City on Monday night.