Boras: Sanchez has chance to "get back to form"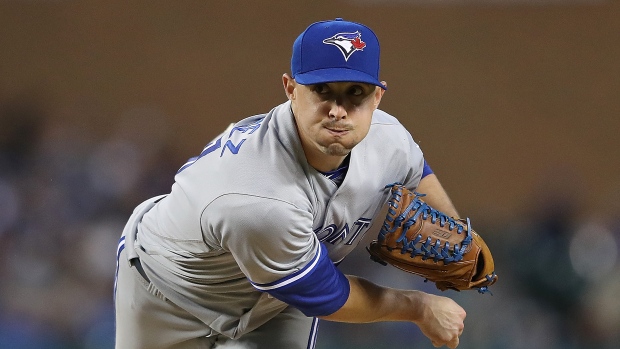 CARLSBAD, Calif. — Scott Boras is optimistic Aaron Sanchez's 2019 season will be nothing like the last two.
Holding his annual, wide-ranging media session outside the lobby of the Omni La Costa Resort & Spa at the GM Meetings on Wednesday afternoon, the well-known agent, who Sanchez hired in January of 2017, said his client is doing well after surgery on his right index finger in September.
The digit was injured in a freak suitcase accident in California in June, resulting in the 26-year-old right-hander making just five mostly mediocre starts the rest of the 2018 Major League Baseball season.
"I think he got the right doctor and the swelling in the knuckle's all gone and he really has the sensation back in his fingers," Boras said. "He's really got a chance to get back to form."
It's been more than two years now since we've seen Sanchez in form.
In his 2016 breakout season, Sanchez led the American League in ERA with a 3.00 mark, going 15-2 in the process.
It looked like he was about to permanently join the league's elite.
But blisters, a problem he's quietly dealt with for a long time, cropped up early in 2017, and an ill-advised procedure that April did not go well and he ended up making just eight starts.
In 2018, Sanchez seemed to be past his blister issues, until the suitcase incident happened in his home state, and tried to pitch through the issue.
Sanchez finished the season with a 4.89 ERA across 105 innings.
"It was really a frustrating aspect because, just kind of like what Matt Harvey went through, when you don't have feeling in your fingers and you can't command the baseball and you have the ability to throw hard but you don't have the ability to command because you just don't have fingertip control, it's really a hard thing to go through," Boras said. "You can throw, you just can't direct the baseball and throw effectively. I think he's really, really relieved that he can get back to that point and get that feeling back."
Sanchez, who Blue Jays GM Ross Atkins says is on track to be ready for spring training, is under team control for another two seasons, before he's scheduled to hit free agency following the 2020 campaign.