Both anthems to be played before Team North America prelim games
The NHL and NHLPA deliberated over whether or not to play national anthems prior to Team North America preliminary games at World Cup, but ultimately decided on their inclusion.
Frank Seravalli, TSN Senior Hockey Reporter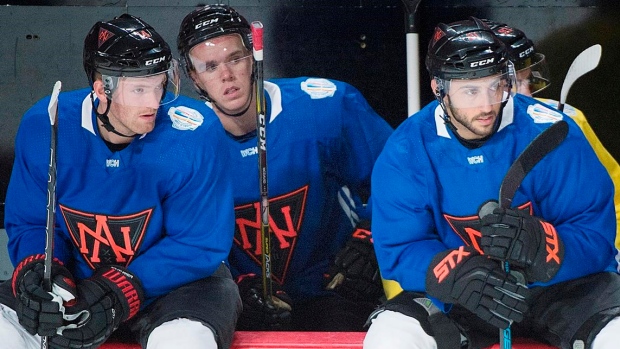 MONTREAL — The Canadian and American national anthems will be played when Team North America takes the ice for its first World Cup of Hockey exhibition on Thursday in Quebec City.
The National Hockey League and National Hockey League Players' Association deliberated over whether or not to play national anthems prior to games for this unique international competition, but ultimately decided on their inclusion. A press release confirmed that decision on Wednesday afternoon.
For Team North America, comprised of 12 Canadians and 11 Americans all under the age of 24, the cleanest way to recognize each country is to play both anthems.
Some joked that the NHL missed an opportunity to be creative; it could have merged the two anthems using the music of The Star-Spangled Banner and the French lyrics of O Canada to cover all the bases. Or for the band Europe's The Final Countdown to serve as Team Europe's anthem.
Alas, for Group B, this will mean three national anthems played ahead of every preliminary round game — a lengthy wait for players on the ice and the fans watching. It will be the American and Canadian anthems, as well as the one from their opponent, be it Finland, Russia or Sweden.
The NHL and NHLPA also announced in a statement that pre-game ceremonies for Team Europe will not include any musical tribute. The team is made up of European-born players not from Finland, Russia, Sweden or Czech Republic.
Some type of anthem had been under consideration for the European squad. The statement explained that management and players from Team Europe were consulted about their preferences.
"Participants from Team Europe were strongly of the view that notwithstanding their commitment to work together as a team toward a common objective in this tournament, their passion and loyalty for their own respective homelands and anthems made any surrogate musical tribute somewhat artificial and therefore unnecessary," said the joint statement.
The European Union does have an official anthem, called Ode to Joy, which is a short instrumental of Beethoven's popular 9th Symphony.
Anthems are expected to be played prior to all preliminary games. During the playoff rounds, the tournament is expected to switch to a more traditional international style, with the winning team's anthem to be played following the game.
National anthems on both sides of the border have become a hot-button topic, stemming from San Francisco 49ers quarterback Colin Kaepernick's decision to sit in protest during the American anthem last month.
Team USA coach John Tortorella added fuel to the story on Tuesday when he told ESPN that any player who sits during the Star-Spangled Banner "will sit there the rest of the game." Tortorella's son, Nick, is a U.S. Army Ranger currently on deployment. In Montreal, pro-separatist Quebecois have remained seated during the singing of O Canada inside the Bell Centre for years.
The NHL and NHLPA, as organizers of the World Cup of Hockey, could have chosen to eliminate anthems before games entirely for this tournament and sidestepped the conversation — particularly since two of the eight teams don't have an anthem.
For Team North America, which anthem would represent them has not been a topic of conversation, according to coach Todd McLellan.
"It hasn't come up in our room," McLellan said. "We're playing for each other."
Contact Frank Seravalli on Twitter: @frank_seravalli