Boucher: I don't care who's in net for Pens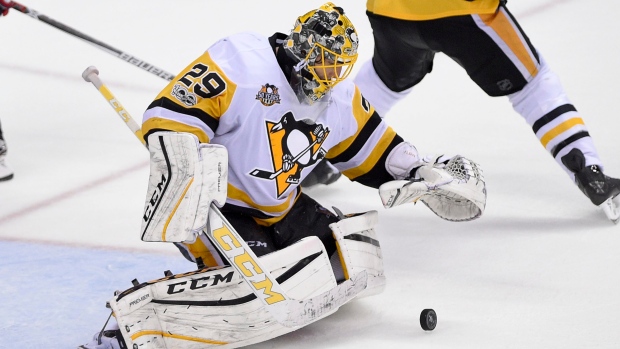 Guy Boucher wasn't interested in adding his two cents to the Pittsburgh Penguins' goaltender decision on Thursday.
"I don't care" Boucher said, per Bruce Garrioch, when asked if he expected to see Marc-Andre Fleury start again in Game 4. "Whether it's him or another goalie it doesn't matter."
Fleury was pulled just under 13 minutes into Game 3, his 15th start of the postseason, after allowing a wraparound goal to Zack Smith - his fourth goal allowed on nine shots. Matt Murray entered in relief and stopped 19 of 20 shots.
After the game, Penguins head coach Mike Sullivan said he wasn't ready to announce who would start on Friday night.
While Boucher stayed mum on the subject, Senators forward Derick Brassard told Garrioch he expects to see Fleury start in Game 4.
"He got them there," Brassard said of his reasoning.
Fleury owns a 9-6 record in the playoffs this year with a .924 save percentage and a 2.56 goals against average since getting the surprise start in Game 1 against the Columbus Blue Jackets when Murray was injured.
Fleury had been outstanding through the first two games of this series, stopping 56 of 58 shots faced and posting a 23-save shutout in Game 2.
Murray out started Fleury 49-38 in the regular season and a posted a 2.41 goals against average and .923 save percentage to Fleury's .909 save percentage with a 3.02 goals against average.