Boucher remains on thin ice in Ottawa
Senators GM Pierre Dorion says internal review of the team's coaching staff likely won't conclude until May.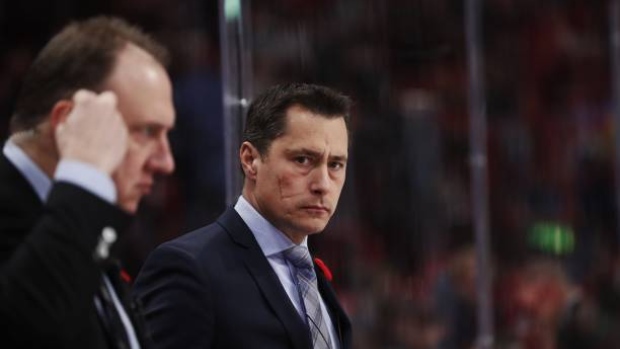 Guy Boucher is going to have to sit tight for a few weeks to see if he'll return as head coach of the Ottawa Senators next season.
Speaking to reporters in a season-ending press conference on Tuesday morning, general manager Pierre Dorion indicated the internal review of the coaching staff was an ongoing process that likely won't conclude until the month of May.
"A full evaluation of the coaching staff is underway right now, top to bottom. There's no real timeline. We want to give ourselves enough time to make a really thorough evaluation," Dorion explained. "We said no harsh decisions were going to be made right after the season. I don't think it's for now and I don't think it's for the next few weeks. At some point in time we'll make it a decision, but I don't see it in the month of April."
The handling of Boucher's status is in stark contrast to how Dorion dealt with Boucher's predecessor, Dave Cameron, who was relieved of his duties just three days after the 2015-16 regular season concluded. In that instance, Dorion had only been on the job for 48 hours when he made the move and stated that he wanted to start his new position with a clean slate.
This time he legitimately seems to be waffling on what to do with Boucher, who helped guide the club to the Eastern Conference final last season, before a disastrous 2017-18 campaign saw the club plummet to 30th place in the overall standings. Boucher has one year remaining on a three-year contract he signed with the club in the spring of 2016.
Dorion did seem sympathetic to the criticism that Boucher received this season, suggesting the coach was sitting on a hotter seat than he was during the calamitous campaign.
"I've said this all along: I think Guy has the toughest job in Ottawa as head coach of the Ottawa Senators," said Dorion.
If Boucher is to return next season, Dorion made it clear that he wants the head coach to adopt a different mindset. The pair had a two-hour meeting on Monday morning in which Dorion expressed his frustration at the way some of the things were handled by the coaching staff this season.
"There were quite a few things that were addressed, because to us, this was unacceptable," Dorion said. "Two things will change, that's for sure, if he's back. One is the implementation of younger players in our lineup. But he will decide who gets what ice time. And we're going to practice more. 'Rest is a weapon' – if I hear that one more time, I'll go crazy."
'Rest is a weapon' has been a phrase used liberally by Boucher in his first two seasons in Ottawa. In particular, the head coach was criticized for not practising more often in the first half of this season, opting to give his players days off from the rink instead of having them participate in on-ice sessions. Some critics blamed the Senators' sloppiness and defensive zone issues to a lack of practice time this season.
"If he's back, I think things need to change. We believe that having Guy coach with an open mind is the way best way to success," added Dorion.
Dorion may be hesitant to fire Boucher, which would add to the perception that the Senators head coaching job is one of the least stable positions in professional sports. Over the past decade, the Senators have seen no fewer than seven head coaches in John Paddock, Bryan Murray, Craig Hartsburg, Cory Clouston, Paul MacLean, Dave Cameron and Boucher.
While some believe Boucher's fate could be decided by what the Senators players said about him during their exit meetings with Dorion this week, the general manager wanted to put that theory to rest.
"Hockey management decides who the coach is, not the players," Dorion stated. "It's no secret that Randy [Lee] and I met the players without Guy. And it wasn't about Guy not being there. I didn't ask them, 'What do you think about the coach?' It was more like, 'What happened this year? What are we going to do to be better next year?'
"The players didn't blame the coaches. They blamed themselves more than anything else."