Boucher says all the right things in meeting with Dorion
Senators GM says coaching staff has come up with a new approach, including Boucher taking over full responsibility for the Ottawa power play, Ian Mendes writes.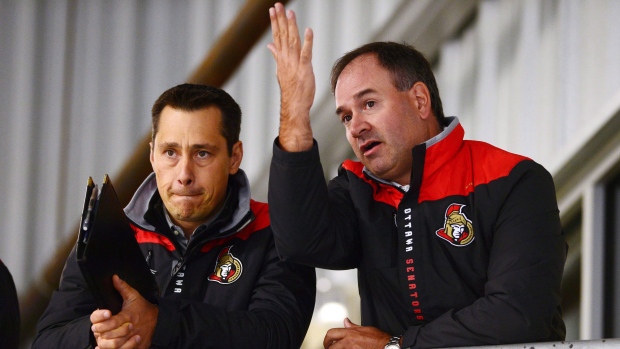 Pierre Dorion made it clear that if Guy Boucher was going to return as Ottawa Senators head coach next season, he would need to make some changes to his style behind the bench.
After the Senators general manager and Boucher met in Ottawa on Monday in what Dorion characterized as a "productive" and "positive" session, it appears as though Boucher is willing to be flexible with his approach. As a result, Dorion felt comfortable enough in announcing on Ottawa radio that his head coach's future was secure – at least to start next season.
"Guy and his entire staff are returning next season," Dorion announced on TSN 1200 Tuesday afternoon. "We look forward to continuing the process that we started last year and to seeing a great improvement in the upcoming season."
In town hall meetings with season ticket-holders, Dorion indicated that the plan was for the Senators to adopt a faster, younger lineup that was the start of a rebuilding process in Ottawa. Many wondered if Boucher's philosophy – which has seemed to favour veteran players – would be able to align to this new approach taken by management.
Dorion says the entire coaching staff sat together and came up with a new approach, which was presented to him on Monday.
"They came up with a game plan. And we're really happy about the direction that the coaching staff seems to want to go and it seems to align with our philosophy as a management staff," Dorion said.
The continuity behind the bench is a stark change in direction for the Ottawa Senators, who have carved out a reputation as being a team that grows impatient with head coaches. Over the past decade, the Senators have seen no fewer than seven head coaches in John Paddock, Bryan Murray, Craig Hartsburg, Cory Clouston, Paul MacLean, Dave Cameron and Boucher.
Many felt that Boucher's fate could be decided by what his own players said about him – in particular stars like Erik Karlsson, Matt Duchene and Mark Stone – during exit meetings with management at the end of the season.
But Dorion insisted last month that the hockey operations department would be the ones to make the final decision on the coaching staff – and that no one should read into the future of any player based on the decision.
The prevailing feeling in Ottawa is that Karlsson's future was not impacted in any way, shape or form by Tuesday's announcement that Boucher and his staff are returning next season.
While teams like the Montreal Canadiens and Edmonton Oilers changed out part of their support staff in the wake of a disastrous season, the Senators have opted to retain all of their assistant coaches.
But there will be some wrinkles with the group moving forward, most notably seeing Boucher take over full responsibility for the Senators' power play. Since taking over the team prior to the 2016-17 campaign, the club's power play has languished at the bottom of the league standings. In Boucher's two seasons behind the bench, the team's power play has operated at a paltry 16.8 per cent – ranked 29th in the league over that span.
"The one thing we're really excited about Guy's taking ownership of the power play. He will be running the power play next season," explained Dorion.
The changes also include Rob Cookson joining Boucher behind the Senators bench on a nightly basis. Cookson had previously served as the club's "eye in the sky" in the press box – a role that will now be filled by Martin Raymond. Marc Crawford will stay on board as the other assistant coach on Boucher's staff, focusing on 5-on-5 schemes and other game preparation.
In his season-ending press conference last month, Dorion cast serious doubt over Boucher's future in Ottawa. Dorion said the evaluation process for the coaching staff would take several weeks and would hinge on Boucher's ability to change his approach.
In particular, Dorion seemed irked that Boucher and his staff opted to skip several practices in the early part of the 2017-18 campaign while the team was floundering at the bottom of the standings.
"We're going to practice more. 'Rest is a weapon' – if I hear that one more time, I'll go crazy," Dorion said on April 12.
After their meeting on Monday, Dorion seems satisfied that Boucher and his staff will integrate more practices into their schedule next season.
"We're a skating team and we need practice," Dorion said on Tuesday. "'Speed' was Guy's mantra when he came on board, and I think we deviated from that last year. We need to skate hard in practice to play as hard and fast as possible – and they understood that."
Boucher, 46, is entering the final year of a three-year contract that he signed with the club in May of 2016. The sense around Ottawa now is that Boucher and his staff will get a 25-to-30-game audition to prove that they are willing to adapt to a younger, faster lineup and a new philosophy.
If they don't enjoy early success, there is a distinct possibility that Dorion may be forced to re-visit his situation behind the bench.