Boudreau calls out Niederreiter, Wild after loss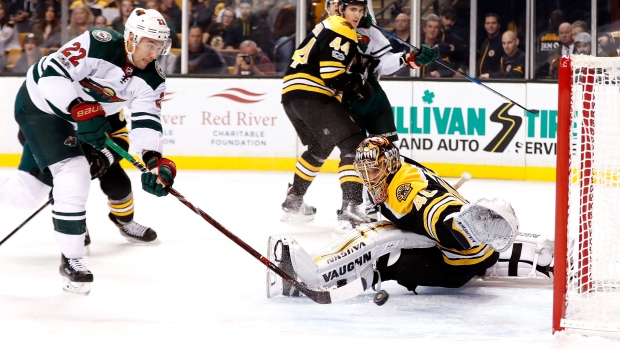 Minnesota Wild head coach Bruce Boudreau said his team looked "like we don't know how to play" at times in their 5-3 loss to the Boston Bruins on Monday night.
Minnesota fell to 5-6-2 on the season with Monday's loss to the Bruins, who were without star forward Brad Marchand.
The Wild entered the third period down 4-1 before mounting a comeback to get within a goal of the Bruins with four minutes to play. Boudreau called the team's play in the first two periods, in which the Wild managed just 15 shots, "embarrassing."
Boudreau called out forward Nino Niederreiter after the loss for his lack of effort on Sean Kuraly's second-period goal to put the Bruins up 3-1. Niederreiter attempted to challenge Tim Schaller has he entered the offensive zone, but Schaller skated by him and put a shot on net from in tight. Kuraly then pounced on the rebound in front of a lackadaisical Niederreiter for his second goal of the season.
"What's going on is, people aren't doing their jobs,'' Boudreau said, per the Minneaplos Star-Tribune. "I don't know how else to say it. Nino's not a defenceman, but he should be able to stay in front of somebody.
"And then, when you're coming back, you've got to at least – you can't skate not only by the puck, but there's a guy right there. That's your guy. You've got to take him. It's hockey 101. It didn't happen.''
Niederreiter scored the game's opening goal but finished the night minus-1 while logging 17:29 of ice time. He owns two goals and one assist in seven games this season.
The Wild finished Monday's game with 27 shots on net thanks to a 12-shot third period, a number Boudreau was not happy with.
"You've got to put 30-35 shots at the net,'' he said. "You can't be putting 20, 19, 20, 23, and expect to win. You just can't do it.''
The Wild managed only 24 shots on net in their Saturday night loss to the Chicago Blackhawks. The team will look for better results Wednesday against the defensively challenged Toronto Maple Leafs.