Bozak leads Leafs' rally over Sens
Eric Brewer scored in overtime as the Toronto Maple Leafs edged the Ottawa Senators 4-3 Saturday at Air Canada Centre. Tyler Bozak had a hat trick for the Maple Leafs (28-42-6), who snapped a seven-game skid with the comeback win.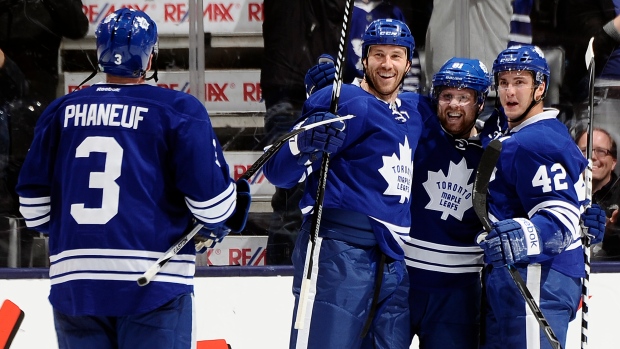 TORONTO - Tyler Bozak's best game of his career came at the wrong time of the season for the Ottawa Senators.
Bozak recorded his first career hat trick and assisted on Eric Brewer's winner in overtime as the Toronto Maple Leafs edged Ottawa 4-3 on Saturday to keep the Senators searching for the second wild-card spot in the Eastern Conference.
"Tyler's first time getting four points in a game, and a hat trick, that's obviously big," said Leafs head coach Peter Horachek.
"He had a spectacular game."
Ottawa held a two-goal lead after 40 minutes of action and looked to have had the two points locked up, which would have moved the club past Boston for the final playoff spot in the East.
But Toronto stormed back with three goals in the third period — including Bozak's third which came with James Reimer on the bench for the extra attacker with just 1:24 remaining in the game.
"They got the one to make it 2-1 and they got momentum and anything can happen," said Senators goaltender Craig Anderson, who made 27 saves in defeat. "Before you know it we're fishing the puck out of our net. We had the opportunity and we let it slip."
Reimer, who entered the game 10-3-1 in his career against the Senators, stopped 22-of-25 shots as the Leafs snapped a seven-game skid.
Mark Stone, Curtis Lazar and Kyle Turris supplied the offence for Ottawa (37-25-12), which trails the Boston Bruins by one point but still holds a game in hand with eight remaining on schedule.
The Senators have earned at least one point in 17 of their last 19 games.
"Points are huge. You don't know which point is going to be the one to get you in," said Anderson. "We still have our fate in our hands, just have to keep winning and get points."
Stone opened the scoring 4:25 into the second period after taking a feed from former Leaf Clarke MacArthur. Stone beat Reimer blocker side with a wrist shot for his 19th of the season.
Reimer had to be sharp only 24 seconds after Stone's goal, stopping Zach Smith on a breakaway to keep the score 1-0.
It didn't take long, though, for Ottawa to get its second goal as Lazar one-timed a pass from Jean-Gabriel Pageau at 5:59.
Toronto finally got on the board 3:13 into the third when James van Riemsdyk backhanded a pass to Bozak, who swatted home his 20th of the season past Anderson.
The Leafs picked up some momentum following Bozak's goal and Joffrey Lupul had a great chance midway through the period to tie the game but he put the puck wide of the open net.
Kyle Turris scored a power-play goal at 9:30 to put Ottawa ahead 3-1 but Toronto stormed back.
Bozak scored his second of the night while on the power play after taking a feed from van Riemsdyk at 11:29 before sending the game to extra time with his third goal.
The Leafs entered the night 6-28-3 in 2015. Their top line of Bozak, van Riemsdyk and Phil Kessel had struggled heavily to produce offence during that time.
Bozak's linemates each picked up three helpers on Saturday.
"We're always pushing to play a team game and you want your top line to continue producing chances and opportunities to score. .. They certainly came through and we have to give them credit," said Horachek.
"Bozak and Kessel had a pretty good game and we allowed them to," added Anderson, who got the nod in net over Andrew Hammond after it was announced the rookie is day-to-day with a lower-body injury.
Toronto went 1 for 3 on the power play while the Senators scored on their only chance with the man advantage.
Ottawa returns to action Sunday at home against the Florida Panthers. The Leafs host the Tampa Bay Lightning Tuesday.