Bozak scores a pair of goals as Maple Leafs topple Capitals
Tyler Bozak had a pair of goals and Jonathan Bernier made 35 saves as the Toronto Maple Leafs downed the visiting Washington Capitals 6-2 on Saturday. The win came on a night Toronto honoured the late Pat Quinn, who was a former player, coach and general manager of the Maple Leafs.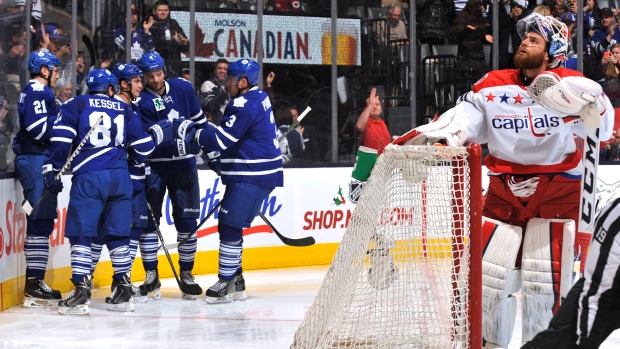 TORONTO - Everything seems to be going right for centre Tyler Bozak at the moment.
Bozak led the way with a pair of goals on Saturday as the Toronto Maple Leafs downed the Washington Capitals 6-2. He now has five goals and two assists during a four-game point streak.
"It's nice. The puck is kind of following me around a little bit, playing confident and line mates are making great plays for me," said Bozak. "Hopefully it can keep going for a bit."
The Leafs knew they had the Capitals on the tail end of a three-game, four night stretch and wanted to pounce early.
Toronto did just that, scoring twice on its first six shots in the first period and two more times on its first six shots of the second period.
"I think tonight we were fortunate that we were playing a team that was coming off a back-to-back and we were able to score the first goal," said coach Randy Carlyle. "We jumped on a hockey club.
"That's what you're supposed to do when you're in your own building when you get a team on the back end of a back-to-back."
Morgan Rielly and Cody Franson both scored on Toronto's first six shots, sending Capitals starter Justin Peters to the bench for the second period.
Braden Holtby didn't fair much better in relief, allowing Bozak to score on the first shot he faced. David Clarkson then scored his seventh of the season on just the sixth shot of the second period.
Bozak added his second of the night at 15:36 of the second while Joffrey Lupul had the other goal for the Leafs late in the third.
Peters returned for the third and made eight saves while Holtby was saddled with the loss after making nine saves.
"You're trying to change the momentum after the first, that's why the goalie change (happened)," said coach Barry Trotz. "First shift, we turn it over and it ends up in the net. (Holtby) couldn't do anything one that one.
"But those are critical moments. Things weren't going our way. We didn't have a bad first period in here."
Troy Brouwer and Tom Wilson had the Washington (10-9-4) goals.
Before the game, the Leafs honoured former player, head coach and general manager Pat Quinn, who died at age 71 on Sunday after a long battle with an illness. A moment of silence was observed followed by a video montage of some of the most memorable moments of Quinn's career. Toronto players wore patches with Quinn's initials on their shoulders.
With the win, Toronto (12-8-3) improved to 8-6-0 on home ice this season and 9-0-0 when scoring first and scoring four or more goals.
Rielly opened the scoring at 14:15 of the first as his point shot hit a couple Capitals in front of the net before getting past Peters for his third of the season.
Franson made it 2-0, on a power play, beating a screened Peters five-hole for his fourth of the season. Franson now has 12 points in his last 12 games.
With his assist on Franson's goal, Mike Santorelli picked up his 100th career NHL point.
Bozak made it a three-goal lead 23 seconds into the second after tapping home a James van Reimsdyk feed for his 10th.
After Brouwer got the Capitals on the board at 10:27 of the second with his sixth of the season, Clarkson restored Toronto's three-goal edge.
Bozak gave Toronto a 5-1 lead after redirecting a Phil Kessel feed up and over the shoulder of Holtby for his 11th of the season. The power-play goal tied Bozak with Kessel for the team-lead.
Wilson and Lupul traded goals in the third.
Toronto's power play, which was 1-for-23 entering Saturday's game, went 3-for-4.
"It was nice to see that our power play finally came to life and create some offence in the hockey game for us," said Carlyle. "I thought we played half the game the way we wanted and then we kind of got away from our game, but how do you critique a 6-2 win?"
Leo Komarov took an elbow to the head from Alex Ovechkin early in the first minute of the third period and did not return.
Carlyle was asked if Komarov went through concussion protocol following the hit.
"Well he didn't feel good so that's what we did," said Carlyle. "We held him out and he's going to be having further evaluation. He seems fine now, but they all seem to be fine."
As for the hit, Carlyle said, "I thought it was kind of 'oops I hit you on purpose'."
During a fight with Wilson late in the third period, Toronto's Korbinian Holzer struck linesman Steve Miller with a punch while linesman Greg Devorski was trying to restrain him.
"That was not intentional— I had my jersey in my face. I just threw a punch and I accidentally got the linesman," said Holzer of the incident. "I'm really sorry for that and I hope he's fine, If there's a chance, I'd like to go by apologize."
The Leaf defenceman and Wilson each received five minutes for fighting and 10 minute misconducts.
Holzer is hoping the league understands his strike on Miller was accidental and that there will be no repercussions for his actions.
"I hope they see that was not intentional," he said. "I'm not a guy that goes after the linesman or the referees in general. I'm sorry for that and I hope he's fine."
The Leafs continue their season-high five game home stand on Tuesday when the Dallas Stars visit.
Notes: In addition to Quinn the Leafs paid tribute to Murray Oliver with a moment of silence pre-game. The Washington Capitals recalled defenseman Steven Oleksy from their AHL affiliate in Hershey on Saturday and placed Mike Green (upper body) on injured reserve. Leafs forward Richard Panik was a healthy scratch for the second straight game.