Briere retires from hockey after 17 seasons
Daniel Briere has announced his retirement after 17 NHL seasons. Briere made the announcement in a column for the French-language newspaper Le Droit and through the Philadelphia Flyers.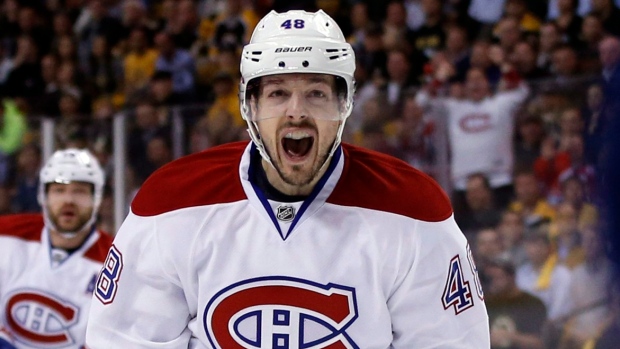 PHILADELPHIA - Danny Briere, the undersized centre who went on to become an NHL All-Star and keyed the Philadelphia Flyers' run to the 2010 Stanley Cup Finals, has retired.
Briere ended a 17-year career on Monday that saw him play for the Phoenix Coyotes, Buffalo Sabres, Flyers, Montreal Canadiens and Colorado Avalanche. Briere spent the bulk of his career with the Sabres and Flyers and earned All-Star nods playing for both franchises.
Generously listed at five-foot-nine, Briere was MVP of the 2006 All-Star game, the same year he helped lead the Sabres to the Eastern Conference finals.
Briere shined in 2010 when he set a Flyers record with 30 points (12 goals) in 23 playoff games. Four of his goals were game-winners and he brought the Flyers all the way to Game 6 of the Stanley Cup Finals.
The native of Gatineau, Quebec, Briere was a first-round selection (24th overall) by the Coyotes in the 1996 draft. He had 307 goals and 389 assists for 696 career points. Briere had 116 points (53 goals) in 124 career playoff games.
"After taking a few weeks to think about it, it's time to hang them up and spend a little more time at home with the family," Briere said. "I've been very, very fortunate to have a chance to play with some great organizations, but at this point the family becomes a priority. The Flyers are where I played the bulk of my career. I've had a great time in Philadelphia and have been very, very fortunate to have the chance to play here."
Briere thanked Flyers owner Ed Snider, team president Paul Holmgren and former executive Peter Luukko.
The Flyers signed Briere to an eight-year, US$52 million contract in 2007. He played last season with Colorado and scored eight goals in 57 games.
He was a 30-goal scorer five times and had a career-high 95 points in 2006-07 for the Sabres.