Brodeur announces retirement, joins Blues front office as senior advisor
Martin Brodeur is moving from the crease to the front office. The St. Louis Blues goaltender announced his retirement today at a news conference at Scottrade Center. The 42-year-old Montreal native will remain with the organization as a senior adviser to general manager Doug Armstrong. The 10-time all-star and four-time Vezina Trophy winner finished his career with St. Louis after a two-decade run with New Jersey.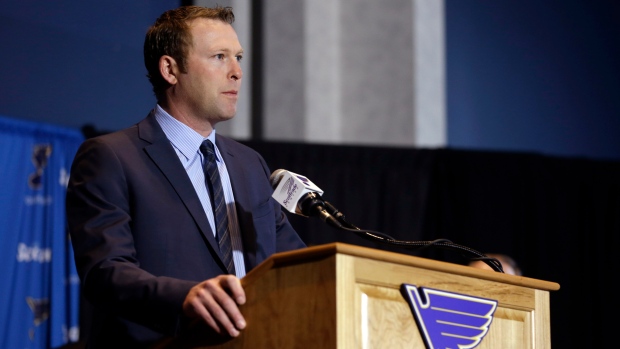 ST. LOUIS - Martin Brodeur may one day return to the New Jersey Devils, where he won three Stanley Cups and cemented his place as the goaltender with more wins than any other in NHL history.
Up first, though, is some serious time with the St. Louis Blues.
The 42-year-old Brodeur formally announced his retirement Thursday to take a front-office position with St. Louis, where he wrapped up his career after 21 outstanding years with the Devils. He said he is leaving the game with a smile on his face and excited about his next opportunity.
"I'm leaving the game really, really happy," Brodeur said.
Brodeur joined the Blues as a free agent in early December after No. 1 goaltender Brian Elliott was sidelined by a knee injury. He went 3-3 with a 2.87 goals-against average and .899 save percentage. He extended his NHL record for shutouts to 125 with a 3-0 win against Colorado on Dec. 29, his final NHL victory.
When Elliott returned, Brodeur became the odd man out among the team's three goalies, including Jake Allen. He took a leave of absence to contemplate his future and word came Tuesday that he was done.
"If (Elliott) didn't get hurt, I was never going to be here," Brodeur said. "For me it was a great opportunity."
Blues general manager Doug Armstrong said the team was excited to have Brodeur join the team as a senior adviser.
"He's going to travel with the team on a daily basis, he's going to interact with our players and our coaches," Armstrong said. "Our goals are very simple in St. Louis with this team, it's to prepare and be competitive to win a Stanley Cup and to ultimately win a Stanley Cup. When I look up here and you see the number of Stanley Cups up here on this stage, all these people we can tap into as we learn and we move forward."
Over 22 seasons, Brodeur piled up a 691-397-176 record, 2.24 GAA and .912 save percentage in 1,266 career regular-season games. The native of Montreal holds the league records for wins, shutouts, games played and minutes played. He also had 113 career post-season victories to go along with those three Cups and four Vezina Trophies as the NHL's top goaltender.
He was also a two-time Olympic gold medallist with Team Canada in 2002 and 2010. Prime Minister Stephen Harper congratulated Brodeur on his storied career on his Twitter account.
"Hockey legend @MartinBrodeur announced his retirement today. Canada salutes his extraordinary career & contributions to our game," Harper posted.
Along the way, Brodeur became a role model for many young goaltenders, including Ryan Miller.
"When he was breaking into the league, he broke in at a young age and was having success," Miller said. "I was about the right age where 14, 15 years old watching him break in, he wasn't so much older than me where I was like 'Wow the NHL's so far away.'
"When you get to be in your teens and there's a guy in his early 20s, 'Wow he's only a few years away and he's doing it.'"
Asked what he was most proud of, Brodeur cited the wins — and his health.
"If you play hockey, you might as well win," he said. "The most important record is the wins record that I have. My durability is just something I took a lot of pride in, that I was able to play 70 games over and over and over and they add up to 1,200-and-something games, plus the playoff games, plus whatever. It's hard to do."
Brodeur said he planned to learn as much as he can as a front-office employee with the possibility of one day running a team.
He also said the possibility exists that he will return to New Jersey in a front-office role at some point in the future. He said he has talked with Lou Lamoriello, the Devils' president/general manager, about returning to New Jersey.
"We talked and he knows that eventually we're going to cross paths again, if it's next year, in two years, in three years, I can't answer," Brodeur said. "I'm doing this now as a St. Louis Blue and I want to learn as much as I can and we'll see where that's going to bring me. I might not like this. I might just go and say playing golf every day looks a lot better than doing this. I'll make a decision on my future whenever it comes around. Right now I'm just going to go all in on this. Not that I needed the blessing of Lou, but he understands it."
Brodeur made it clear how important his years with the Devils mean to him.
"For me, my hockey career is all about the Devils," Brodeur said. "Nobody's going to associate me with the Blues as a hockey player and a retirement arrangement will be made for New Jersey in the future. It could be this year. It could be next year. I don't know what's Lou's plan. I'm so appreciative with all the fans, what the organization did for me."
With files from Canadian Press reporter Josh Clipperton in Vancouver.