Broncos hammer Texans in Osweiler's return
The Denver Broncos ruined Brock Osweiler's homecoming Monday night, incessantly hurrying, hitting and harassing their former teammate in a 27-9 win over his Houston Texans.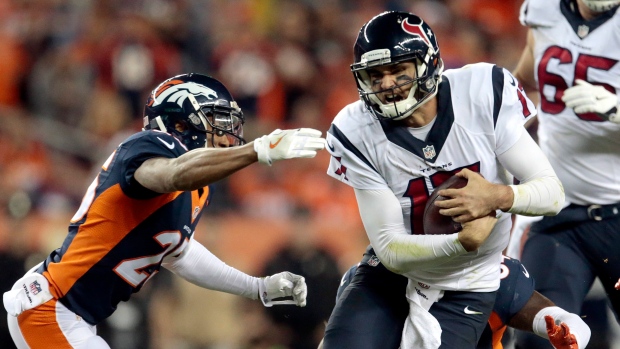 DENVER — Brock Osweiler took one last dig at Denver's fans after Houston's 27-9 loss to the Broncos. He figured they would "be a little bit louder with the boos."
Denver's defenders ruined Osweiler's homecoming by hurrying, hitting and harassing their ex-quarterback Monday night, even if his ears weren't ringing from the crowd noise.
Osweiler famously declared upon signing his $72 million, four-year deal that he chose Houston over Denver because the Texans gave him the better chance to succeed.
"It's not all about money in life," said Broncos cornerback Chris Harris Jr., who recovered one of Osweiler's three fumbles. "He had a great situation, great team here, better receivers to me. So, I think he already knows he made the wrong choice."
Not so, said Osweiler.
"I never live my life looking in the rearview mirror," Osweiler said after a night in which his head was on a constant swivel with the likes of Von Miller, Shane Ray and Derek Wolfe coming after him.
Coach Gary Kubiak returned to the sideline following his second health scare in three years, and he liked what he saw as the Broncos (5-2) snapped a two-game skid in sending Osweiler and the rest of the overwhelmed Texans home at 4-3.
C.J. Anderson and Devontae Booker energized Denver's sputtering ground game, both running for a touchdown. Anderson gained 107 yards on 16 carries and Booker had 83 on 17 hand-offs.
But the big story was Trevor Siemian, Peyton Manning's surprise successor, outplaying Osweiler, who was groomed to be Denver's next QB for the last four years.
Osweiler left for bigger numbers in Texas — both in his bank account and his stat sheet — but he spent the whole game quickly getting rid of the ball, constantly overthrowing DeAndre Hopkins in double coverage and otherwise running for his life from Miller & Co.
Miller wore a "REVENGE" hoodie to his postgame interview, but he said it was a shoutout to Drake, who wore Miller's No. 58 jersey at a recent concert in Colorado.
"Me and Brock, we're good. I love the guy. I wish him the best," Miller said.
Osweiler was just 22 for 41 for 131 yards with no TDs and no interceptions. Siemian was 14 of 25 for 157 yards, a TD and no interceptions.
Osweiler also lost a fumble at his own 25-yard line. It was scooped up by Harris on the first play of the fourth quarter and led to Brandon McManus' chip-shot field goal that made it 24-9.
Of the dozen passes thrown his way, Hopkins caught just five of them, covering 36 yards, and no other Texan gained more. And Houston was limited to Nick Novak's field goals from 43, 43 and 39 yards.
Anderson scored on a 7-yard run and Siemian hit Demaryius Thomas from 4 yards out as the Broncos took a 14-6 halftime lead.
Novak's 29-yarder made it 14-9, but Darian Stewart punched the ball from running back Alfred Blue's grasp and linebacker Todd Davis plucked it out of the air . That led to Booker's 1-yard TD run .
Kubiak, who suffered a mini-stroke while coaching the Texans in 2013, missed Denver's last game after suffering a complex migraine, which can mimic a stroke.
Like Osweiler, this was his first game against his former team, and cornerback Aqib Talib gave him a game ball afterward.
"Coaches get game balls when players play good, I can tell you that," Kubiak said.
Osweiler, who skipped out on the Broncos' White House trip and ring ceremony, embraced Siemian, Kubiak and several other Broncos after the game.
"It was really great to see some familiar faces and give those guys a hug," he said.
STREAK BREAKER: Denver's dazzling defence is a real dawdler , having allowed scores on five of six opening drives coming into the game. That didn't stop them from deferring when they won the toss. The Texans went three and out on their first two possessions. "It was a big emphasis for us," Miller said.
OH NO, OKUNG: Broncos left tackle Russell Okung cleared concussion protocol to make the start. But he was rusty a week after his pair of penalties resulted in a nullified touchdown and a safety in a 21-13 loss at San Diego. This time, he was whistled for a pair of holds that negated a nifty first-down run by Booker and a 28-yard grab by Thomas.
INJURIES : Texans right tackle Derek Newton was carted off the field with what looked like serious injuries to both knees in the first half. He crumpled to the grass while blocking Miller. Newton was dropping back to pass block midway through the first quarter when his left knee buckled first and then his right knee gave way. For Denver, linebackers Brandon Marshall (leg) and Dekoda Watson (head) left in the second half.
___
AP NFL website: www.pro32.ap.org and AP NFL Twitter feed: www.twitter.com/AP_NFL
___
Follow AP Pro Football Writer Arnie Melendrez Stapleton on Twitter: http://twitter.com/arniestapleton