Brown contract a major concern for Kings
Rapidly declining offensive numbers and a massive contract put former captain's future with Los Angeles in doubt, Travis Yost writes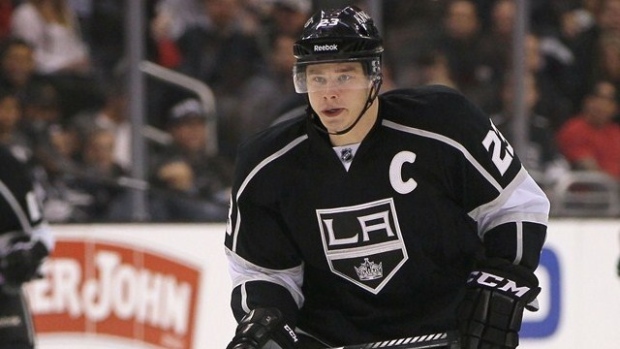 On July 18, 2013, Dustin Brown signed a self-negotiated eight-year, $46 million contract extension with the Los Angeles Kings. General manager Dean Lombardi expressed no concerns over the deal working out at the time, and both sides were pleased with a pact that would take the team captain through his age 37 season.
Not three years later, Brown's future with the team is in doubt. He's already been stripped of the captaincy and told his contract is untradeable. There's increasing speculation the Kings will expose him if there is an expansion draft in an attempt to purge what can only be considered a poisonous contract.
Part of the problem with the Brown deal (I concede there are a lot of them. I figured his deal was already in the discussion for our Mount Rushmore of bad NHL contracts a year ago) is that he's paid like a prototypical first or second-line winger who produces on both ends of the ice. Brown has always been an extremely reliable defensive player, but forwards just can't get paid the type of money he's seeing if they produce offensively at even-strength rates comparable to Paul Byron and Brian Boyle.
Brown's offence has rapidly deteriorated. Individually, he's failed to clear the 30-point mark in every season since signing that long-term extension. His scoring rates – which at his peak were really just second-line calibre – have regressed to consistent fourth-line production.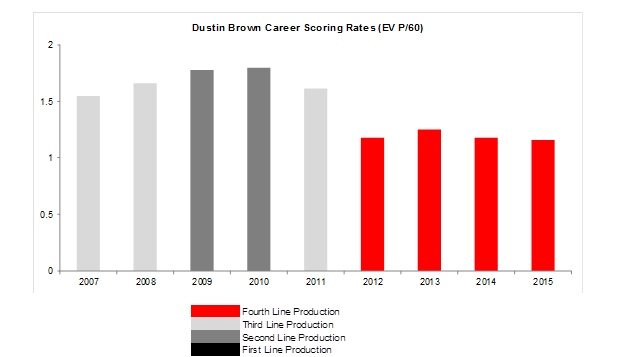 This is a pretty remarkable – and pretty damning – capture of Brown's offensive performance, or lack thereof. The points just haven't materialized in any meaningful way, and it's become so dire it's hard to imagine that the Kings see his strong defensive play as an acceptable offset.
The offensive problems run deeper than just Brown, though. There are plenty of skaters who go through rough shooting stretches, some even losing that aspect of their game as a definable talent. However, these players can often still act as playmakers of sorts, pulling low individual goal totals but incrementally improving the goal totals of their regular linemates. (A great example of this would be someone like San Jose centre Joe Thornton.)
But that's not the case for Brown. His offensive impact on teammates is significantly in the red pretty much across the board, regardless of linemate combination or the environment in which he is playing.
To observe this, we can look at Goals For Per-60 for all of Brown's regular teammates. You'll notice that in just about every instance, a player's offensive performance diminishes when saddled with Brown, and then instantly improves when split from Brown.
(All players minimum 250 minutes together and ordered by frequency of time together.)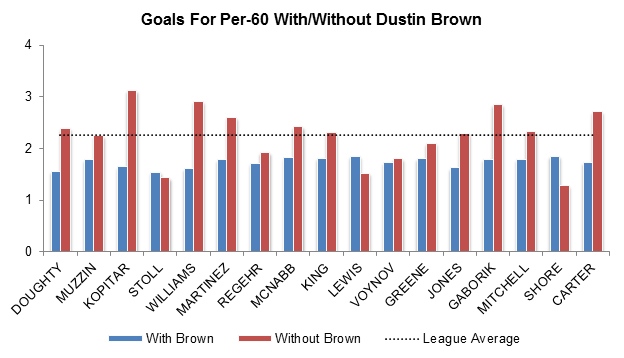 Number of players who Brown has combined with over the last three seasons to produce a league average number of goals per-60 minutes: zero.
Note the kind of impact he has on the Kings' elite talents. Players like Drew Doughty, Jake Muzzin, and Anze Kopitar see their goal-scoring rates drastically reduce when Brown is on the ice – sometimes to well below league average rates. When not playing with Brown, many of the players see their goal-scoring rates improve to at least league average or better. This is especially true for Kopitar, who arguably has the most significant disparity of all.
So, I don't think it's in dispute that Brown's individual offence has deteriorated, nor is it in dispute whether Brown's having a very real adverse impact on teammates. But, is it possible that his very strong defence is offsetting the woeful offensive numbers?
Well, not quite. Here's how that looks team-wide:
Los Angeles Kings - Goals Per 60 Minutes
| Player | GF60 | GA60 | Goal % |
| --- | --- | --- | --- |
| Toffoli | 3.1 | 1.6 | 66.2 |
| Kopitar | 2.8 | 1.7 | 62 |
| Lucic | 2.9 | 1.8 | 61.4 |
| Pearson | 2.5 | 1.7 | 60.5 |
| Carter | 2.6 | 2.1 | 55.9 |
| Gaborik | 2.6 | 2.1 | 55 |
| Clifford | 1.9 | 1.5 | 54.8 |
| Versteeg | 2.4 | 2.1 | 53.1 |
| King | 2.1 | 1.9 | 52.3 |
| Brown | 1.8 | 1.9 | 48.4 |
| Lewis | 1.5 | 1.6 | 47.4 |
| Nolan | 1.3 | 1.6 | 46.2 |
| Lecavalier | 2 | 2.5 | 45.2 |
| Shore | 1.2 | 1.6 | 42 |
So, in short: over the last three seasons, Los Angeles is out-scored with Brown on the ice. Considering the Kings have scored 54.7 per cent of even-strength goals in that timespan, Brown's 48.4 per cent isn't just below break-even of 50 per cent, it's significantly lower than what would be considered team average, with players like Dwight King and Kyle Clifford vastly exceeding him on this front. So, no, his defensive play is not offsetting other deficiencies.
And this is where the problem really lies. You can have all of the individual skills or all of the intangibles in the world, but if you aren't driving favourable goal rates, that kind of talk is essentially just hot air — $46 million worth of hot air.