Browns select DE Garrett first overall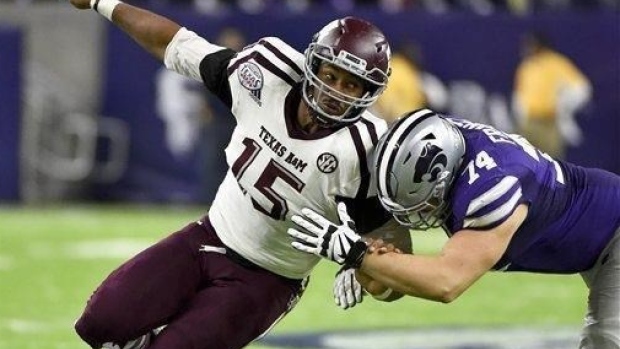 BEREA, Ohio — The Browns didn't mess around with the No. 1 pick.
Myles Garrett was the consensus best player in the NFL draft, and Cleveland made sure he didn't go anywhere else.
Although their biggest need remains a franchise quarterback, the Browns selected Texas A&M's defensive standout first overall, a pick that had been projected for weeks.
Following a dismal 1-15 season, the Browns are counting on Garrett and this draft — Sashi Brown, the club's vice-president of football operations called it "momentous" last week — to kick-start their turnaround and possibly end years of football folly for a once-proud franchise. With two first-round picks, two in the second round and one in the third, the Browns have the assets to improve, and possibly to find that elusive QB after starting 26 since 1999.
But that's been the hope before and years of blown draft picks, particularly in the first round, have hampered the team from making any significant progress.
Garrett, a freakish athlete who has been accused of sometimes taking plays off, could help change that. Cleveland has lacked a dominant defensive player, the kind who can change a game with a sack or punishing hit.
Unlike many of the top picks who were in Philadelphia walking the red carpet and hugging Commissioner Roger Goodell on a stage in front of 70,000 fans, Garrett was with family and friends in Texas when he received a phone call from the Browns telling him he was Cleveland bound.
"It was really just a weight off my shoulders, what I was wishing for has come to fruition," said Garrett, who wore a Cleveland T-shirt that said "The Heart of Rock 'N Roll."
The Browns had their eyes on North Carolina quarterback Mitch Trubisky, a local kid who grew up a Cleveland fan, but he was surprisingly selected at No. 2 by the Chicago Bears.
The 6-foot-5, 272-pound Garrett, who recorded 32 1/2 sacks during his three seasons with the Aggies, will join a Browns defence undergoing a much-needed major makeover. The team hired former New Orleans defensive co-ordinator Gregg Williams — of "Bountygate" infamy — this winter and signed linebacker Jamie Collins to a four-year, $50 million contract, locking up a player they can pair with Garrett to form their defensive foundation.
Cleveland ranked 31st defensively last season and the Browns were 30th in sacks with 26.
Garrett said the call from the Browns came on his mom's phone because his had "disappeared" during the watch party. Garrett spoke with Cleveland coach Hue Jackson, who told the 21-year-old, 'I told you you were my guy.'
Garrett is aware of recent criticism about his game, including remarks by Hall of Famer Warren Sapp, who called him "lazy."
"It's more fuel for the fire and it's burning hot right now," Garrett said. "It doesn't matter what they say."