Cassidy, Tortorella, Vigneault named Jack Adams Award finalists
Bruce Cassidy, John Tortorella and Alain Vigneault were named as the three finalists for the 2020 Jack Adams Award on Wednesday. The award is presented annually to the National Hockey League coach "adjudged to have contributed the most to his team's success."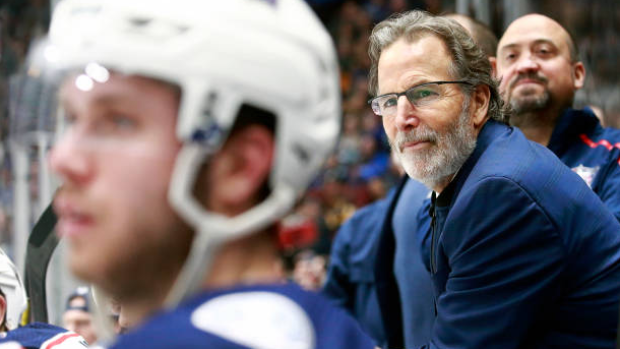 NEW YORK — Bruce Cassidy of the Boston Bruins, John Tortorella of the Columbus Blue Jackets and Alain Vigneault of the Philadelphia Flyers are the three finalists for the 2019-20 Jack Adams Award, presented annually to the NHL's coach of the year.
Under Cassidy, the Bruins (44-14-12 in 70 GP) topped the NHL in both points (100) and points percentage (.714) to claim the Presidents' Trophy as the NHL's best club during the regular season.
Boston posted a league-best 44 wins, including 22 victories as both hosts (22-4-9) and visitors (22-10-3).
The Bruins, who reached the 40-win milestone for the seventh consecutive season, also posted an NHL-best plus-53 goal differential.
Tortorella guided the Blue Jackets to a .579 points percentage (33-22-15) at the time of the NHL's March 12 suspension of the season due to the COVID-19 pandemic. That put them among Eastern Conference Stanley Cup qualifiers as the No. 9-ranked team.
The Blue Jackets recorded points in 33 of their final 41 games after Dec. 8 (22-8-11), highlighted by a pair of double-digit point streaks in that span: 12 games (8-0-4 from Dec. 9 to Jan. 2) and 10 games (9-0-1 from Jan. 11 to Feb. 7).
In his first season behind the Philadelphia bench, Vigneault led the Flyers to a .645 points percentage (41-21-7) at the pause, their best since a .646 mark in 2010-11 and third-best in 30 years. The Flyers vaulted into the No. 4 seed in the Eastern Conference and a spot in the seeding round robin of the Stanley Cup qualifiers with a nine-game winning streak from Feb. 18 to March 7, eight of which were decided in regulation.
Vigneault is a Jack Adams finalist for the fifth time, with his fourth club. He captured the award in 2006-07 with Vancouver.