Bruins sweep 'Canes, reach third Stanley Cup Final in nine years
Through three totally different styled series, the Boston Bruins have only gotten better as these playoffs have gone along, reeling off seven straight wins to reach the Stanley Cup Final, Frank Seravalli writes.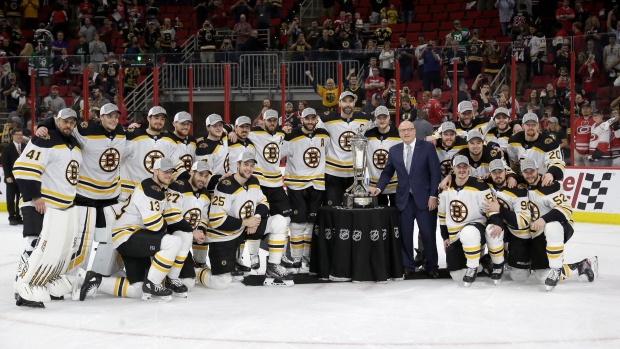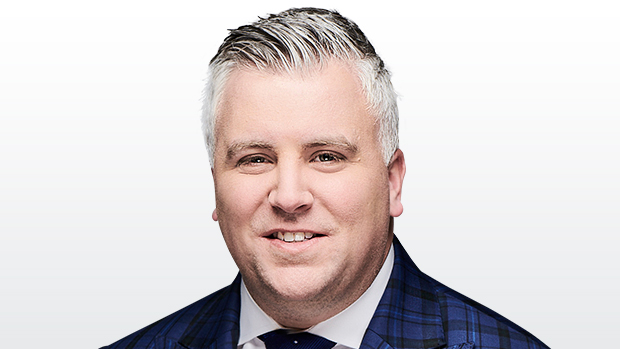 RALEIGH, N.C. — His face was absent of sweat, the casualty of sitting out his first Stanley Cup playoff contest since 2011 after 98 consecutive wars.
But there was Zdeno Chara, in full uniform for the handshake line as a sign of respect, after his Boston Bruins completed the sweep of the Carolina Hurricanes.
That Chara wasn't wearing a helmet only accentuated the grey that has grown into his playoff beard after 21 NHL seasons.
When he got to Rod Brind'Amour at the end of the line, the Hurricanes' coach looked up to all 6-foot-9 of him and said: "I have so much respect for you. You can't keep doing this!"
That's what everyone said when the Bruins missed the playoffs for consecutive years in 2015 and 2016. They said the window was closed, the 'heavy' Bruins can't keep up in today's warp-speed NHL.
"The core group, we've been through a lot," Patrice Bergeron said. "Ups and downs."
Now they'll have another crack at the Stanley Cup.
The Bruins advanced to their third Stanley Cup Final in nine years when they knocked off the Hurricanes with a 4-0 shutout on Thursday night. Only the rival Montréal Canadiens have played for the Stanley Cup (11 times) more than the Bruins (10) in the NHL's expansion era since 1967.
The Bruins will attempt to complete the Boston Hat Trick, adding the Stanley Cup to the Red Sox' World Series and the Patriots' Super Bowl titles – all in the same season.
Chara and the boys huddled around the Prince of Wales Trophy, but didn't touch it, with superstition winning the day. They didn't touch it in 2011 or 2013, but the last three Cup winners (all from the East) grabbed the trophy from deputy commissioner Bill Daly.
"A lot of different emotions go into it," coach Bruce Cassidy said. "I'm proud of the guys, especially the way that they played today. We've earned the right to be where we are, to go to the Stanley Cup Final. We beat three good teams."
Through three totally different styled series, the Bruins have only gotten better as these playoffs have gone along, reeling off seven straight wins to reach the Final. The question is: Can they find a way to maintain that momentum with a long layoff?
The Bruins could go as many as 10 days between games, with one scenario pegging a Game 1 start for May 27 if the Western Conference Final goes six games or longer. Whenever it begins, the Bruins will have home-ice advantage when they face either the San Jose Sharks or the St. Louis Blues.
Cassidy said Chara is expected to be ready for Game 1.
"You hope you can have fully charged batteries heading into the Final," said David Backes, advancing to his first Final after 928 games. "That's all you can really ask for."
The Bruins swept the Hurricanes, who swept the Islanders, who swept the Penguins – a string of sweeps which has never before happened in the NHL.
The Bunch of Jerks' dream season went out with a whimper. Carolina mustered just six shots from the over the final two periods before Curtis McElhinney was pulled for the extra attacker.
"I hate that we went out like that, with that game," Brind'Amour said. "That was a dud game."
The Bruins simply put on a clinic, overmatching the Hurricanes in just about every area of the ice. The series could be summed up in one statistic: the Bruins went 7-for-15 on the power play while the Hurricanes went 1-for-14.
Couple that with an unconscious Tuukka Rask, who allowed just five goals against all series (109-for-114), and that's a ticket to play for Stanley. Rask didn't even drop into a butterfly to make a glove save on Justin Williams in the slot.
"I don't even have words for it," Charlie McAvoy said "They're getting Grade A's and he's just standing up in the slot seeing them right into his glove. I sat on the bench tonight and I would just shake my head with how easy he made it look."
Oh, yeah, and the Bruins' monster line of Brad Marchand, Bergeron and David Pastrnak scored all four goals to close out the Canes. They've accounted for 22 of their 57 postseason goals. Not bad.
The story of this Bruins team, though, is how they've assimilated everyone in. Yes, it's incredibly rare to have five players around from a decade ago - including Chara, Bergeron, Rask, Marchand and David Krejci. Thirteen other teams in the East only have a combined six players still around for a decade ago.
But that core realized they couldn't do it themselves alone. They had to adapt, knowing they needed to welcome in young guys like McAvoy and Jake DeBrusk and Sean Kuraly for a speed-and-skill element instead of the grind-them-down style that won in 2011.
"It's about relying on everyone and everyone finding their role," Bergeron said. "I think it's been a special group since Day 1, but we added some great pieces that have been great for us. It's a special feeling. As you get older, you appreciate it more."
Backes was an outsider in 2016 when he signed after a decade in St. Louis.
"It's been an excellent evolution to be part of, to see the growth, to see them bring guys along and say 'You're a huge part of this,' " Backes said. "Guys that stepped in at the deadline, Charlie Coyle and Marcus Johansson, that we made feel right at home. Guys that have been healthy scratches or injured step right back in. Those types of contributions are not by accident. It's because we care about each other, include each other, and don't forget each other when we're out [away from the rink]."
What a long, strange journey it's been. Two GMs, two coaches, and a chance for a second Stanley Cup that would cement a legacy in an Original Six town full of them.
"There's some unfinished business," Cassidy said. "That's part of the emotion you want to keep in check. You want to enjoy it, but I think our guys understand there are still four more steps to take."
Contact Frank Seravalli on Twitter: @frank_seravalli​​