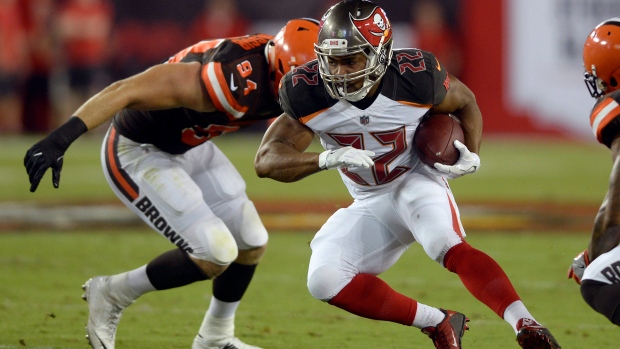 The Muscle Hamster era is over in Tampa Bay.
The Buccaneers have cut running back Doug Martin.
A native of Oakland, Martin failed to hit even the 500-yard plateau in four of the last five seasons and only appeared in 29 games over the past two seasons.
Cutting Martin saves the Bucs $6.75 million next season with no dead money left on their cap.
Martin, 29, burst onto the scene as a rookie out of Boise State in 2012 (taken 31st overall in the 2012 NFL Draft) in which he recorded 1,454 rushing yards and 11 touchdowns, earning a trip to the Pro Bowl.
Injuries limited Martin to just 17 games over the next two seasons, but he returned in 2015 fully healthy to rush for 1,405 yards. As a result of his resurgence, Martin inked a five-year, $35.75 million extension with the Bucs.
In 2016, Martin was suspended for four games in violation of the NFL's substance abuse policy, testing positive for Adderall. The suspension carried over to this past season and upon his return, Martin lost the Bucs' starting running back job to Peyton Barber.
The Tampa Bay Times' Rick Stroud was first with the news of the release.