Bylsma can stand on his track record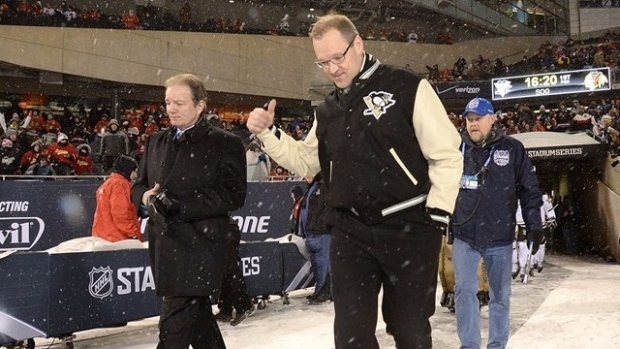 The buzz around the potential hiring of Dan Bylsma – the Buffalo Sabres appear to be zeroing in on him as a candidate – continues to intrigue me. For a guy who won 63% of the regular season games he coached (and 55% of playoff games he coached), there's an awful lot of talk about systemic and stylistic flaws he carries.
I find his battered reputation -- despite an overwhelmingly impressive coaching record -- fascinating for myriad reasons. One, the Pittsburgh Penguins were routinely decimated by injury during his tenure – more on this later. Two, Pitsburgh's front office struggled mightily to acquire and/or develop depth talent, which frequently submarined team performance (see here, here, and generally here for starters – the draft record wasn't much better). Year after year, Pittsburgh's elite top-six tried to smooth out a dreadful bottom-six that did little more than try to drag the team into mediocrity. Be it a lack of available cap space to add talented players or poor player development or poor external acquisition (likely a combination of all three), a whole lot of blame for Pittsburgh winning just one Stanley Cup with years and years of opportunities can be apportioned to guys higher up the food chain.
Collectively, it seems that the criticism of Dan Bylsma as a head coach can be reduced to 'he rode the talent of two amazing players to an impressive coaching record, yet at the same time couldn't win enough', which is equal parts ironic and specious. Look, there's little doubt that having Sidney Crosby and/or Evgeni Malkin in the lineup helped things along, but again, these weren't players who put in healthy 80+ game seasons year after year. In Dan Bylsma's tenure alone, Sidney Crosby missed 121 regular season games, and Evgeni Malkin missed another 100 games. After a quick cross-reference, it brings us to 174 regular season games in which Dan Bylsma was without one or both of his premier talents.
So, let's answer the question: just how did the Pittsburgh Penguins perform without one or both of these players? Suspicions would be that Dan Bylsma's teams were insulated by their inclusion in the lineup, and certainly reducing the team to a one or no-man army would lead to a precipitous fall.
Here's how the Dan Bylsma era looked like, in totality and in totality without one or both of Sidney Crosby or Evgeni Malkin in the lineup: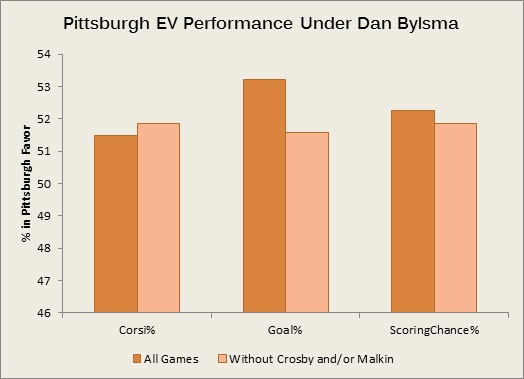 This is unspeakably impressive, and one of the big reasons I'm such an ardent supporter of Dan Bylsma getting another coaching gig – be it in Buffalo or elsewhere. Without Crosby/Malkin in the lineup, Pittsburgh still scored 51.6% of the goals and generated 51.9% of the scoring chances at even-strength – a shade below their norm, but still well above break-even. And, their Corsi% -- the rate at which they controlled play at 5-on-5 – actually improved by a sliver, to 51.8%.
Any time you are above 50% in one of these team metrics, you are doing something right. But, I think it's important to highlight just how quality the Without Crosby/Malkin numbers are. So, I put the Without Crosby/Malkin numbers only against every other team average spanning the Dan Bylsma era. Where did Pittsburgh rank?
PITTSBURGH PENGUINS COACHED BY DAN BYLSMA
(Without Crosby/Malkin)

League Rank

Corsi%

7th

Goal%

8th

ScoringChance%

8th
So, to be clear: In more than two regular seasons worth of games played under Dan Bylsma and without one or both of Sidney Crosby/Evgeni Malkin, the Pittsburgh Penguins were objectively a top-ten hockey team at even-strength.
This is precisely why I have such a hard time accepting the notion that Bylsma was the one dragging Pittsburgh into the muck. The raw win/loss record says enough about his success, and no longer can anyone hang their hat on the 'Crosby and Malkin carried Bylsma' teams argument, because the data just doesn't support it.
If I'm Tim Murray, I lock up Dan Bylsma's contract…as soon as I finish reading this sentence.