Cabot Cliffs is a masterpiece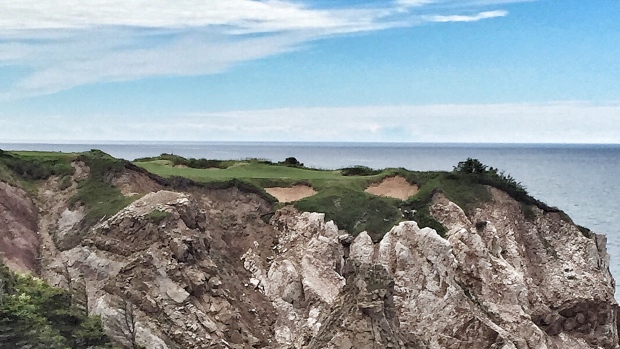 When Cabot Links opened for play about four years ago, golfers who played it were stunned at the layout, which was the first true link layout Canada had seen. It received rave reviews and when it was first eligible for the SCOREGolf Top 100 list, it debuted at No. 2 in the country.
That's an amazing recognition by anyone's standards but one that was worthy.
On July 1, Cabot Links' sister course, Cabot Cliffs, opened for play and it's quite possible that it may be even better.
The two layouts are tucked into the small town of Inverness, N.S., on Cape Breton's west coast. Many might consider it remote – it's three-plus hours from Halifax and two from Sydney. But it is definitely worth the drive.
Cabot Cliffs is simply stunning. It has 18 holes of jaw-dropping beauty, remarkable playability and some good challenge. The course was designed by the team of Ben Crenshaw and Bill Coore who were among the select group who teed it up for the grand opening. Crenshaw, the two-time Masters champion, established the course record with a score of 73.
Cliffs has three different parts to it. The first takes golfers through oceanside dunes and so close to the water, you can feel the spray from the waves. Then it meanders uphill and along several tree-lined holes, while finally finishing with an impressive set of holes that are set along a cliff side.
It's hard to pick out which hole or even sets of holes are best.
"I don't think the golf world will see ground like this again – ever," Crenshaw told me after the round.
I played alongside Coore and he gave me details on how the course came to be, the routing and some of the interesting tales of construction. At first, the principle owner, Mike Keiser, asked the designers for a routing that included six par 3s, six par 4s and six par 5s, something Coore and Crenshaw, noted golf traditionalists, weren't keen on. But when they started to look at the ground and the possible flow, they saw that it almost naturally gave them the six-six-six combination. And so that's what Cliffs has.
The most talked-about and most photographed hole will be 16. It's a par 3 with a green that sits on a promontory at the edge of a cliff. There may be no more dramatic golf hole in Canada. Possibly the world. It is breath-taking..
Playing it takes a nervous iron shot to a green that's a little bigger than it appears from back on the tee. It's not an easy hole but it's not as hard as if first looks.
While 16 will get lots of attention, it's not the only sensational hole. The second is a brilliant par 4 with a large green that features a massive bunker complex in the middle. Your tee shot needs to find the proper side of the generous fairway to get a look at the pin.
The sixth hole is a dandy par 3 tucked into a bowl down in the dunes. It's short but a tricky green means you'll need imagination to get the ball close.
And 15 is a gorgeous par 5 where an accurate drive is required to get a look at the flag to set up a possible eagle.
Signature holes? This place has 18 of them.
What I loved about Cabot Cliffs are the options you have on every hole. It will be a course where knowledge, experience and imagination can combine for a low score. But above all, it will also be a wonderful experience. Every hole has a possible wow factor overload. Every shot has the potential for excitement. There can be no better testament to a great course than the fact that you just want to play it again and again.
It's still early for Cabot Cliffs, but already it's clear to see this is a masterpiece. You can make a pretty good case that when the next SCOREGolf rankings come out next summer, the two Cabot courses could be ranked first and second. The only question left may be what the order will be.