Calgary says it will pay for 1/3 of new arena
The City of Calgary is offering to pay for one-third of the cost of a new NHL arena. In response to the Calgary Flames breaking off talks for a new rink earlier this week, Calgary Mayor Naheed Nenshi revealed details of what the city proposes to pay for a building expected to cost $555 million.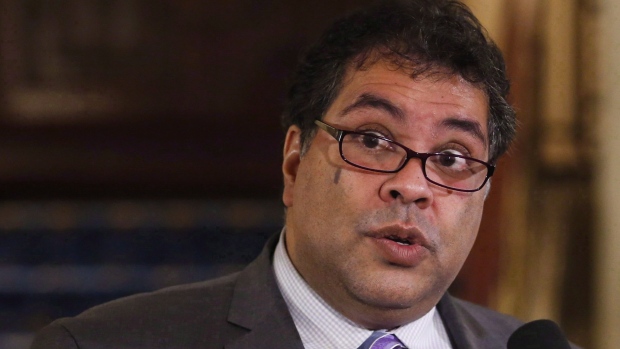 CALGARY — The Calgary Flames and their city are taking their negotiations public on a new NHL arena projected to cost $555 million.
The city proposed paying a one-third share of $185 million, with Calgary Sports and Entertainment paying another third and the remaining third paid for via a surcharge on tickets sold to events in the new building.
The Flames would get all revenues from the new arena, but the city wants CSEC to pay property tax on it.
"You'll notice that even in this model CSEC gets 100 per cent of the revenues and profits from the arena," Calgary Mayor Naheed Nenshi said Friday morning at City Hall.
"There is profit here. Our argument is the city needs to somehow share in the upside if we're going to share in the cost."
Flames president Ken King contends the city's proposal amounts to the team paying the entire cost, or more, because the team considers a ticket surcharge revenue that belongs to them and because they'd pay property tax.
"Their proposal has us not only paying for everything, but more when you consider incremental taxes," King said at a news conference at the 34-year-old Scotiabank Saddledome.
"They want a win-win. We think us paying 120 per cent of the project isn't exactly that.
"If we actually did this deal, it would be worse than what we have now. We've be better off to stay here."
He said the Flames would make financial details of their offer, and a blueprint for the building, public next week.
King announced Tuesday, on behalf of Flames owners Murray Edwards, Alvin Libin, Clayton Riddell, Allan Markin and Jeff McCaig, they were halting "spectacularly unproductive" talks with the city on a new arena.
Nenshi, who is running for a third term in the Oct. 16 civic election, had said a day earlier that the arena was part of a vision for a revitalized arts and entertainment district on the downtown's east side.
"Of course it's an election issue," King said.
"It became an election issue because it was indicated that on Monday morning we were an integral part of a vision that included an arena that had little to no chance of coming to fruition based on what they just showed you."
The Victoria Park proposal to build an arena just north of the Saddledome came after the $890-million CalgaryNext project pitched by the Flames two years ago.
That concept included a hockey arena, football stadium and fieldhouse on the west side of downtown.
CSEC also owns the Canadian Football League's Stampeders, the Western Hockey League's Hitmen and the National Lacrosse League's Roughnecks.
Flames owners offered $200 million of their money and proposed a $250-million loan be repaid through a ticket surcharge.
City council declared CalgaryNext would cost $1.8 billion when the cost of remediating creosote-soaked soil was included.
The city's most recent offer made public Friday said they would make a $130-million contribution that would not come from property tax, would donate the land worth $30 million and would pay $25 million for the demolition of the Saddledome.
Nenshi added the city would also pay indirect costs of over approximately $200 million to expand infrastructure and public transit to Victoria Park.
King countered those are costs the city would incur whether there is an arena there or not.
How much property tax the Flames would pay on a new building is up for negotiation.
"The Municipal Government Act actually has an exemption that the city can set its own rate for professional sports facilities," Nenshi explained.
"I would say in the range of $5 million a year would be reasonable, but that is something we were very much debating."
King reiterated the Flames are not moving to another city any time soon, while simultaneously pointing out they could.
"We want to ensure the public knows that the five men and their families who helped build this city, who employ tens of thousands of people, have provided hundreds of millions of dollars in philanthropy, and in spite of no good financial sense, have and will strive to keep professional and amateur sports as a beneficial and valuable part of our culture," he said.
"This is no money-grab. If it was, we'd be long gone. There's lots of places to make a lot of money in sports other than here."