Canada advances at London Sevens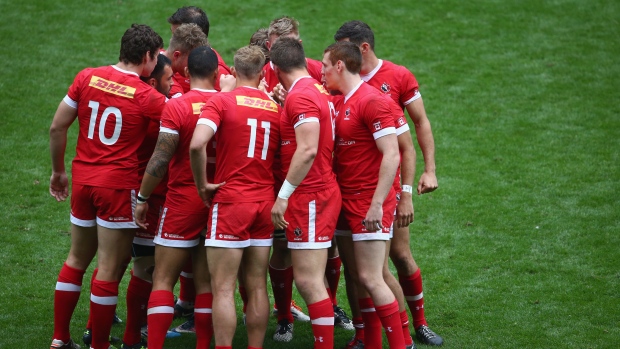 LONDON — Canada posted two victories and a loss on Saturday to reach the Cup quarter-finals at the season-ending London Sevens.
The eighth-ranked Canadian men beat third-ranked Fiji 22-19, doubled No. 15 Japan 28-14 and dropped a 19-12 decision to No. 4 New Zealand.
Canada secured its sixth Cup quarter-final appearance of the season when New Zealand beat Fiji 27-21 at Twickenham. It was the first time Fiji failed to reach a rugby sevens World Series quarter-final in more than three years.
Canada will face Argentina on Sunday morning.
In Canada's opener, Fiji built an early 12-point lead but Justin Douglas scored just before the half to make it a 12-7 game. John Moonlight broke a couple of tackles before tying the game at 12-12 but Fiji moved ahead again on an Amenoni Nasilaslia try.
Canada's Nathan Hirayama made it a two-point game and Moonlight added his second try — and 100th of his Series career — with no time left on the clock.
Douglas and Hirayama scored tries in the New Zealand loss, which put Canada into a must-win situation against Japan. Douglas again showed his form with three tries in a rather comfortable victory while Matt Mullins had the other Canadian try.
Fiji, winner of the previous two World Series, was second in the standings after winning at Hong Kong in March, but faded with quarter-final exits in Singapore and Paris, and didn't even get that far here. Canada started the day with 81 points in the season standings, six behind sixth-place Scotland and one ahead of Argentina.
The Canadians finished 13th, ninth and sixth, respectively, over the last three seasons on the World Series.
Only the Kiwis and England, which hasn't won its home event since 2009, finished the first day unbeaten. England needed last-gasp tries by Dan Norton to beat Australia 19-12, and by Alex Davis to beat Samoa 24-19.
England's reward was a quarter-final on Sunday against South Africa, which clinched the World Series title last weekend in Paris, and went on to win its fifth Cup title in nine legs.
The South Africans beat Kenya and Wales by only two points each, and only after the Welsh missed a late conversion. Having ensured it would advance, South Africa then lost its last pool game to the United States 24-12, only its fifth loss to the Americans in 46 matches.
The U.S. won Pool A on points difference, as did Argentina in Pool B.
Argentina beat France, which beat Scotland, which beat Argentina. All three teams finished with two wins each, and Argentina and Scotland advance on points difference, while France missed out.
Scotland won its first Cup title here last year, beating South Africa by one point in the final, and will have to go through New Zealand in the quarter-finals on Sunday. The Americans will play Australia in the other quarter-final.
———
With files from The Associated Press.