Canada cruises past Brazil in world qualifier
Skip Marcelo Mello is taking on Canada's Glenn Howard in the Americas Zone Challenge competition this week in London, Ont. Howard won the first game 15-1 Thursday night. The winner of the best-of-five series will earn a berth for their country at the 2018 worlds in Las Vegas.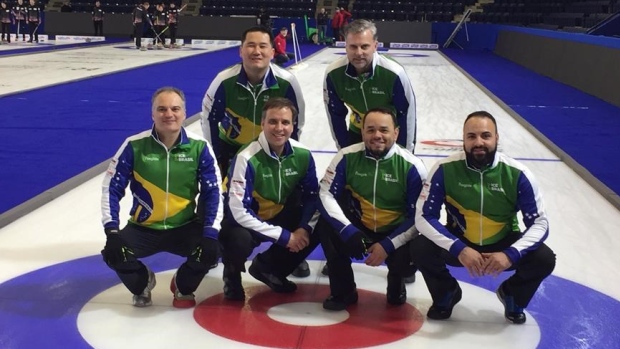 The Brazilian curling team is aiming high in its effort to help grow the sport in the South American country.
Skip Marcelo Mello will take on Canada's Glenn Howard — a four-time world champion — in the Americas Zone Challenge competition this week in London, Ont.
Howard won the first game 15-1 Thursday night. The winner of the best-of-five series will earn a berth for their country at the 2018 world men's curling championship.
"You always learn a lot when you play with someone that's good," said Brazilian alternate Sergio Mitsuo Vilela. "I think that we could not ask for a better opponent. We are quite excited."
This will be the fifth time that Brazil has challenged for an Americas Zone spot and the first time Canada has provided the opposition. The United States won all four previous matchups by a combined score of 111-40.
Under WCF rules, the Americas Zone is guaranteed two spots in the Mar. 31-Apr. 8 world playdowns in Las Vegas and one goes to the host country. Brazil was the only country to challenge top-ranked Canada for the second spot.
The host side installed a fourth sheet of ice at The Sports Centre at Western Fair District for the occasion. The Americas Zone Challenge will run in conjunction with the Continental Cup between Team North America and Team World.
Vilela hopes the event will create more awareness in Brazil, increase media exposure, and maybe help spur interest in getting some curling arenas built in the country.
"It made a lot of sense to challenge Canada even though we know the chances are slim at best," he said from London.
Curling is in its infancy in Brazil, a summer sports haven where soccer and volleyball are king. However, winter sports have gained some traction in recent years.
Figure skater Isadora Williams represented Brazil in figure skating at the 2014 Sochi Olympics, the Brazilian bobsled team continues to make inroads, and Brazil entered the 2016 Winter Youth Games.
Given the climate and a dearth of winter sport facilities, most Brazilian athletes train and play abroad. Curling is no different.
Mello and lead Filipe Nunes, both from Porto Alegre, live in Sherbooke, Que. Third Scott McMullan is a Sao Paulo resident from Winnipeg and second Marcio Cerquino is a Vancouver resident from Manaus.
They play four-man and mixed events, practise on their own, and only get together as a team on rare occasions. Brazil is 43rd out of the 47 countries with ranking points on the World Curling Federation list, currently sandwiched between Serbia and Luxembourg.
But there is hope on the horizon.
New WCF qualification procedures will be used ahead of the 2019 world championship, which could mean Brazil plays countries closer to its level instead of powerhouses like the U.S. and Canada.
In the meantime, the Brazilian side will soak up the experience of playing against the sport's elite in front of big crowds on top-shelf arena ice.
"That's all we could dream of," Vilela said.
Vilela added that Brazilians really started to notice the sport at the 2010 Vancouver Olympics. Curling broadcasts would follow the popular novelas — Brazilian soap operas — on television.
"As soon as the novellas would end, people would then switch to this crazy new thing at the Winter Olympics," he said. "They would be watching this crazy sport with brooms and people screaming and everything. So because of that curling is more well known since then."
Now a Zurich resident, Vilela was living in Sao Paulo at the time.
He recalled waiting six hours in line to throw stones when a temporary sheet was installed in the city that year so locals could try the sport. Now his Brazilian team is getting feature story treatment in the Estadao newspaper.
"We have to create a new generation," Vilela said. "We are really trying to achieve that through this exposure and then (we'll) try to convince our Olympic committee that it's an investment worth making."
Canada, meanwhile, has competed at every world men's curling championship since the inaugural competition in 1959. Brad Gushue of St. John's was victorious last year, giving Canada its 39th gold medal at the event and improving the country's overall record to 455-107.
Howard scored seven in the first end of Thursday's opening game. Two more games are set for Friday and Game 4 and/or Game 5 would be played Saturday if necessary.
Howard, from Tiny, Ont., is joined by third Adam Spencer, second David Mathers and lead Scott Howard. American skip John Shuster defeated Mello 8-6, 9-4, 9-3 last year.
Many curling fans in Brazil play ice stock — a sport that's similar to curling — on asphalt or concrete. In 2014, an indoor snow centre opened in Gramado, in the country's Serra Gaucha region.
The venue boasts a 120-metre long piste for skiing, snowboarding and tubing. Curling fans hope to see something similar for ice sports in the future.
"We always think about the beach, the white sand and the hot sun," Vilela said. "But we are growing in the winter sports section as well. We will get there someday."
———
Follow @GregoryStrongCP on Twitter.