Canada G Hart no stranger to bouncing back
TSN's Mark Masters is with Team Canada and has the latest as the group prepares for the World Junior Championship to begin on Boxing Day.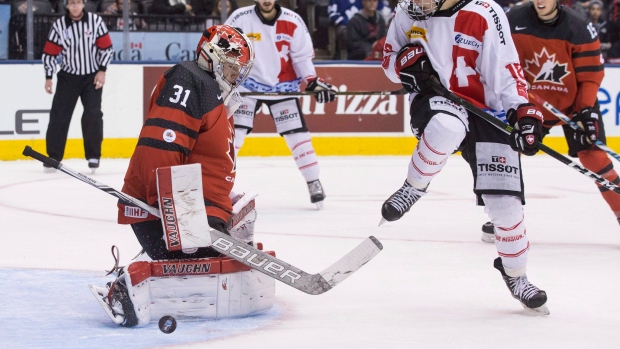 TSN's Mark Masters is with Team Canada and has the latest as the group prepares for the World Junior Championship to begin on Boxing Day.
* Carter Hart allowed three goals on 15 shots against the Swiss in Friday's pre-tournament finale and the Silvertips goalie didn't pull any punches when asked about his performance. "The game wasn't up to my standards," Hart said. "Obviously, I could've had a couple of the goals back, but you can't dwell on it. It's a short-term event so you don't have time to dwell on bad performances and, honestly, we got the win and that's all that mattered." Hart has lost two games in a row just once this season in the WHL where he's posted a 16-3-4 record in Everett. The 18-year-old wasn't always good at responding to adversity. "Actually, when I was younger I used to be not very good at it," Hart explained, "then working a lot with my sports psychologist, just working on pre-game routines and sticking to routine, I learned to only worry about things that are in my control." While Hart will often speak with John Stevenson, his Edmonton-based sports psychologist, he uses a technique popularized by Capitals goalie Braden Holtby to refocus during games. He will spray water from his bottle in the air during stoppages in play. "It's just something that I sort of picked up from him when I was younger," Hart said. "I started doing it when I was 15-years-old. I just watch the water hit the ice, watch the water droplets hit the ice and it helps me refocus and refresh. It's just one of my triggers."
Dominique Ducharme was asked if both goalies will see action in the round robin. "We'll see," Canada's head coach said. "We'll go one game at a time. Both guys have been doing well. We're confident with either of them in net." The starting goalie for the opener against Russia won't be officially announced until Monday morning.
* Ducharme employed the same lines against the Czechs on Wednesday and the Swiss on Friday and confirmed he will start the tournament with that same alignment. "We feel that all our lines have been, at some point, producing so we want to give our guys time to build that chemistry," Ducharme said. That means Mitchell Stephens, one of two Canadian forwards to not record a point in three pre-tournament games, will stay with Dylan Strome and Pierre-Luc Dubois. "We had a lot more chemistry last game," Stephens said. "We moved the puck better. They're two unbelievable players, picked third overall for a reason, so I'm just trying to make the most of the opportunity playing with them and show I can stay up there." Dubois finished the pre-tournament schedule with one assist while Strome had two goals and an assist.
* Canada practised shootout moves at the end of Saturday's practice. So, who has the best hands on the team? "Ah, I'd probably say Strome has a pretty good shot, but I think Barzy, Mathew Barzal has the best hands," Hart said. "Even when you see him in the game, work the power play, work the half-wall. I've seen him a lot in the U.S. Division when he plays for Seattle and he's got some pretty good hands." Tyson Jost was also a popular answer when Canadian players were surveyed.
* Strome watched his brother, Islanders forward Ryan Strome, get beaten twice by Russia at the world juniors in heartbreaking fashion. Canada's comeback fell short in a 6-5 semifinal loss in Calgary in 2012 and one year later Russia won the bronze-medal game in overtime in Ufa. "It's something where our family hasn't had too much success against the Russians and hopefully we can change that," Canada's captain said. "It's huge. It's so much more than just a hockey game, I think. Both countries this is their main sport and passion." Stephens is expecting a physical affair on Boxing Day. "There's always going to be a pushback from each team, there's always going to be fight in between the whistles so it's going to be a hard-fought game, fast game, lots of skill on both ends so I'm really looking forward to it," he said.
* Blake Speers, who returned from a broken wrist at Canada's camp, wanted to be 100% by the time the tournament started and the Devils prospect was happy to report the goal has been achieved. "At this point, it's a non-factor," he said following Saturday's workout. "It has been almost three weeks since the cast came off and I've been doing all the necessary things to get it ready."
Barzal left the ice in great discomfort, favouring his shoulder, during Friday's game. After a trip to the dressing room, he returned and finished the game without incident. What was going through his mind when he got hurt? "I was almost sick to my stomach," the Islanders prospect said. "I thought it was something pretty serious, but two minutes went by and it calmed down completely. Just a little adversity, I guess, nothing crazy, just battled through it." Barzal was a full participant in practice on Saturday.
* Kale Clague was the only Canadian player not to receive an interview request during the camp and pre-tournament schedule. That changed on Saturday much to the defenceman's delight. "He was telling us, 'Boys, this is my first interview of the tournament,'" said Hart with a laugh. "He was just excited." Were the guys giving him a hard time? "A little bit," Clague said with a grin. "Pretty excited today."
* The team will have a special Christmas dinner tonight. "It's my first Christmas away from home and obviously I won't see my family so it's different," Clague said, "but I wouldn't trade it for anything. I'm happy to be here and be part of this great team." Some players are so locked in they didn't realize it was Christmas Eve. "It's a little weird for me," said Speers. "Like most guys, this is my first Christmas away from home and I just got a text from my mom saying, 'Merry Christmas!' and I kind of forgot for a second how close we really were to Christmas."
* Lines at Saturday's practice:
F
Dubois-Strome-Stephens
Joseph-Barzal-Raddysh
Jost-Roy-Gauthier
Dubé-Cirelli-Speers
McLeod
D
Chabot-Myers
Bean-Juulsen
Fabbro-Clague
Lauzon
G
Hart, Ingram
* Power play units at Saturday's practice:
Chabot
Barzal-Raddysh-Strome
Dubois
Myers
Bean/Clague-Gauthier-Jost
Roy
Five-on-three:
Chabot-Myers
Strome-Barzal
Roy