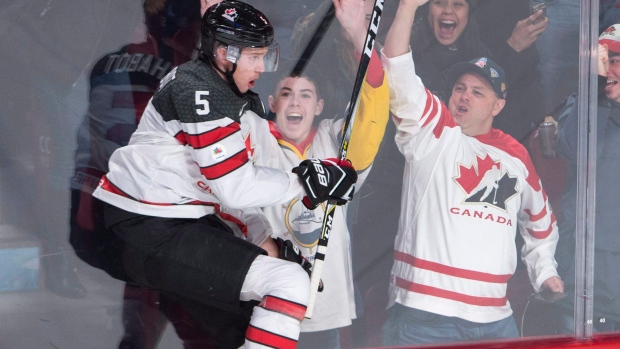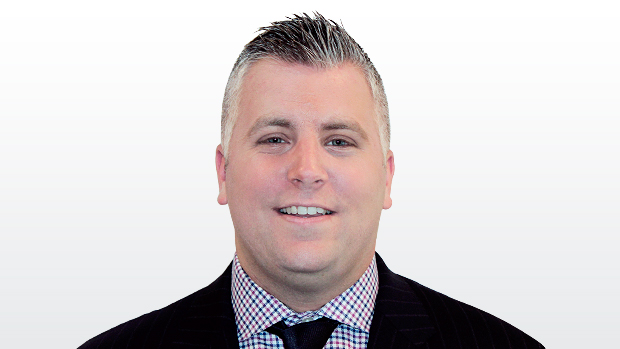 MONTRÉAL — The temperature inside the Canadian dressing room was a little warmer than usual during the first intermission on Monday, with the demons of last year's worst showing at the World Junior Championship in nearly two decades dancing around in the heads of five returning players.
It was one period, yes, but Canada trailed a Czech Republic team they romped by a 13-0 margin in two pre-tournament games.
Just about everything that could have gone wrong did: Canada was booed off the Bell Centre ice after their potent power play suddenly sputtered and the Czechs scored on a strange bounce off the referee.
Then Thomas Chabot piped up.
According to Blake Speers, Chabot told the team during the first intermission: "We've got this. We were going to score more than one goal today anyways. It's not a big deal that they got one. Keep sticking to our game."
As Chabot spoke, Speers looked around the Canadiens' hallowed dressing room that Team Canada was inhabiting.
"You see could see everyone around the room listening to him," Speers said, "that he's going to lead the team."
Then Chabot did just that. A 50-50 puck squirted out to Chabot at the point. He gambled and not only kept the play alive, but ducked a Czech defender and beat goaltender Jakub Skarek to quell any lingering thoughts of an upset and give Canada a lead they would never relinquish.
Canada pulled away for a 5-3 victory thanks to two third period tallies by Julien Gauthier, but the quarterfinal victory served as a poignant reminder that the 2017 World Junior Championship has served as Chabot's official coming out party.
"The whole country knows who he is now," goaltender Connor Ingram said.
Canada will now face tournament favourite Sweden in one semifinal on Wednesday night at the Bell Centre (7:30 p.m. on TSN 1/3/4/5 & 4K). The winner of that game will square off against either Russia or the United States for the gold medal on Thursday.
Chabot, one of the five returnees, helped make sure Canada skirted what would have been a quarterfinal exit for the second consecutive tournament - which would have been Canada's worst back-to-back showing since the playoff format was introduced in 1996.
Chabot, 19, has averaged five more minutes ice time per game than any other Canadian skater and aptly covered for the absence of concussed blue liner Philippe Myers.
The Ottawa Senators' first-round pick now leads all defencemen in tournament scoring with three goals and four assists for seven points in five games.
When Chabot made the play for the go-ahead goal, he said he wasn't sure if he should take the risk as the only defenceman between himself and Ingram.
"It was a pretty tight play," Chabot explained. "But that's when I told myself I might as well go around him."
Most players, Speers said, might think about the obvious danger and fumble the puck - particularly in a die-or-die elimination game setting.
"If you're thinking, 'Well, I'm the last guy back, I better not bobble it,' that's when you're going to bobble it," Speers said. "You've got to be confident in yourself and confident in your ability with the puck.
"He's just a calm leader, a really calming voice if temperatures are starting to boil over or we're getting a little anxious. He's the guy to settle things down."
Each time Canada scored on Monday night, the Czech Republic seemingly had an answer. The situation was getting more tense with each strike, considering the Czechs scored three times on their first 14 shots.
After the game, Canada coach Dominique Ducharme offered a lukewarm assessment of Ingram, who started two consecutive games for Canada for the first time this tournament. Ingram admitted he made a poor read on the second Czech Republic goal, but he couldn't be faulted for the other two.
"He was all right," Ducharme said. "The first goal hit the referee, kind of a bad bounce. The second goal, I'm sure he knows he can get that one. Overall, I think he was OK."
Ducharme seemed to leave the door open for Carter Hart to return to the net against Sweden. Goaltending remains Canada's biggest question mark as they have the 9th-best save percentage in the tournament (.874). Ducharme will have an extra day to think about it as Canada will not practice on their off-day on Tuesday.
"We'll see," Ducharme said. "We'll talk about it. It's too early to tell."
Ducharme didn't get a queasy feeling on the bench when Chabot stepped in to make his game-changing play, the TSN Turning Point of the quarterfinal win.
"He's been making those plays," Ducharme said. "He brings a lot of confidence to our team."
Canada could have crumbled. They didn't. Armed with that experience, Speers said Canada now has the confidence to tackle Sweden, which they will try to do in an unfamiliar position as underdog.
"There aren't that many guys that have played in such meaningful elimination games," Speers said. "That's how you grow as a team, through situations like this. It's nice that we just stuck with it."
Contact Frank Seravalli on Twitter: @frank_seravalli