Canada routs Slovakia to stay perfect at World Juniors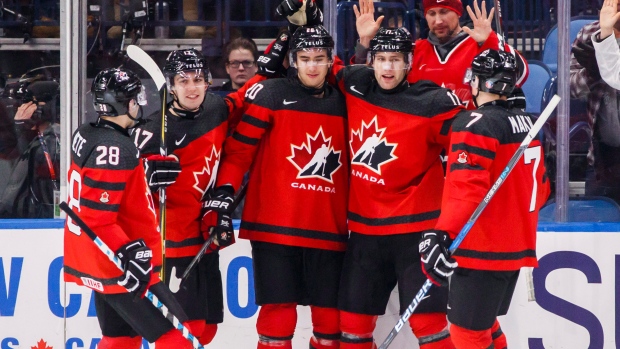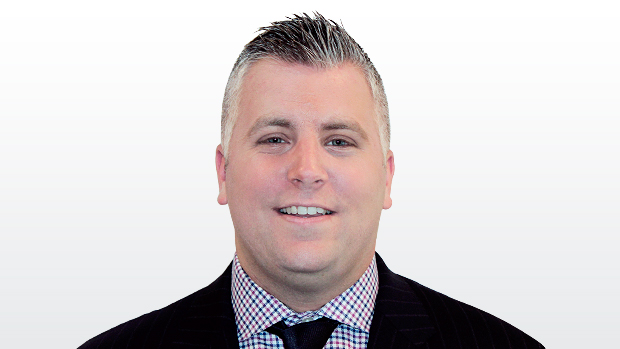 BUFFALO, N.Y. — Team Canada's gold medal hopes rest on the backs of the tournament's deepest defence corps.
That depth was tested again on Day 2 of the World Junior Hockey Championship, but Team Canada mostly dodged a bullet as they took care of business against Slovakia, cruising to a 6-0 victory on Wednesday night.
Defenceman Jake Bean missed more than 15 minutes of action after a hard spill into the boards into the first period, but rebounded to return midway through the second period.
Bean's reemergence was a big relief for a Canadian team which could ill afford another blow to the blueline. Kale Clague already sat out Wednesday's contest with a right foot injury and the coaching staff throttled Dante Fabbro's ice time as the contest wore on.
"Everyone is day-to-day," coach Dominique Ducharme said, drawing a laugh.
Those three defenders – Bean, Fabbro and Clague – are big pieces of Canada's puzzle as they make up half of the team's six returning skaters from last year's silver medalist entry.
Ducharme said he expects Clague to return to the lineup for Friday afternoon's outdoor showdown against Team USA. He said Bean, the Carolina Hurricanes' first-round pick in 2016, had the wind knocked out of him when he crashed into the boards at a high rate of speed after colliding with Slovakia's Marian Studenic in the first period.
"It was kind of a shock," defenceman Cale Makar said. "Some guys were saying it was pretty bad how he went into the boards."
Meanwhile, Fabbro played just 5:18, and didn't play a single shift in the third period. He saw just 1:41 of ice time in the second frame, but Ducharme said that was by design. Ducharme said Fabbro did not aggravate his left foot injury, which plagued him throughout the pre-tournament lead up.
Neither Bean nor Fabbro were available to speak to the media post-game.
"We just managed his ice time," Ducharme said. "He played a lot [Tuesday] night. He didn't practice much before that. We just wanted to make sure he was getting some action but not too much. If we had a chance today, we wanted to cut his ice time a little bit. We were in control, so we backed off a little bit."
Bean's injury scare was just about Canada's only hiccup in Game 2 in front of a sparse crowd at KeyBank Center.
With six goals from five different forwards, Team Canada controlled pace, play and possession in the 6-0 win to remain unbeaten against Slovakia (12-0-1) in the World Juniors. Wednesday's latest win came on the 18th anniversary of that scoreless tie in Brandon, Man., in 1999.
Team Canada is off to a 2-0 start for the second straight tournament. Wednesday was a methodical dismantling of Slovakia, with coach Ducharme noting his team seemed much more composed and energized, even playing a second game in as many nights. The nerves were gone and Canada could settle in.
"I thought we played much better than we did yesterday as a team," defenceman Victor Mete concurred.
Goaltender Colton Point pitched a shutout for Canada in his first career international appearance. The Colgate product and first-ever player representing North Bay, Ont., on the World Junior stage stopped 20 Slovakian shots, outdueling St. Cloud State counterpart David Hrenak.
"You can't ask for anything more," Ducharme said of Point.
Game 1 starter Carter Hart is expected to return to the crease for Friday's contest at New Era Field, home of the Buffalo Bills, but Point inspired confidence should he be called upon again.
"It's always awesome accomplishing a lifelong goal," Point said. "During warm-ups, I took a look around and saw my family in the stands. It felt surreal a little bit, but it's nice knowing I'm part of this."
Up front, Team Canada continued its scoring-by-committee mantra, although St. Louis Blues prospect Jordan Kyrou emerged as a show-stopper, drawing fans out of their seats with an inside-out deke through defenders.
Sam Steel scored his second goal in as many nights to kick off the tournament and Jonah Gadjovich tied Steel for the team lead with a two-goal effort. Taylor Raddysh, Kyrou and Maxime Comtois also piled on with tallies.
Now, as the attention shifts to exacting revenge on Team USA for last year's shootout loss, Team Canada can breathe a sigh of relief knowing they dodged a bullet on Wednesday.
"Scary moment," Ducharme said. "The way he fell, it's tough to know at that point what's happening. It was good to see him back."
Contact Frank Seravalli on Twitter: @frank_seravalli​