Canada's Jones, Tardi capture double gold at world junior championships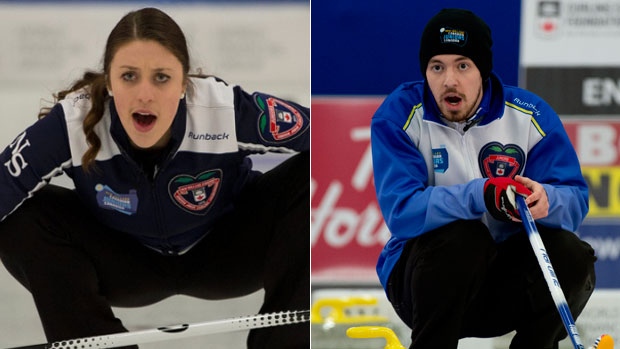 ABERDEEN, United Kingdom — Canada's Tyler Tardi beat Scotland's Ross Whyte 6-5 on Saturday for the men's world junior curling championships after Kaitlyn Jones won the women's title for Canada earlier in the day.
This victory was the 19th time Canada men have taken gold at these championships and this is the first time since 2015 that Canadian men and women have achieved the golden double.
"It's an unbelievable feeling. I don't even know how long I've been dreaming about this moment, and to have it finally come true is just unbelievable," said Tardi. "I can't believe I'm standing here right now."
In the same session, Switzerland beat United States by 7-4 to win the bronze medals.
Scotland opened the scoring in the second end and Canada missed a chance for a big six-point score in the third end when skip Tardi came up short with his final stone. As a result, Canada had to settle for just one point to tie the game at 1-1.
The Scots took the lead again with a single point in the fourth end, but the Canadians moved ahead with a score of three points in the sixth end and a steal of one point in the seventh end for a 5-2 lead. The Scots fought back after this and forced the game into an extra end when a single point steal in the tenth end levelled the score at 5-5. With the last stone of the extra end, Tardi's draw was good enough to score one point and gave his team the world title.
"They're all great shooters on the other team, hats off to them," said Tardi. "They made a really good comeback — good on them. They made some good shots and made us really work for it. They've been working so hard all season. There's no four better guys that could do it with and I'm just over the moon right now. "
Earlier, Jones beat Sweden's Isabella Wranaa 7-4 to win the women's world junior curling championship.
It's Canada's 12th women's world junior title. China beat Norway 11-5 in the bronze-medal game, a first at this level for the Chinese Federation.
"This is indescribable and I feel amazing right now," said Jones. "I know I put everything out there on the line today and came out on top and that's just an incredible feeling. I'm super proud of my team."
The Canadians scored two points in the third end to move into an early lead at 2-1. Sweden scored one point in the fourth end to level the game at 2-2, but Canada moved ahead again in the fifth end when a double takeout by their skip Jones produced a score of three and a half-time lead of 5-2.
Sweden was chasing after this, but a steal of one point by Canada in the eighth end, when Wranaa's double takeout attempt left one Canadian stone still lying in the house, moved the Canadians to a 7-3 lead. The Swedes could only score one point in the ninth end and ran out of stones in the tenth end to concede their title to Canada.