Canada's Madden NFL 18 crown down to eight gamers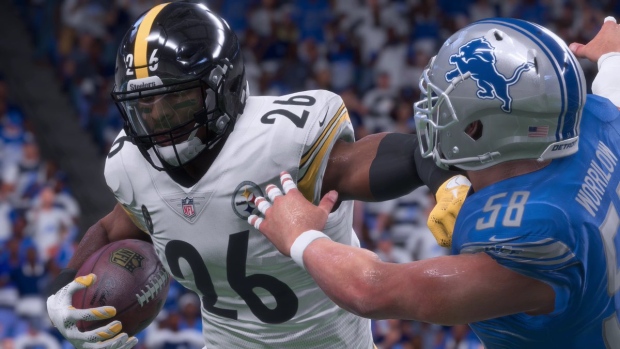 TORONTO — Rob Gambino takes his video gaming seriously. And when he plays, there's always something on the line.
"I don't really play for fun. I only play money games on third-party websites," said the 29-year-old from Toronto.
Gambino competes for anything from $50 to $2,000 on sites like GamerSaloon. But this weekend he is after a bigger purse as one of eight finalists in the "Madden NFL 18" Canadian Challenge, sponsored by Xbox.
Online qualifying began Oct. 3 with the champion to be crowned Sunday in Toronto at the Rec Room's Roundhouse. The competition will be shown live on Twitch and Mixer.
First place is worth $8,000 with the runner-up collecting $4,000. The third- and fourth-place finishers will get $2,000 apiece with the fifth through eighth gamers winning $1,000.
Gambino, whose handle is RobGambi, will be joined by Mr Ferozious, Father lurk, Tepa 420, Glossette Raisins, Warlikeuncle929, timeb0mb011 and seakucumber in Sunday's finale.
Gambino faces Glossette Raisins, who beat him by three points in qualifying play during the quarter-finals of the WorldGaming event.
Away from gaming, Gambino is an entrepreneur who co-founded Streets of Toronto (with 157,000 followers on Instagram), which he describes as a lifestyles platform that both showcases the city and provides photos for clients.
In the past, that included taking photos from atop buildings to get the perfect shot — he was once forced to run down 80 flights of stairs after police caught him taking pictures from a condo rooftop — but he says he no longer pushes that envelope.
Gambino says he grew up playing Madden, trying his hand at online tournaments in 2008. He hasn't looked back.
The Patriots are his preferred team. He loves to air out the ball on offence and blitz on defence.
Sunday may be a challenge, however. The tournament format involves a different game mode that involves drafting your team.
Normally he plays as New England and the good news for this weekend is he was able to get the Patriots playbook. "But the players is a different story."
Instead of Tom Brady, he will go with Carolina's Cam Newton at quarterback.
Gambino played some seven games in qualifying for the weekend finale, needing to win his final game by a certain amount to advance. Unlike past tournaments, he had to scramble to survive.
"I'm completely shocked (at the level of competition)," he said.
While a successful gamer, Gambino says he has not thrown himself into Madden full-time because it's risky and he has a three-year-old daughter. Down the line, he hopes to try it however.
In the meantime, he says he is "really nervous" ahead of Sunday's competition given the different game mode.
"I'm just going to go in and see what I can do," he said.
EA Sports, the develop of the Madden game, has turned its game into big business south of the border.
World No. 1 Michael (Skimbo) Skimbo defeated legendary gamer Eric (Problem) Wright in the Madden Championship Series finale in May to earn US$150,000. EA says its Madden 18 Championship Series will carry a US$1.153-million pot.
That's of interest to the eight finalists Sunday. The top two finishers qualify for the online elimination phase of the Madden NFL 18 Challenge, the second EA Major of the Madden Championship Series.
Gambino calls Skimbo a friend and has played him many times. He's also taken on Problem.
Admission is free for Sunday's event.
Follow @NeilMDavidson on Twitter