Canada's revenge will have to wait
Presented by:

Kieffer Bellows and Brady Tkachuk scored in a shootout as the United States beat Canada 4-3 on Friday in the first outdoor game in world junior hockey championship history. Canada got away from its game plan, failing to hang on to two leads to lose its fourth straight tournament contest to Team USA.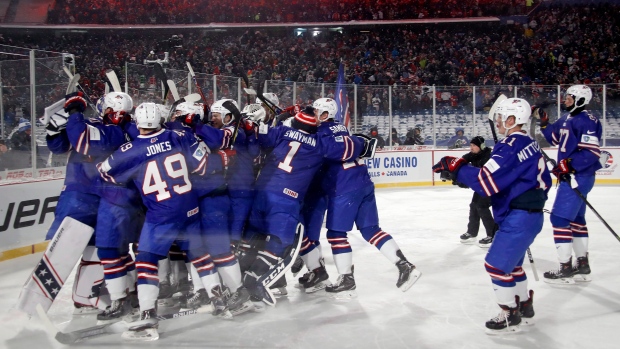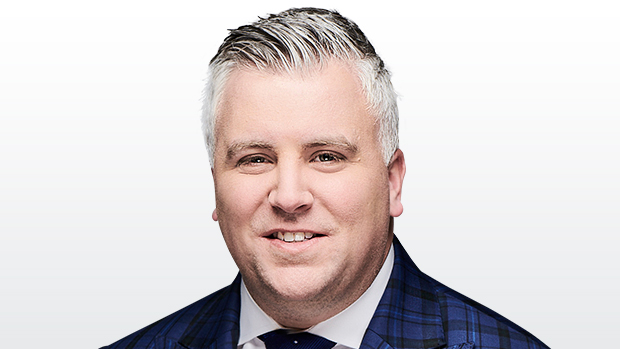 ORCHARD PARK, N.Y. — Captain Dillon Dube said Team Canada needed to play "meat and potatoes hockey" to survive Buffalo's swirling snow globe.
Team Canada instead cooked up fancy foie gras on a night that called for simplicity.
Thanks to undisciplined penalties and poor decisions with the puck, Team Canada blew two separate two-goal leads to fall to the rival Americans 4-3 in a shootout in the first-ever outdoor game at the World Junior Hockey Championship.
For once, a team wearing Buffalo Bills style jerseys came out on top.
For Canada, it was almost a mirror image of last year's heartbreaking gold-medal loss. Brady Tkachuk and Kieffer Bellows played the role of Troy Terry for Team USA as backup netminder Jake Oettinger blanked Canada.
The Americans have owned their northern neighbour of late – at least at World Juniors. Friday was Team USA's fourth straight win over Team Canada in tournament play since 2015, including last year's gold-medal game. Team Canada has missed nine consecutive shootout attempts against Team USA.
Trailing by two goals, Team USA coach Bob Motzko said he turned to his assistant on the bench and said: "It's too bad we won't win, it's an unbelievable setting."
"You could hardly make any plays," Motzko said. "It was tough to come back. It was a game you didn't want to chase."
The scene was reminiscent of the first-ever NHL Winter Classic played in the same venue almost exactly a decade prior, when Sidney Crosby scored that memorable shootout winner. Except it snowed harder.
A World Junior record crowd of 44,592 started their New Year's Eve weekend with a party at New Era Field, home of the NFL's Bills, to see a hockey game that was barely more than shinny level in quality – but one that won't soon be forgotten.
"I was a skeptic at first," Motzko said. "I'm a fan now."
After a mostly sunny pre-game, the Southern Tier skies darkened and the snow began to fall with increasing intensity almost as soon as the puck dropped, until the flakes were so big in the third period that between-stoppage shovellers couldn't keep up with the amount piling up. The Zamboni needed to do a dry scrape during intermissions because the snow was sticking to the freshly flooded ice.
Team Canada defencemen Maxime Comtois and Kale Clague said there were times they couldn't see the puck.
"The conditions didn't do that," Comtois said of Canada's unraveling, responsible for a critical third period penalty himself. "We did that to ourselves."
Both sides were forced to swat the puck through snow drifts. Every play, no matter how routine, could be dangerous and result in a scoring chance. Visibility was poor, but the excitement and emotion flowing prevented the -15 C cold from being a true factor.
Hence, the meat and potatoes. Team Canada got away from coach Dominique Ducharme's game plan.
"Especially in the third period," Ducharme said. "We were killing that two-minute penalty, there's two inches of snow on the ice, and we were trying to score."
Canada struck twice in the first period on the power play – with goals from Cale Makar and Dube – and rode that wave until the United States began to climb goaltender Carter Hart's Mount Everett in the second half.
Playing its second game in 19 hours after a shocking upset loss to Slovakia Thursday night, Team USA was supposed to be tired.
"It was pretty loose," Casey Mittelstadt said of the American dressing room during the second intermission. "A bunch of us were talking about how good of a story it would be if we came back and won."
Team USA sniper Bellows got the Americans on the board with a long-distance shot with under four minutes to play in the second period. Boris Katchouk responded for Team Canada 72 seconds later, but the Americans came alive again in the third despite a heavy shots (35-22) disadvantage.
"We just let our foot off the gas," Katchouk said.
All tied up, it was next-goal-wins, because time was running short and mom was calling the boys in for dinner – just like it was on the backyard rink. It really was pond hockey in the extra session with two rivals going 3-on-3 for bragging rights.
Tkachuk delivered the dagger, but the point earned by Team Canada will guarantee first place in Group A heading into the medal round with a win over Denmark on Saturday night to close out the preliminary round.
It could've been so much more delicious for Team Canada. A regulation win would have put Team USA (1-1-1) perilously close to the relegation round in a tournament on home soil.
After last year's sour loss, that would have been one solid appetizer for Canada. Instead, we were left to salivate at the possibility of these two teams meeting again on a fresh sheet indoors.
Revenge will have to wait.
"It's a rival. It's a heated rival." Motzko said. "Both teams have to win to be rivals. The pendulum will come back. It always does. I just hope it's not this year."
Contact Frank Seravalli on Twitter: @frank_seravalli ​