Canada splits scrimmages against USA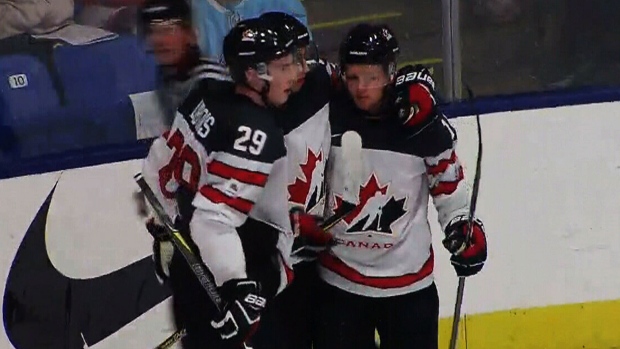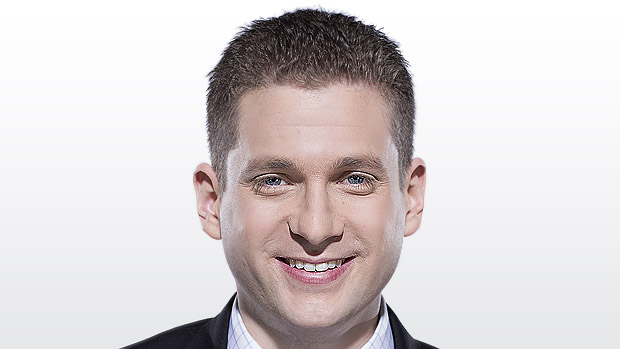 Team Canada played a pair of split-squad scrimmages against Team USA at the World Junior Summer Showcase on Tuesday in Plymouth, Michigan.
Team Canada (Red group) lost the first game 8-2 against Team USA (White group). Sabres prospect Casey Mittelstadt posted five points to lead the way for the Americans alongside linemates Logan Brown (two goals, one assist) and Kailer Yamamoto (two assists).
Even in the middle of summer the cross-border rivalry was alive and well. "There's nothing better than that," Brown said when asked about beating Canada. "It's summer, but it feels pretty good."
"It's just not a good feeling when you lose to the States," said defenceman Dante Fabbro, who was part of the Canadian team that lost in the gold-medal game last year. "Yeah, it just sucks."
Canadian forward Owen Tippett left the game in the third period after taking a big hit from Grant Mismash. "He's not bad," said head coach Dominique Ducharme. "We'll be careful with him tomorrow, but we don't think it's a concussion or anything like that." Tippett won't play, but Ducharme said the Panthers prospect may skate with the other scratches.
The players from the Red group are expected to face Team Finland on Wednesday with some additions to boost the totals to 13 forwards and seven defencemen.
"I'm sure those guys will bounce back tomorrow," said Ducharme. "That's the message tonight: maybe you have a bad period, bad game or whatever, but our way to react is to be bouncing back."
Red Wings first rounder Michael Rasmussen will be held out of Wednesday's game, because he just returned from a wrist injury and the staff doesn't want to overload him.
American forward Max Jones blocked a shot off his left leg and did not return to Tuesday's game. USA coach Bob Motzko said the Ducks prospect will be out at least a couple of days.
Team Canada lines in the first scrimmage:
Dube-Pu-Tippett
Gadjovich-Howden-Raddysh
Rasmussen-McLeod-Phillips
Ang-Lind
Hague-Timmins
Cholowski-Quenneville
Girard-Fabbro
Skinner (16/22)
Wells (6/9)
***
Team Canada (White group) won the second game 2-1 against Team USA (Blue group). Blues prospects Jordan Kyrou and Robert Thomas scored for Canada while Carter Hart and Michael DiPietro were solid between the pipes.

"I think it helped our second group to see the first game a little bit before they got dressed," said Ducharme. "To see the pace, it helped them get ready from there ... we were more consistent, winning a lot more one-on-one battles, making little plays and playing together. For this time of the year, we were pretty consistent for 60 minutes."
Team Canada lines in the second scrimmage:
Katchouk-Steel-Smith
Shaw-Dubois-Kyrou
Kaspick-Glass-Bitten
Thomas-Suzuki
Stanley-Makar
Mahura-Mete
Bean-Foote
Clague
Hart (19/19)
DiPietro (11/12)
This group is expected to play against Team Sweden on Friday.
***
Cale Makar was among the more pumped up players on Tuesday morning. After dominating the Alberta Junior Hockey League with the Brooks Bandits, the 18-year-old is looking forward to measuring himself at another level. "I'm excited to see what I can do against this type of competition," he said. "I've never played against this super high calibre." It hasn't taken Makar long to turn heads. Even before the scrimmages, Ducharme raved about the Calgary native. "I really like how dynamic he is on the ice," the coach said. "He's really involved. We really like what we see."
Makar's transition game and offensive upside has led to a number of comparisons to Ottawa Senators captain Erik Karlsson. Some young players shy away from such talk, but Makar has embraced it. "I kind of heard about that at the beginning of this past season in Brooks," he said. "I didn't really look much at his game before. I think I looked at it a lot after that and watched a lot of video clips and realized we had a lot of similar tendencies whether it's walking the line or how we rush the puck and jump up in the rush so I like to watch him a lot."
If Makar comes even close to resembling Karlsson in the NHL the Colorado Avalanche will be very happy. They took Makar fourth overall at June's draft. "Two of the main components of my game are speed and hockey sense and I think the game now is going to smaller, speedier guys and guys who can get back on the puck especially for d-men and make that first pass and get it up the ice so I think my game style fits that perfectly," Makar said.
This fall, Makar will play at U-Mass where he'll be coached by Greg Carvel, who was an assistant with the Senators when Karlsson broke into the NHL. Carvel worked closely with Karlsson during those formative years. Makar calls this a "crazy coincidence," he also calls it "the perfect fit."
"It's going to be a wake-up call in terms of pace," he said. "This summer's big for me in terms of getting a little bit stronger and building some muscle mass." At the draft combine, Makar was listed at 5'11 and 187 pounds. "I'll be playing against bigger guys this year in the NCAA and I have to be prepared for that whether it's net-front battles or just coming out with the puck from corners. So, just about getting stronger and being mentally prepared."
***
Kole Lind is a proud native of Shaunavon, Saskatchewan, located one hour southwest of Swift Current. It's home to fewer than 2,000 people, but has produced one of Canada's greatest hockey players in Hayley Wickenheiser. Lind got to know the winner of four Olympic gold medals while growing up. "Obviously, she's huge back home," the Canucks prospect said. "I mean, the rink's named after her (smile). She's a huge role model for me." When Lind has been around Wickenheiser, what has stood out? "She's always prepared even if it's a skills session or something like that," he said. "She's always out there an hour early warming up."
Wickenheiser has been following Lind's career, even sending a congratulatory tweet after Vancouver picked him in the second round at June's draft.

The folks in Shaunavon stick together and Lind wants to repay that trust by breaking through and making his Hockey Canada debut at the 2018 World Juniors.
"The town's always had my back," he said. "They've always trusted in me and I'm trying to give back to them as much as I can."
UPCOMING SCHEDULE:
WEDNESDAY: Canada v Finland, 1pm et (TSN Network) ... USA v Sweden, 4pm et (TSN Network)
THURSDAY: Practices
FRIDAY: Canada v Sweden, 1pm et (TSN Network) ... USA v Finland, 4pm et (TSN Network)
SATURDAY: Sweden v Finland, 4pm et on TSN3/5 ... USA v Canada, 11pm et (tape delayed) on TSN3
Gord Miller and Craig Button will call the games with Tessa Bonhomme hosting the coverage.