Canada tallies 22 medals at 2016 Invictus Games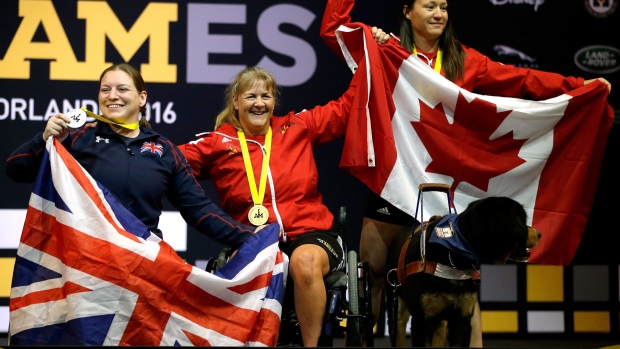 Canada finished with its best results to date at the Invictus Games, capturing 10 gold medals, eight silver medals and four bronze during the week-long event at the ESPN Wide World of Sports Complex at Walt Disney World.
Canada brought home two medals at the inaugural Invictus in London in 2014. The Games are an international competition for injured and wounded servicemen and women, both active and veteran.
The 2017 Invictus Games will be held from Sept. 26-30 next year in Toronto.
Team Canada Summary - Final Medal Tally
Gold - 10
Silver - 8
Bronze - 4
Total - 22
Archery
1. Luc Martin - Compound - Gold
2. Nic Meunier - Novice Recurve - Silver
3. Team Compound - Luc Martin, Sean Wyatt, Joel Guindon - Silver
4. Team Novice Recurve - Nic Meunier, Sarah Travis-Dentry, Adam Cyr - Silver
Cycling
1. Mike Fuentespina - Criterium - Bronze
Powerlifting
1. Christine Gauthier - women's heavyweight - Gold
2. Natacha Dupuis - women's heavyweight - Bronze
Rowing
1. Mireille Poulin - 4 Minute - Gold
2. Christine Gauthier - 4 Minute - Gold
3. Christine Gauthier - 1 Minute - Gold
4. Mireille Poulin - 1 Minute - Silver
5. Ronald Cleroux - 1 Minute - Silver
6. Steve Daniel - 1 Minute - Silver
7. Ronald Cleroux - 4 Minute - Bronze
Swimming
1. Mireille Poulin - 50 M Freestyle - Gold
2. Mireille Poulin - 50M Breaststroke - Gold
3. Mireille Poulin - 100M Freestyle - Gold
4. Mireille Poulin - 50M backstroke - Silver
5. Christine Gauthier - 50‎M Breaststroke - Silver
6. Christine Gauthier - 50M Backstroke - Bronze
Track
1. Natacha Dupuis - 100M - Gold
2. Natacha Dupuis - 200M - Gold